Samsung Launches New Galaxy Book Pro PCs At Galaxy Unpacked 2021
Samsung Launches New Galaxy Book Pro PCs At Galaxy Unpacked 2021
on
May 05, 2021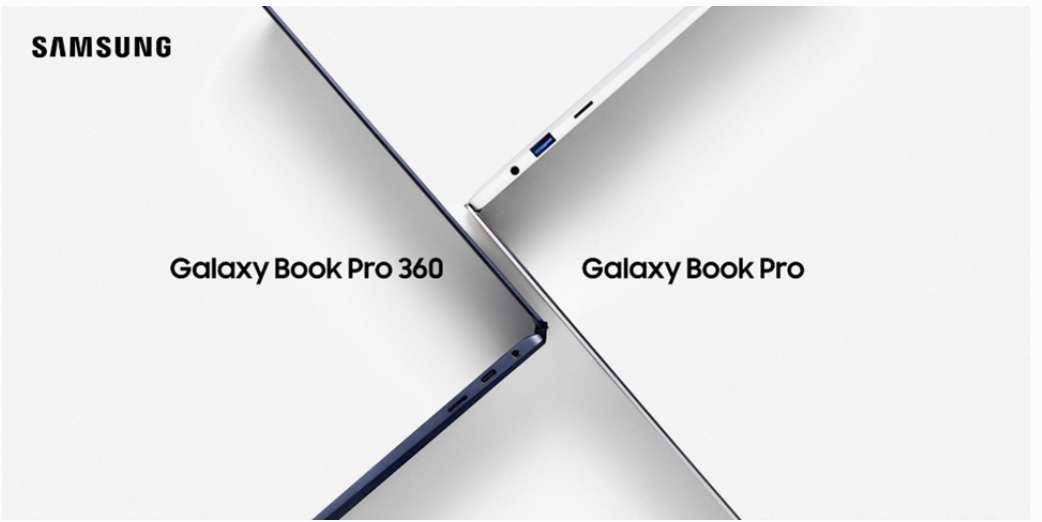 Last week, at Galaxy Unpacked 2021, Samsung launched a couple of new Windows PCs, the Galaxy Book Pro and Galaxy Book Pro 360. Samsung is taking a mobile-first approach here with an extra emphasis on the word "mobile". The company looks committed to blurring the lines between mobile and PC. Samsung also designed the Galaxy Book Pros to work in conjunction with its broad IoT ecosystem, which spans smartphones, tablets, PC, and peripherals. The company  is leaning into the ultrathin and ultralight message while balancing, not sacrificing battery life or performance. That's tough to do. These new platforms come with the latest Intel 11th Gen CPUs and platform designs. These Galaxy Book Pros aren't Samsung's first go-around in notebooks, but with this announcement, I think the company looks more focused on competing in the notebook space now than ever before. Let's dig into the announcements.
Galaxy Book Pro design 
As the PC continues to serve as our central productivity platform, it drives the need for thinner and lighter notebooks. I take my PC with me anytime while I am traveling. Pre-COVID, I often traveled with just a backpack, and every bit of space and weight I can save matters. The thinner and lighter the notebook, the better. The first thing I noticed about the new Galaxy Book Pro 13 systems is the weight (.87KG or 1.91lbs) and thinness (11.2mm). Even for those obsessed with thin and light notebooks, these will rival the throne of thinnest and lightest. Certainly aluminum ones. I expect that the backlit Pro Keyboard will provide a great typing experience as well given what the company talked about. We are also getting some tremendous I/O solutions with 2 USB-C ports, 1 Thunderbolt 4 port, a 3.5mm audio jack, and a microSD reader. I expect the Galaxy Book Pro build quality to be premium, just like the Galaxy Book S 
we reviewed last year.
 Samsung made the systems from 6000 Series aluminum which I am excited to try out. It should be light yet durable. The designs come in a couple of different color and size options. The 13 and 15 Galaxy Book Pro 360 systems come in Mystic Navy and Mystic Bronze. The 13 and 15 Galaxy Book Pro systems come in Mystic Blue and Mystic Silver. Samsung also noted that just because the system is thin doesn't mean it sacrifices durability. They back it up by building the systems with military-grade durability. I am not entirely sure what kind of damage the system can take, and I won't do any testing to find out. Hopefully, this military-grade durability will provide some improved protection for accidental drops. You typically only see MIL-SPEC 810G on the industry's leading enterprise notebooks.
Like last year's Galaxy Book Flex alpha, the Galaxy Book Pro 360 models come with a 360-degree hinge, giving you the ability to use the notebook in many different orientations. I think consumers will find a tremendous amount of value in the weight, thickness, and durability of the new Galaxy Book Pro systems.
Performance and connectivity 
One thing that gives me much confidence in the Samsung notebook business is the type of hardware partnerships it puts into its most premium devices. The Galaxy Book Pro and Galaxy Book Pro 360 will come with 11th Gen Intel Core processors with Iris Xe graphics. These processors will provide excellent productivity performance for running several applications simultaneously and streaming entertainment. The devices are also Intel Evo certified. For those that aren't familiar with Intel Evo, it serves as Intel's certification program that ensures systems meet high standards of responsiveness, instant wake, and long battery life. Gregory Bryant, GM of Intel's Client Computing Group, confirmed that these Galaxy Book Pro systems are the thinnest 13 and 15 Evo platforms on the market, which is a great accomplishment. In addition to the new Intel processors, the new Galaxy Book Pros come with great connectivity solutions, including Wi-Fi 6E, Bluetooth 5, 4G LTE, and 5G. The Galaxy Book Pro 360 model comes with 5G wireless coverage as the Galaxy Book Pro comes with 4G LTE. The always-connected PC is essential for the type of work I do. When decent Wi-Fi coverage isn't available, it is great to have alternative connectivity options that are fast and reliable.
Display 
Samsung opted for AMOLED displays for these notebooks at 1080P resolution. I suspect that games and movies will look incredible on these AMOLED displays despite them not coming in 1440P or 4K resolution. I can see why Samsung opted for the 1080P display vs. higher resolution, as it likely prioritizes battery life. I'm not expecting 15" at 1080P to look great with text, but we'll see.  The jump from 1080P to higher resolutions always results in a big hit to battery life. It's important to remember that these are mobile-first solutions focused on long battery life, so I understand the trade-off.
Battery life
I didn't see any specific battery life claims from Samsung around the Galaxy Book Pro designs. Initially, I don't know why these notebooks won't provide an entire workday worth of battery life. The systems use USB-C adapters and support 65W fast charging, which is excellent for getting several hours' worth of juice in a short period. I plan to review the notebooks soon and provide a better indication of battery life on my use case.
Continuous experience across Galaxy devices
At Galaxy Unpacked 2021, Samsung also announced that Smart Switch would be available on these new Galaxy Book Pro systems. Previously was challenging to move your data from one Windows PC to another without an external hard drive. With Smart Switch, its simple. First, you download the Smart Switch app, pair your old Windows PC with your new Galaxy Book Pro and then transfer all your data and files. Samsung is also committed to creating a continuous experience between your phone and PC. The seamless experience is essential because users constantly switch between the two throughout the day. You can now access the same notes, photos, collaboration, and communication apps across all your Galaxy devices seamlessly as it will automatically sync. The automatic syncing is valuable because it takes too much time and energy to upload notes and photos to the cloud, then get on my phone to download and access later. With the Your Phone app, you can access the texts and files from your smartphone but respond on your PC. You can also use a Galaxy tablet as an extended second display while paired to your Galaxy Book. One main takeaway here is that Samsung appears to be partnering more deeply with Microsoft to create a seamless transition between Galaxy devices and its new Galaxy Book Pro PCs. I expect a much-improved user experience from Samsung Galaxy devices with all the software changes Samsung is rolling out. I am hoping this integration is understood by consumers as having two ways to do things on a smartphone didn't work out too well.
Wrapping up
In my opinion, Samsung has always been capable of building an ultra-premium, high-performance PC, and I feel like these Galaxy Book Pro systems are a great example of that. The profound partnership between Intel, Microsoft, and Samsung on the development of these Galaxy Book Pros give me confidence that these platforms will provide a much improved user experience. When I consider the AMOLED display, excellent keyboards, fast CPUs, and the thin and light design of the Galaxy Book Pro systems, I have no reason to believe this system won't be popular among consumers. Distribution is key here. An improved design without improved distribution won't mean more revenue or sales. Samsung can make this issue go away very easily if it chooses to as it has the highest assortment of any CE brand at big box retailers. Samsung has long been a force in the smartphone and components business, but I feel like these Galaxy Book Pro systems mark the company's first big push into the PC market. If it continues to partner closely with giant hardware and software partners like Intel and Microsoft and increase its distribution, I think the future of the Samsung PC business will be much brighter. As the new Galaxy Book Pro systems come available, I will be providing my thoughts and analysis in a follow-up article. I got my hands on a Galaxy Book Pro 360 system and am testing out and will let you know what I think.
Source: https://www.forbes.com/
Samsung Launches New Galaxy Book Pro PCs At Galaxy Unpacked 2021