Khushwant Singh: Biography, Awards, Books & Achievements
Khushwant Singh: Biography, Awards, Books & Achievements
on
Aug 23, 2019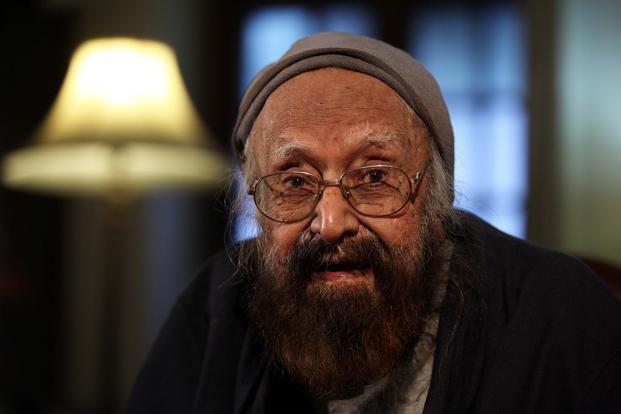 About
Name of Khushwant Singh is bound to go down in Indian literary history as one of the premium historians novelists, an up-front political commentator an exceptional observer social critic. He was founder-editor of Yojana, The National Herald and Hindustan Times. Khushwant Singh was
born in the year 1915 in Hadali, Pakistan.
 He died on 20th March 2014. He is most famoous for his historical novel 
'Train to Pakistan' published in 1956.
In addition to a writer he was also an historian,columnist, up-front political commentator and social critic.
Family Details
Khushwant Singh's family was rich. 
His father's name was Sir Sobha Singh
 who was a builder and contractor. His Mother's name was Lady Varyam Kaur. He was married to Kawal Malik and has a son Rahul Singh, and a daughter, Mala. Renowned film Actress Amrita Singh is his niece (daughter of his brother Daljit Singh).
Education
He was educated at Government College of Lahore & at King's College in Cambridge University and at the Inner Temple based in London.
Professional Career
1939-47:
 He was a practicing lawyer in High Court, Lahore.
1947:
 He served as a diplomat for newly independent India.
1951:
 He began an eminent career as journalist with All India Radio.
1951-1953:
He was also the founder and editor of Yojana.
1969-1978:
 Editor of the Illustrated weekly of India, Bombay.
1978-1979: 
Editor-in-Chief of National Herald, New Delhi.
1980-1983:
 He was the Editor of the Hindustan Times. His Saturday column With Malice towards One & All in the Hindustan times is by far one of the most well-liked columns of the day.
Honours and Awards
1.
In 1974 he was honoured the Padma Bhushan by India's President
. However in 1984, he returned the honour as protest to Indian government against the storming of Golden Temple by the Indian Army.
2.
 In the year 2007, Khushwant Singh was awarded with the
 Padma Vibhushan.
3.
 In the year 2006, he was awarded Punjab Rattan Award by The Government of Punjab.
4.
 In July 2000, he was bestowed the Honest Man of the Year Award by Sulabh International Social Service Organization for his bravery and sincerity in his brilliant incisive writing. At the honour event, Andhra Pradesh's chief minister described him as humorous writer & inveterate believer in human goodness with a devil – may - care stance and a gutsy mind.
5.
 In 2010, he was given Sahitya academy fellowship award by Sahitya academy of India.
6.
 In 2012, he was given All-India Minorities Forum Annual Fellowship Award by Uttar Pradesh Chief Minister Akhilesh Yadav .
7.
He was also honoured with Order of Khalsa (Nishaan-e-Khalsa).
Achievements
Khushwant Singh was a member of the Rajya Sabha from the year 1980 to the year 1986. The Library of Congress has 99 works on & by Khushwant Singh.
Books and Documentaries
Khushwant Singh's work included both fiction and nonfiction. He mainly wrote in English language. Among his major books included Train To Pakistan ( first Published in 1956) which won him international acclaim and Groove Press Award in 1954. The book depicts the partition of India and Pakistan in 1947. His second major work included Essays on India's Emergency by the name Why I Supported the Emergency (Published in 2004). His third major work was Delhi: A Novel. He also wrote I shall Not Hear the Nightingale (Published in 1959). The Portrait of a Lady: Collected Stories was in the form of short story collection. He also authored other books such as Maharaja Ranjit Singh and Fall of Sikh Kingdom.
Apart from these, he wrote and published a classic two-volume book on Sikh History by the name A history of Sikhs (Published in 1963). His other famous works included Truth, Love and a little Malice in the form of an autobiography and published in 2002, Sex, Scotch and Scholarship and In the Company of Women (Published in 1999). Significantly, he wrote his last book at the age of 98 titled The Good, The Bad and the Ridiculous. Actually, he co-wrote the book with Huma Qureshi.
Contribution
His literary contribution to the literature was immense. He entertained his readers with his satirical mode of writing