What's the Best E-book Publishing platform for you?
What's the Best E-book Publishing platform for you?
on
Aug 22, 2019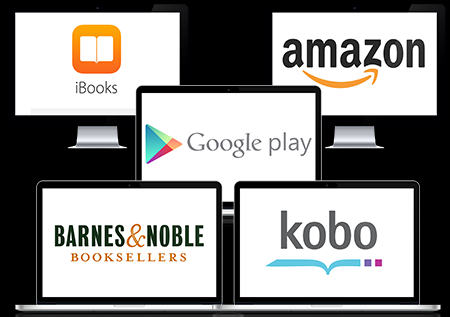 Self-publishing is on the rise, especially in countries where English is a primary or major language. Authors can choose from many publishing services, but how do you know whom to trust? This a tricky question, and hopefully this article will help you decide between different ebook publishing platforms. What are the services they offer? When do they pay? Which stores do they distribute to? Depending on your needs, there could be many good answers; you can choose a self-publishing platform at the beginning of your career and change later, or use multiple platforms simultaneously. If you are not yet sure whether self-publishing is the right fit for you, be sure to read 
this article
 first.
Ebook Publishing Services
When talking about ebook publishing services, there are very different things at play. Firstly, there are companies pitching 'author services' or 'publishing services' for a price. These companies usually offer an extensive publishing service, starting from developmental editing to POD or e-distribution. While these companies can be similar at first glance, they are very different regarding their approach to the author and their books. There is a thin line between genuine publishing services and 
vanity publishing, 
as there are steps that can be expensive if done properly (like editing or cover design). Generally speaking, if a company charges you for 
publishing
 your book and is fairly vague about what they are spending your money on, be alert. Once you sign your rights away, it is difficult to get them back. Other than vanity publishers, there are several companies that act as retailers and distributors and offer some publishing services (
conversion
 or editing) as well. There are some things 
you'll need to consider before signing up anywhere
:
Who owns the rights (the IP)?
Is the service exclusive?
Who decides the pricing?
Can you leave whenever you want to?
Can you select which services to use?
Ask for a second opinion
As it is impossible to vet every service beforehand, we recommend that you check the ALLi (Alliance of Independent Authors) watchdog reports. ALLi members regularly check different self-publishing service providers to make sure that you only work with trustworthy partners. Check the list 
here
. If you are considering a new service, you can also seek help in a 
Facebook group
. The community of indie authors is always ready to help.
Consider the following when choosing the right publishing platform for your book:
Royalty: If you decide to publish your ebook on a platform, you probably already know that the service will take a cut of the royalties. The cut can vary depending on whom you choose. More information on some of the platforms in the table below.
Pricing: Some services have limits on how to price your book. For instance, Amazon doesn't allow authors to offer their books for free, and both Amazon and Kobo offer different royalties in different price ranges. This may not be a bad thing (after all, they know the pricing "sweet spots"), but you want to avoid getting stuck in a situation where you don't like the price and can do nothing about it. Finding the right price for your ebook is not easy; choose a platform where you can experiment before committing.
File format: Today most platforms offer ebook conversion for free. This is great!
Exclusivity: Some services may demand exclusivity; such as Amazon's KDP Select. Self-publishers with a handful of titles often offer some titles exclusively on Amazon, while going "wide" with others.
Ebook retailers: The five largest retailers on the market are: Amazon, Google Play, iBooks, Scribd, and Kobo. Most of them sell globally in most countries of the world. Offering your books in all major retailers is crucial, and offering them in smaller, local retailers is also recommended.
Ebook publishing platforms
The following table contains some 
popular ebook publishing services
. We only consider services with no upfront payment or setup fees required.
KDP
Smashwords
Kobo Writing Life
PublishDrive
Draft2Digital
Streetlib
Royalty
35% – 70%
up to 80%
45%-70%
10% cut or $100 flat fee
10% cut
10% cut
File Formats
ePub, mobi, HTML, doc, docx
ePub, doc
doc, docx, ePub, odt, mobi
ePub, doc, docx, mobi
ePub, doc, docx, RTF
ePub, doc, docx, RTF
Conversion
yes
yes
yes
yes
yes
yes
Exclusivity
Exclusive / Non-exclusive
Non-exclusive
Non-exclusive
Non-exclusive
Non-exclusive
Non-exclusive
Payments
monthly
monthly
monthly (threshold: 50 CAD)
monthly
monthly
monthly / quarterly
Reports
daily
monthly
daily for Kobo
daily for some partners
daily  for some partners
daily  for some partners
Retail Outlets
Amazon
Smashwords, Amazon, iBooks, OverDrive, Barnes &Noble, Kobo
Kobo and partners
Amazon, iBooks, B&N, Kobo, Google Play, OverDrive, Dangdang, CNPeReading, etc.
How to publish your books effectively to more stores and gain global distribution?
There are certain platforms in the ebook market that identify themselves as ebook aggregators. An aggregator stands between the author and the retailer such as Amazon. As Brookes describes: "ebook aggregators are companies that take a file from the user, convert it into multiple formats and make it available through multiple distribution channels (platforms, stores, libraries)." Most of the aggregators offer various services other than ebook distribution and aggregation such as ebook conversion, cover design, editing and some even have print-on-demand services. They can also provide help with ISBN acquisition, copyrighting and tracking user payments. However, their primary focus is on distributing content to more than just one store. An aggregator helps authors and publishers reach the stores globally with their ebooks. As a leading ebook aggregator, PublishDrive delivers ebooks to iBooks, Google Play, Amazon Kindle, Scribd, OverDrive, Dangdang, and 400+ stores and 240k libraries in US, China, India, Europe and over 100 countries. To distribute your books to hundreds of stores globally, sign up for PublishDrive for free!