Interview With Khaqan Sikander, author of 'That Which Flows'
Youth is an asset to a country, not a liability. As far as youth idealism goes, as a young individual, you challenge the world and strive to make it a better place, change it, or leave your mark
on
Jan 30, 2023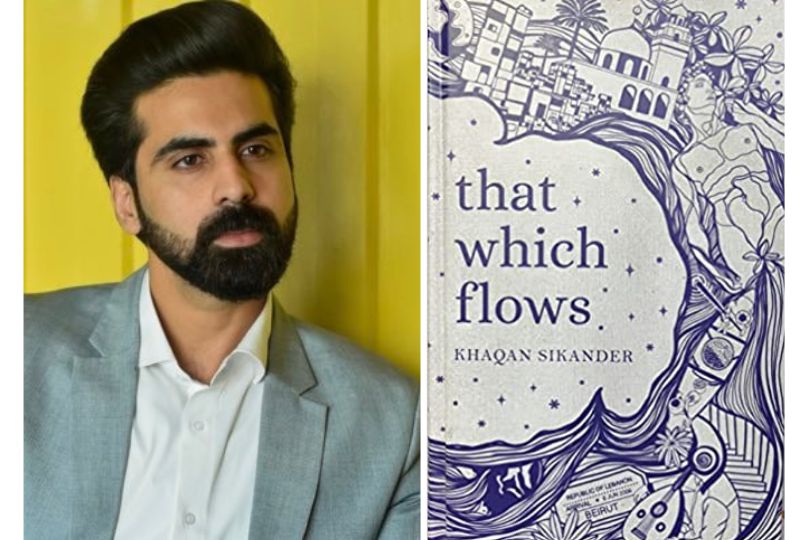 Khaqan Sikander is a steadfast proponent of the road less travelled. Throughout his life, he has been fortunate enough to work in conflict zones and live in refugee camps. He has survived a full-scale war, travelled the world, catalyse social-reform causes, handled nationally televised crises, and scaled businesses. These experiences have helped him develop as a global thinker yet a local actor, manifested in his ambidexterity as a management operation professional with strong leadership abilities.
Born and raised in Pakistan, he is a French and American-educated executive management professional with degrees in Management, Economics, Diplomacy, French, Spanish, Arabic & Creative Writing. In addition to United Nations Sustainable Development Goals (SDGs) focused assignments in the Middle East (UNRWA, Lebanon, 2006), Latin America (UNESCO, Costa Rica, 2007), and Africa (UNIDO, Senegal, 2009), he has been working in the corporate sector of Pakistan over the last decade and plus. He has read French, Spanish, Arabic, Creative Writing, Management, Economics, and Diplomacy.
Currently, he serves as the Chief Executive Officer of Healthx Pakistan, part of the Trudoc International group, a multinational healthcare management company with operations in over 10+ countries and a customer ecosystem of 24 million plus members across the Middle East, Africa, Europe, and Asia.
That Which Flows is his debut book which is garnering a lot of appreciation from diverse readers.

Frontlist- What prompted you to name your book "That Which Flow?"

Khaqan- This title is derived from a famous saying, "Behta paani saaf hota hai peene ke liye, Insaano ko bhi waqt ke saath behna chahiye" which translates to "the flowing water is clean for drinking, people should also flow with time." The flowing body of water signifies its purity. Therefore, people should also flow with time. When I say flow, I mean evolve with time because you need to be a better version of yourself with every passing day. If we stagnate like the water, we will also go stale. So that's the concept behind the title.

Frontlist- Since your book is a memoir, please enlighten the audience about your book.
Khaqan- Yes, it is a memoir. However, it's a different kind of memoir. It's a travel memoir, which is very distinct, as it discusses two different kinds of travel. There is one kind of travel, which I call "Extensive travel," which all of us do, for instance, from Delhi to Mumbai or from your place to your office. That's called physical traveling. Then there is another form of traveling, which I anoint as "Intrinsic traveling," representing the inner journey we all are making within ourselves. For example, your inner journey from today to two from now. My book "That Which Flow" traces the intersection between these kinds of travel, which means a reader on one side will be traveling the world with me, right so from the Middle East to Latin America, to Africa to Europe to the USA, and see the world as I saw. But the other kind of travel that the readers will see is a young boy's transformation into a mature man as he goes through different phases of life. For instance, I was living in a refugee camp, surviving a war, living in communist countries to living in Africa.
Frontlist- You have mentioned that this is a story of how you attempted to change the world, and instead, the world changed you. Please elaborate on the statement of how exactly the world changed you.
Khaqan- Youth is an asset to a country, not a liability. As far as youth idealism goes, as a young individual, you challenge the world and strive to make it a better place, change it, or leave your mark. However, as you begin doing some of these things, you realize it's more complex than your anticipation. Changing a world and making it a better place is not a man's job, and it requires continuous and constant efforts of many different people and communities to bring about even a small change. And so what happened was, when I tried to do that, I realized that some things about this world are not supposed to be changed, and I started to see beauty in them as they are. Speaking of the transformation I experienced and the intrinsic journey I've made, I realized that we tend to be somewhat close-minded when we're young. So, how I experienced the change when I traveled around the world and interacted and met with different people of different cultures opened me to new opportunities and exposures, which significantly changed and shaped my overall personality. I have become more patient, accepting, and tolerant towards things. The world is filled with different perspectives, and we must accept all the different perceptions. It is also one of the messages this book imparts to readers.

Frontlist- This book is an account of atrocities that war victims endure. Could you share insights into the writing process of this book? How did you draft the storyline for this book, and how did you conduct your research?
Khaqan- It took me around 16 years to write this book. At started writing this book at a time when I didn't realize I was penning this book. It was around the time when I was stuck at a Palestinian refugee camp in Lebanon, in Beirut. I turned to writing to process the extraordinary events that transpired around me. I just started writing about whatever was happening to me, like therapy. I found solace in it. I confided in my writing. It was my coping mechanism. I kept writing for years, unbeknownst to the fact that I was sitting on a book. After realizing it, I finally began structuring the whole book. I studied the art of writing and how you construct a book. What is the narrative arc? How do you develop characters? What is the power of dialogues? How do you sequence events? Formulating this book was a fun experience for me since it's a nonfiction book. In retrospect, I had to do a lot of research to ensure that the book was accurate. It was a mix and match of organic storytelling, putting a structure around it and packing it with research.
Frontlist- You have been a victim of war and have faced the wrath of hatred. Can you describe your life as a refugee?
Khaqan- I would describe myself as a willing or partial refugee. When I was working with the United Nations, I went to work with refugees. I've mentioned in the book that I chose to stay in the refugee camp. However, while making that decision, I was not under the impression that I would get stuck there. While living at the refugee camp, I closely examined the lives of people there and learned about the people stuck there for decades. This overall experience equipped me with a different perception of the world, which was beyond anything I had ever known. Before experiencing that, it was like I had been living in a bubble. After all, those things happened to me, and I could put myself in their shoes. It gave me a different perspective on the world. This experience taught me a lot. I left the refugee camp, but the camp never left me.
Frontlist- How did living in a war-torn country alter your perception of life?
Khaqan- Living in a refugee camp and experiencing life as it is, I realized how fragile life is and how much we take it for granted. In my opinion, life is simple. You don't need millions of followers or a Ferrari to feel happy. I saw people derive happiness from the smallest things around them because they didn't have the luxury to go for big things. These were the people who felt the deepest gratitude. They never complained. Can you imagine the kind of life they live? These were some of the lessons that got stuck with me.

Frontlist- Any incident you would like to share with the audience has significantly impacted you.
Khaqan- One of the incidents that are coming to mind right now is when I was living in Africa. Although it's not massive, it has taught me extensively. I was living on this remote island in Africa, where you would have to use a boat or swim your way through to get from one place to another. The boat that we had there was not a motorboat. The entire island's population was around 100-200 people, and was situated northwest of Africa. This was the region where the slave trade started around 500-600 years ago. I was residing in a village of fishermen, and most of the people living there were women. The people in that village depended on fishing for their daily food supply, and I also went fishing with them. One day, I was eating with them, and suddenly a fish bone got stuck in my throat. When that bone entered my throat, I felt a sharp pain, and I couldn't breathe. As I mentioned, we were on a remote island, and there were no doctors. This lady was sitting across me with her 5-6 children sitting in a circle around a campfire. She glanced over and noticed that I was gagging and in severe pain. We had fish and rice at that time. She took some rice, formed a ball out of it, and asked me to swallow the ball of rice without biting it. I was surprised and thought, how can I swallow the entire ball without chewing? In her view, the rice ball was supposed to allow me to swallow the fishbone. So, I couldn't do it and ended up being stuck with a fishbone in my throat for eight hours. Ultimately, the fishbone came out, and I was relieved of the pain. This entire situation helped me learn a new lesson life is full of fishbone, and you have to get better at swallowing rice balls and dealing with it. These taught me a lot in life.

Check out the New author Interview