Interview With Vijay Balan, author of 'The Swaraj Spy'
The idea for this book was given to me by my late father, who told me stories about my great-uncle. These stories were extraordinary, and as I grew up, they stayed with me.
on
Feb 01, 2023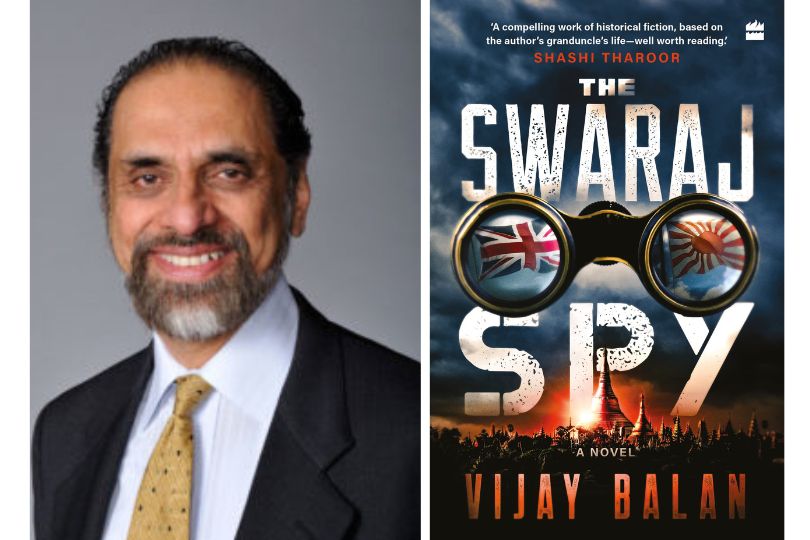 Vijay Balan was born in India and moved to the United States for college. Vijay began his career in aerospace, including working on the Space Shuttle propulsion system. A rocket scientist turned storyteller, he enjoys using the written and spoken word to make arcane concepts easily understood.
Frontlist- What was your notion behind naming the book "The Swaraj Spy?"
Vijay- Starting with the title of the book, the word "Swaraj" translates to self-rule, and it was a slogan during India's freedom movement. The Great Lokmanya Tilak famously declared- "Swaraj is my birthright, and I shall have it. The story arc of my book has the Indian freedom struggle as its background. It is also about a secret spy school where the book's protagonist, my great uncle, was trained by Japanese intelligence and the Indian National Army, called the Indian Swaraj Institute. This spy school was set up by the Japanese and the INA to defeat the British in World War II, get them out of the war, and thus gain India's independence. Perhaps my book is primarily about personal change and how the cruelty of war and the duplicity of espionage affect a person. So the book is also about how my great-uncle found his own Swaraj or rule but in a very different way.

Frontlist- Your book is a perfect blend of Historical Fiction and the discrepancies of war. Please walk us through the writing process of the book.
Vijay- The idea for this book was given to me by my late father, who told me stories about my great-uncle. These stories were extraordinary, and as I grew up, they stayed with me. About 13 years ago, I had an epiphany and thought this story needed to be told. However, when I began writing this story, I found that this 80-year-old trail had gone cold, and nothing was left. It was like assembling an old, battered puzzle with the most missing pieces. I started digging deeper and traveled to different parts of the world to meet people. Another reason I traveled was to get a picture of the place I wanted to write about.

The process of writing this book was very gradual. The story emerged from the fog, which was much more incredible. The twists and turns were more exciting than the little nuggets my father had left me. I have chosen to stick closely to the research's facts and use my narrative to present those facts. While writing this book, I faced an exciting challenge. Since I was running a fintech consulting firm and working on this book, I realized that business strategy and creative writing occupy two different brain hemispheres.

I wrote this book between client assignments. When juggling between two areas, your mind needs a little time to adjust and get into the zone of writing. As a writer, giving yourself time to get into the right frame of mind is essential. It allows the words to flow more efficiently, and a higher level of clarity enhances imagination and creativity. However, the heaviest lifting came out after I wrote my first manuscript. I decided to use the time I had while knocking on doors trying to get published to rethink my writing.
I realized that the distance gave me a new perspective, but I also decided to take advice from people I respected, including those who told me to trim 30% of the book. This process requires a lot of patience, and your ego needs to be kept aside, which is problematic because, as a writer, you invested in every word, paragraph, and scene. However, it is vital to do it dispassionately. There's a quote incorrectly attributed to Leonardo Da Vinci, but it was said by the French writer Paul Valerie. The quote goes, "A work is never finished, but merely abandoned." At some point, you have to stop tweaking it, let it go, and let other people savor it.

Frontlist- Your book profoundly depicts India's struggle for freedom. What message do you think the young generation might be able to draw from it?

Vijay- A large percentage of people in India are under 30. Most people take freedom for granted because the freedom struggle, the Quit India movement, and World War II were long ago. These are things you read about in textbooks. Most people do not know that freedom was won after centuries of struggle and bought with great sacrifices. However, the younger generation can not relate to that. All over the world, people talk about history in the abstract, so it becomes difficult for people to understand it. That's why I use the suggestive style, putting readers in different time zones and places, giving them an experience similar to my characters.
Another form I use in my writing is the story's effect on people. I explore in depth how the events of a particular time affected people's lives. I strive to make history accessible to people without being too overt. Young people who read the book can understand that freedom came at a price, and they get a chance to compare their lives and the challenges they face today with those who lived during colonial rule.

Frontlist- What made you write a story about India's liberation and add a new perception to it through the lens of a patriot spy?

Vijay- I love writing about unknown history, and the Swaraj Spy is one such story. For instance, while most people are familiar with Mahatma Gandhi and his non-violent struggle for freedom and Netaji Subhash Chandra Bose and his contributions, they are still unaware that Captain Mohan Singh was the first leader of the INA. There was an INA before, which most people don't know about, and it collapsed due to the tension between the Japanese and the Indians. The Indians demanded an explicit commitment to freedom, whereas the Japanese refused to abide by the cause. There are lots of fragments of history that are yet to be discovered.

The book subtly raises more essential questions between the lines about the good and bad guys among the British, the Japanese, and the Indians. The answer, however, is not always clear.
From the point of view of the story's protagonist, he witnesses many things: the arrogant British, the brutality of the Japanese occupation, the duplicity of espionage, the tensions between Japanese and Indians, and the dark side of colonial administration and justice.

Readers will gain a different perspective on life today and compare it to what happened 80 years ago. Many of the events helped shape today's reality. As Mark Twain said, "History does not always repeat itself, but it often rhymes."


Frontlist- While actively participating in India's struggle for freedom, the story's protagonist is also on a mission to rescue his fellow agents. How did you connect these two parallel trails that the story follows?
Vijay- The Swaraj Spy is about three overlapping journeys: the physical journey of the main character, which goes counterclockwise from the rice paddies of Malabar to Madras, from colonial Singapore to lazy Penang, and from the pagodas of Burma to India. The second journey is the personal transformational journey of a paramilitary officer. The third journey is the backdrop that is India's tumultuous march to freedom. The Non-Cooperation Movement, the INA, the Quit India Movement, etc., are all part of India's struggle for liberation.

Readers are free to relate to the various features of the book, such as the fascinating adventure in a striking landscape, the issues of karma and the human condition, or the more extensive geopolitical changes.

Frontlist- Your book is based on the life of your granduncle. To what degree did you incorporate fiction into the story?
Vijay: In my opinion, fiction is the vehicle that carries the facts. For example, if I were to write a story in which the Japanese won the war, it would be considered historical fantasy fiction. The tale of Swaraj Spy, however, is primarily based on fact. Fiction comes into play when I let readers see, smell, and experience what my characters go through.

Frontlist- What tips would you like to give aspiring Historical Fiction writers?
Vijay- The first thing I recommend writers do is to be clear about the readers they have as an audience for their work. For example, I chose to write about readers who love language and love to read but aren't necessarily historians. The point is to keep them engaged without coming across as scholarly. Use your narrative as a vehicle to share the facts you've researched.

If you're writing about an unfamiliar story, take the time and effort to research it thoroughly. It may take some time, but you'll enjoy the journey. Once you dig up the facts, they'll tell their own story, and your job will be to provide a vessel to shape the water within.

Try to bring readers along by giving them a sense of what the characters see, hear, and smell. Let this flow into your text without going into too much depth. A vivid writing style is necessary to transport readers to another place and time. Storytelling is an art that takes years to hone.

As I mentioned earlier, I focus on how the story affects people and how people react differently to different situations. It's an added advantage if you're keen to observe people, places, and sounds. In my case, I've had the privilege of traveling a lot, and I have a repertoire in my head of different places I've been, sounds I've heard, smells, and people I've met. When I write, these repositories are beneficial.


Check out the New author Interview