MAINAK DHAR talks about his latest book "SNIPER'S EYE" | AUTHOR INTERVIEW
MAINAK DHAR talks about his latest book "SNIPER'S EYE" | AUTHOR INTERVIEW
on
Aug 19, 2019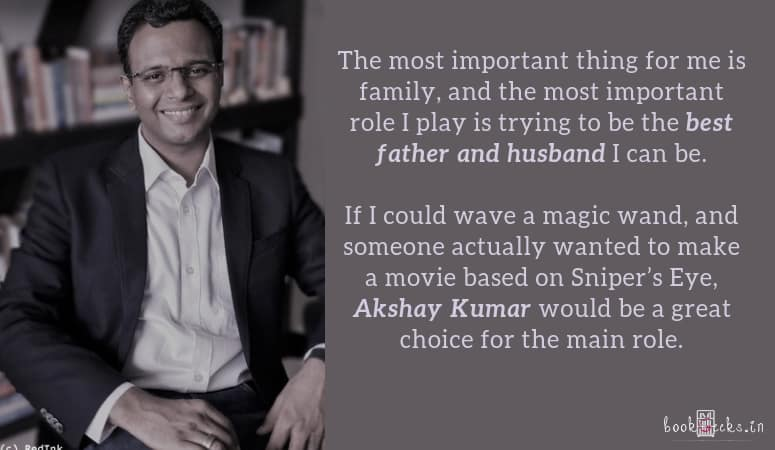 A self-declared cubicle dweller by the day and writer by the night, Mainak Dhar is a man with many talents. Mainak has to his credit more than a dozen books which have been translated into multiple languages including French, Portuguese, Japanese, Turkish, German amongst others. His books are a frequent feature in the bestsellers list of many literary circles including India and abroad. One of his most renowned works is the
Alice in Deadland
series which has garnered the praise of millions of readers. Mainak tries to balance his time between his writing, his very demanding corporate career and his personal life. He especially cherishes the time spent with his wife, Puja and son, Aaditya. Having a very successful career, Mainak's enjoys a senior leadership position in a major multinational firm that requires him to manage operations of the Asia, Middle East and Africa region. Having lived in as many as six cities and five countries, Mainak is very happy being back in India after almost 15 years of working abroad. He takes inspiration from his father, Maloy, who himself was a lover of words and despite a gap of more than thirty years, managed to publish his first book at the age of 58 years. His passion for writing also found support in his mother who encouraged him to chase his dreams of becoming a published author and during his initial days even accompanied him to the offices of various publishers. Today, Mainak Dhar is not just a loving husband and a caring father but also a very successful professional and a very famous author. At the same time, these accolades don't speak much about his most endearing quality – his humility; something that we at bookGeeks have witnessed time and time again. We recently had a lucky chance to yet again have a tête-à-tête with Mainak Dhar. Let's see what he has to say about his love for writing and his latest book, Sniper's Eye.
bookGeeks: Tell us something about Mainak as a person.
Mainak:
I'm just an ordinary guy who believes that one should live life fully every day and a good life is one where you have made a positive difference to those around you. The most important thing for me is family, and the most important role I play is trying to be the best father and husband I can be. I have a pretty demanding day job in the corporate world, so other than work and family, I try and keep myself fit and get some time for my writing.
bookGeeks: You have been an immensely successful author. Looking back, how do you feel about your success?
Mainak:
Storytelling has been a passion of mine since I was a child, when I loved making up stories, had an imaginary friend who would sit next to me in class, and wrote a diary about how the world ended and buried it in our front yard, hoping to mess with the minds of future historians. I just feel lucky that along with my career and my family, I have been able to keep my passion alive and share those stories with so many people through my writing.
bookGeeks: As an author, where do you see yourself five years from now?
Mainak:
Working on the next story.
bookGeeks: Tell us something about your latest book, Sniper's Eye. What inspired you to write such a story?
Mainak:
Sniper's Eye is a thriller
about an Army Major who has been trying to put the demons of his past behind him and live an ordinary life in Mumbai. On a date with his girlfriend in a mall, the man in front of them is shot, and he is thrust into the middle of a terror attack, which brings to the open his past, puts him on a terror kill list, and puts him and his loved ones in danger. As he is sucked in deeper, he has to become the man he once was and confront his past. He also he learns that things aren't quite as they seem, and that there is a deeper conspiracy at play which he must unravel if he is to save himself and those he cares about. To do so, he has to learn to work with the sniper- a man who has sworn to kill him! The inspiration for
Sniper's Eye
came from the world around us, where we see conflicts in many parts of the world, where mostly young people are fighting and killing themselves in the name of religion or patriotism, without really thinking of whose purposes they are serving.
Sniper's Eye
tries to put two individuals together, who on the face of it are enemies, and get them to discover that perhaps they need to work together to fight those who are actually creating the conflicts in which they and their loved ones are mere pawns. As I write in the book, we live in a world where the young and poor fight and die in wars started by the old and rich.
bookGeeks: If you ever get to cast a Bollywood actor in the role of Aaditya Ghosh, who would he be and why?
Mainak:
If I could wave a magic wand, and someone actually wanted to make a movie based on Sniper's Eye, Akshay Kumar would be a great choice for the main role. I really enjoy watching a lot of his recent movies, and the combination of a reluctant hero who when forced to, can fight back, is something I think he would fit.
bookGeeks: You have dabbled in a lot of genres. Which is that one genre that you enjoy writing the most?
Mainak:
At heart, I love writing thrillers the most. I love creating characters and throwing them into the deep end and taking the reader on a journey of discovering how they fare.
bookGeeks: At the cost of sounding repetitive, we want to know which is that one book that you enjoyed writing the most?
Mainak:
That's a bit like asking a parent which child they love the most! Every book is special in its own way, so it's hard to pick favourites!
bookGeeks: Any new project that you are currently working on? When can we expect your next zombie fiction?
Mainak: The sequel to Sniper's Eye!
bookGeeks: If you get a chance to co-author your next book with a famous International author, who will it be and why?
Mainak: Of current authors, Lee Child. I am a huge fan of his, as a lover of thrillers, and also someone who really admires his ability to create such a lasting character and series in Jack Reacher.
bookGeeks: Which is the most precious memory of your entire writing career?
Mainak: Coming home with the first copy of my first book, which was published in college, and showing it to my Mom.
bookGeeks: Tell us something about your other interests apart from writing.
Mainak: Other than work, I try and spend as much time as possible with family. Beyond family, work and writing, I try and stay fit - by running each day and I also practice Karate, and just appeared for my Black Belt.