Frontlist | 10 Gripping Books for Makers Suggested By Authors.
Frontlist | 10 Gripping Books for Makers Suggested By Authors.
on
Mar 03, 2021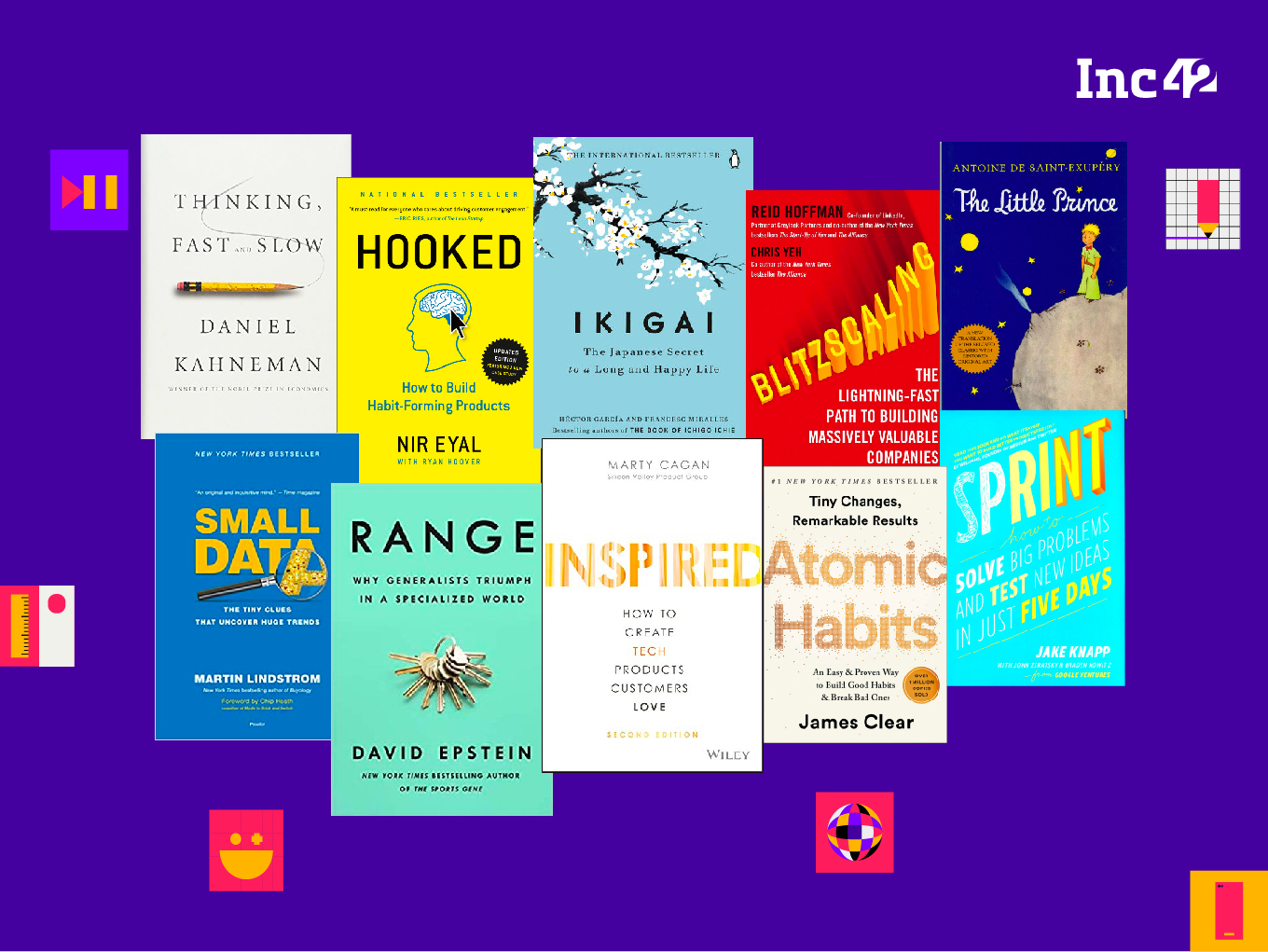 When you have work experience, spending time over a book and expecting it to blow your mind with a fresh outlook seems out of question. You have exhausted aeons working through a reliable process and have reused it more than it could have been. But industries today haven't stopped evolving. So you can't either. Being a product manager requires you to spice up your techniques a bit and make sure you spawn up a product that is engaging. And to build something different, you need a different approach. Books will never be out of fashion. Even the top industry experts take support from these wonderful inventions. Saptarshi Prakash, Swiggy's product design manager, let us in on his three must-haves, 'Atomic Habits', 'Ikigai' and 'The Power of Habit'. Browserstack's product management director, Snehal Patel mounts her trust in the book 'Blitzscaling', and 'Reforge', not a book instead it provides comprehensive online programmes and sessions. Inspired by 'The Little Prince', 'Crime and Punishment', and 'Sophie's World', are the heroes of Sheroes founder, Sairee Chahal. The list doesn't stop here. There is so much information out there that's readily available, you just need to grab the beneficial elements. Talking to Vikrama Dhiman, head of product at Gojek, opened us up to books like 'Creative Selection: Inside Apple's Design Process', 'Small Data' and 'Originals: How Non-Conformists Move the World'. Dinesh Varadharajan, VP of Kissflow's product management suggested reading 'Thinking- Fast and Slow', 'Hooked: How to Build Habit-Forming Products' and 'Product- Led Growth: How To Build a Product That Sells Itself '. Lenskart's VP of product management, Ramneek Khurana reads 'The Everything Store: Jeff Bezos and the Age of Amazon' and 'No Rules Rules: Netflix and the Culture of Reinvention'. Getting closer to Inc42 Plus' 
The Makers Summit
, a virtual Product Conference holding over 60 sessions with 10,000+ enthusiastic partakers, from 12th-14th March 2021 has pumped us to ensure that you, as leading product managers, get your hands on the best resources. We have summed up 10 fascinating reads for you. Get on your reading spree and welcome new ideas of working and creating. Don't dodge the creative bullet!
Thinking, fast and slow by Daniel Kahneman
Kahneman's 2011 hit resonates with product makers all around the globe. The Nobel Prize winner's study of how a brain operates makes understanding our attitude towards work quite clear. He says that our brain has two modes, System 1 and System 2.
Both modes fight and complement each other when a decision is to be taken. As a product maker, it is essential to not lead with System 2 for every solution but depend on System 1 for recurring tasks that do not need any new input. System 2 must be made functional when there is more to what is visible to the naked eye. This book is an open door to the functioning of our brain and how designers and product marketers need to allot time to important tasks by not switching on System 2 for routine jobs.
Hooked: How to Build Habit-Forming Products by Nir Eyal
What do product makers have in common? The thought of making a phenomenal product that users come back to regularly. Nir Eyal with Ryan Hoover explains the Hook Model: a four-step process that is inculcated by every successful company to build a sticky product. They talk about Trigger, Action, Variable Reward and Investment. They begin with adding a trigger point that brings the user to the product through maybe an external trigger like a mail. Once the light has been sparked, the next step is to psychologically inspire the user to click the trigger and enter the app. Make the user interface interesting and easy-to-use so that the user stays and enjoys the 'variable reward' and is amused to see other bright options. Once the user is hooked and has spent hours using a product, they might start 'investing' in it virtually too, more than just their time but their preferences and the addition of fresh items. And friends, that's how you build habit-forming products! Read this amazing book to understand the intricacies of mind analysis while building a successful product.
Ikigai by Francesc Miralles and Hector Garcia
How can Ikigai help a product leader? Just like a few Japanese islanders can find out the secret to a successful and healthy life, you can build a triumphant journey for your product too. Discovering your passion, clarifying what you are good at, focusing on what the world needs and manufacturing what will pay you will be a product worth building. You can't just build something that you are good at but isn't required by the world. Read this life-changing book and reimagine product creation.
Blitzscaling by Reid Hoffman and Chris Yeh
Do or die. To survive the harsh competition, product makers need to jump to certain risky conclusions. LinkedIn Co-founder Reid Hoffmann and Chris Yeh talk about dominant players in the world market and their decisions that changed history. Blitzscaling focuses on speed over efficiency and shares that sometimes taking on a big risk is the most optimal strategy that a product maker can choose to fight the tough competition. Pick up this intriguing read to know more about the stories of Google, Amazon and other big players that rose high because they couldn't choose anything over risk in that important hour in their lifetime.
The Little Prince by Antoine de Saint-Exupéry
You might have read this as a child but this novella has crucial teachings for a product maker. There is a moment in the story when the Little Prince asks the narrator to draw a sheep and after a few unsuccessful tries, he draws a box with three holes and suggests that the sheep was inside the box. Well, yes, innovation and out-of-the-box thinking are important in building a product. Your idea might be outrageous but if it fulfils users' needs and you can give them  that 'Ahaa' moment, then as ridiculous as it may be, it will click. For more such inspiring ideas, hook yourselves to The Little Prince right away.
Small Data by Martin Lindstrom
Focusing on the small trends over the big ones is the case made by this book. Martin talks about the small clues and how with just some keen observations, a product maker can solve big problems. Observing the everyday activities of humans can help product leaders spark revolutionary changes in their product. The writer discusses in great detail how no small action is trivial by sharing stories of Disney and other great companies. He believes in the power of small data and says that it is the next hot thing for companies and mini CEOs aka product makers.
Range by David Epstein
We've always been told that jack of all trades is a master of none. However, Range questions this adage and successfully shares how generalists triumph over specialists. Various experiments and research later, he concluded that athletes, artists and experts in unpredictable fields are more likely to fail than excel. The ones who are successful are rare and the exception to this rule. Forcing the idea of being a jack of all trades and master of one forward, David's book is a good read for product makers because they work with not one but many departments. They need to juggle balls in all departments to be able to take prudent decisions.
Inspired by Marty Cagan
Creating a product that your customers will love takes effort and considerable analysis. In this book, thought leader and Silicon Valley's expert Marty Cagan shares insightful short stories of the most influential tech companies and how their product culture drove them to success. He talks about how the traditional way of building products aka the 'Waterfall' approach has become obsolete and requires drastic changes to be able to withstand the powerful market forces. Inspire to innovate and design to fulfil customer needs rather than filling up features is his focus.
Sprint by Jake Knapp
Countless meetings and changes screwing you over? Set the stage for a speedy product development process. Jake Knapp has compressed real-time stories of instances when he and others built fresh product ideas within a matter of days. Sprinting through an uncertain and competitive market requires designing and processing the consumer needs at a faster pace. This book provides a five-day sprint from storming through ideas to handing over the deliverables and solving difficult problems together without being stuck in an endless loop.
Atomic Habits by James Clear
Are bad habits ruining your workstyle? James Clear's book has finally cleared the air that even product managers need to deliberately improve their work ethic by improving their habits gradually. They can't learn by just listening to one podcast or reading a single blog but need to compel themselves to switch to a different approach while strategising and building a product. He believes that it is the small atomic changes in a person and his/her thinking that can change their outlook and the way they view data and utilise it. Creating something new needs disruptive ideas. These ideas can sometimes dawn upon you while taking a shower, or while taking a stroll in the park, observing something critical about human behaviour. Books are nothing but a collection of different thoughts and processes that pensive authors bumped upon and wrote down for posterity to benefit from them. These books are a collection of wildly different paradigms that product managers can expose themselves to and develop specific skills to make their next product even better.