Frontlist Book Review | You Can't Catch Me by Catherine McKenzie
Frontlist Book Review | You Can't Catch Me by Catherine McKenzie
on
Jul 16, 2020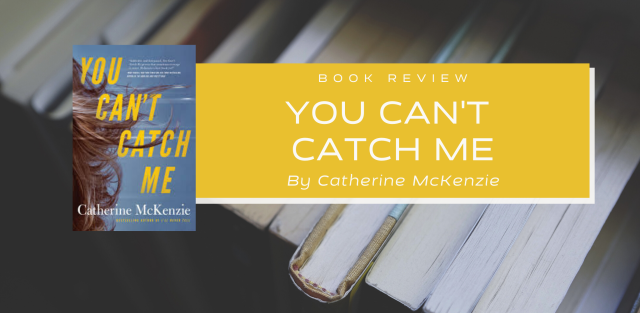 A funny thing happened to former reporter Jessica Williams as she was about to embark upon a well-deserved vacation in Puerto Vallarta, Mexico.
As she was waiting to board her flight in a bar at Newark Airport, she encounters a woman who not only shares the same name, but also the same birthdate. Coincidence? They strike up a conversation, find out that they share a number of similarities, and agree to hook up with each other once Jessica returns from her vacation. The other Jessica (whom she labels as "Jessica Two") seals the deal by bumping their cell phones so that they can automatically get each other's contact information. End of story, right? Wrong.
As Jessica returns home from Mexico, she checks her phone messages and emails, only to discover that the money in her bank account — which included a six-figure sum that was part of a settlement from her former journalistic employer — was cleaned out by several large withdrawals while she was away. She goes to the police to file a report in hope that Jessica Two is caught and she can recover all the money that was stolen from her. However, the police are powerless and are of no help to Jessica, because that type of cyber crime is low on their priority scale. Armed with only security tape footage that proves that Jessica Two is the culprit, Jessica decides to take matters in her own hands not only to track down Jessica Two, but also recover all of her stolen money, along with two other Jessicas who suffered the same fate. Montreal native, lawyer and two-time bestselling author
Catherine McKenzie
uses this premise for her third novel, the page-turning You Can't Catch Me. This book combines the classic hot pursuit manhunt-type of a thriller with using the latest in cyberspace technology to track the trio's human target that they hope would lead to the capture of this deceptively clever cyber thief.
From the Adirondack region of New York, to Philadelphia, to the wilds of Wyoming, it's a cat and mouse game between the trio of Jessicas and the devious Jessica Two in pursuit of justice and compensation that borders on the savage, with a cyber plot twist that will leave the reader quite breathlessly surprised. And our chief protagonist Jessica Williams also reveals her difficult upbringing as a reluctant member of the religious cult the Land of Todd (LOT), with their camp based in Schroon Lake, New York, that was filled with fanatical loyalty, parental alienation, and brutal punishments (especially in an area called the "Back Forest"). With her failure to rescue fellow member and close friend Kiki from the grips of the LOT cult, Jessica faces a great deal of long held simmering anger not only towards the cult, but also her brainwashed parents, who practically enabled this tragic death. However, thanks to her friend Liam, who successfully deprogrammed Jessica after she escaped from the cult, he not only helps Jessica come to grips with her time in the LOT, but also provides much useful assistance in her pursuit of Jessica Two. With plenty of nonstop race-against-time thrills, and a ceaseless battle of wits via cyberspace, You Can't Catch Me is an action thriller that just grabs you by the throat, and won't let you go until the three Jessicas bring this exercise in hot pursuit to its satisfying conclusion. Don't miss it! Source: MltTimes
Top 10 Indian Authors who are changing the game instead of Chetan Bhagat.