SUMIT AGARWAL | AUTHOR INTERVIEW
SUMIT AGARWAL | AUTHOR INTERVIEW
on
Aug 20, 2019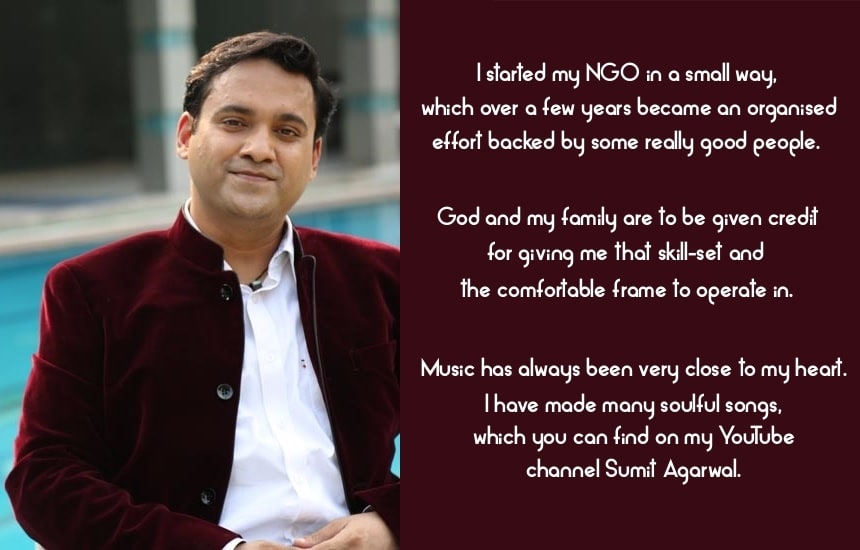 Interview by bookGeeks:
Sumit Agarwal, the author of "The Four Patriots"
, is the MD of MLA Group of Industries. His demanding job as the head of a chemical manufacturing firm, however, does not come in way of his passion for social work and music and arts. An exceptionally talented writer and an ardent philanthropist, bookGeeks got a chance to interview this charismatic author.
| | |
| --- | --- |
| bookGeeks: | Tell us something about Sumit as a person. What is an ordinary day in your life like? |
| Sumit: | I am a Chemical Engineer from IIT-Kanpur 1998 batch and the Managing Director at MLA Group of Industries, Kanpur. I have a lot of responsibilities so my routine is quite hectic and strenuous, but I make sure to add thrill to it by pursuing my passions too through multi-tasking. So I wake up, give some time to my music, doing an hour of riyaz in the morning. I also believe one needs to have a healthy body to have a healthy mind. So I give around half an hour to 45 minutes to exercise too, every day, without fail. I usually work for around 10-11 hours (as I have to take care of a 150 crore turnover company, with more than 400 employees that too single-handedly). Later in the night once I'm done with my professional responsibilities, I work on my creative pursuits for 1-3 hours till 3 am in the morning, followed by 7 hours of sleep. |
| bookGeeks: | Tell us something about your brain child "PRERNA"? |
| Sumit: | As I said earlier, I was pained at the state of our country and wanted it to march ahead. And I wanted to contribute to it, majorly. So much so, that I planned to amass a lot of wealth to back my efforts like cleaning the city with a fleet of self-owned JCBs and trucks, establishing beggar rehabilitation homes etc. I felt responsible in some when I would see a hapless beggar on the roadside. But that time of owning a self-replenishing well of money did not come even after 10 years of being in business. So I started my NGO in a small way, which over a few years became an organised effort backed by some really good people. It works on adopting government schools and improving the infrastructure, quality of education and all round development of these children. |
| bookGeeks: | In your book, you have mentioned a lot of solutions to the problems faced in our country. Do you think they are practical? |
| Sumit: | As we know, INDIA is a huge and diverse nation. So are our problems. I have touched topics like poverty, corruption, terrorism, Naxalism in a very interesting and engrossing way, intertwined with the story, and have tried giving practical solutions for them. These solutions are based on the bigger picture one needs to see while keeping in mind all the practical constraints the decision makers would be faced with. |
| bookGeeks: | Which solution according to you can be implemented right away in the present scenario? |
| Sumit: | Many of my suggestions have already been implemented by the new government, such as the surgical strike on Pakistan, the demonetization (attack on black money) and very recently new UP chief minister Mr Yogi asking the politicians and bureaucrats to declare their assets. |
| bookGeeks: | How do you manage your time between running a business, managing an NGO and writing? |
| Sumit: | It is a matter of how passionate you are about your dreams and learning the art of multi-tasking. Also, God and my family are to be given credit for giving me that skill-set and the comfortable frame to operate in. |
| bookGeeks: | Which among the three is the dearest to you? |
| Sumit: | All three are equally dear to me like one's own children. The priority, however, is for business as it is my first love and the source of bread and butter for our family. |
| bookGeeks: | Are the Quadro of Raghav, Salman, Aditya and Varun inspired from real characters which you may have come across in your life? |
| Sumit: | Yes as I have mentioned in the beginning of the book, all the characters are inspired to a certain extent by real life characters with my flavour and imagination added to it. Otherwise, also, it is totally impossible for anyone to develop a character that doesn't resemble people known to him in any way. Some traits would definitely match unless you are writing of ghouls and extra-terrestrial species. |
| bookGeeks: | We learn that your book is soon to be a motion picture. If given a choice, whom will you cast as the Quadro and Dr Sabharwal? |
| Sumit: | I would have loved it if Mr. Om Puri could have played this because as he has read and appreciated the book. Also he was kind enough to give his comments for it as well. I remember meeting him at his residence last year, really generous and down to earth, but as he has recently passed away. I think Mr. Anupam Kher would also do justice to the role. For the Quadro - Varun Dhawan as Varun, Salman Khan as Salman, Hrithik as Raghav and Aamir Khan as Aditya. And not to forget, Mr. Warren Buffet as the producer. |
| bookGeeks: | What are your other interests outside of writing? |
| Sumit: | Music has always been very close to my heart. I have made many soulful songs, which you can find on my YouTube channel Sumit Agarwal or you can log on to www.sumitagarwal.net. My songs LEHZA and O-MAULA have been aired on MTV Indies. |
| bookGeeks: | Any new book that you are currently working on? |
| Sumit: | Another patriotic thriller, with a new and even more interesting flavour. It's brewing in my mind. |
| bookGeeks: | A few words for your readers. |
| Sumit: | Please read as much as possible, not just yourself, inspire your friends and family too. And read not just for entertainment, but for a higher purpose. |
| bookGeeks: | A few words for bookGeeks.in. |
| Sumit: | The questions were framed very nicely and the approach was very mature and professional. I'd recommend my fellow authors to contact Sankalpita and take up his services for book reviews and interviews. I wish you all the best in all your future endeavours. |