Srimoyi Bhattacharya- Author of Pitch Perfect
on
Mar 05, 2022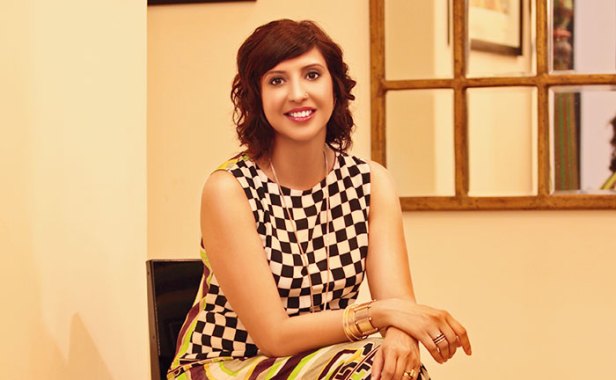 For over 25 years, Srimoyi Bhattacharya has been helping brands and entrepreneurs communicate their best selves to the world. Srimoyi founded Peepul, her own public relations company, in April 2006. Peepul Brand Relations is one of India's top boutique PR firms in fashion, luxury, and lifestyle space. Over the years, the firm's clients have included marquee brands, like Hidesign, H&M, De Beers, Kama Ayurveda, Swarovski, Good Earth, Raw Mango, DLF Emporio, The Chanakya, and Sotheby's.
Frontlist: The world of PR is massive in its own terms. How big is the role of social media in making your company big, authentic, and at the very same time appealing?
Srimoyi: I would say it really depends on the sector you work in. And social media platforms should not be the only way of showcasing a company's values or DNA.
All industries have been reshaped by COVID-19 to a varying degree, but in India, I find that traditional media has been, perhaps, one that has been impacted and changed quite indelibly. At the same time, social and digital media have grown enormously in influence and power. What PR does via traditional media is help you talk to all your stakeholders, and social media helps you build a direct line of communication, especially with your customers.
You need both, and they have to be in sync with one another, so you have a seamless universe of communication. One does not replace the other, even though these days I find that a lot of brands think they can swap one out for the next.
Frontlist: Ever since social media has approached the corporate scenes, the definition of talking and interacting has changed considerably. Do the companies of today have the potential to stand equally strong if the use of social media is decreased as a promotion tool?
Srimoyi: My peer and friend, Pareina Thapar, who worked as a journalist for years before co-founding Longform Communications, represents some of the most compelling brands in India. She makes a strong case in the book for this question, and I believe the answer is in the balancing act.
"In the traditional landscape, everyone understood the functions of advertising agencies, PR agencies, media planning advisories, sales and marketing functions, etc. - there were defined boundaries. In social media, newer forms of roles have emerged and are ever-changing. For those who don't understand the medium enough, it can be overwhelming to understand and navigate different functions. E-commerce versus social media; storytelling and content strategy versus performance marketing – it is never-ending," she said. "But the main focus is the unification of brand voice [and goals] across all platforms. For instance, in-store experience and customer service may be a superb offline world for one brand, but it may have a terrible digital curation and brand messaging. On the other hand, a brand can be very good-looking digitally and off the mark in the real world. Being good on omni-channels is becoming essential to the survival of brands. There is no balance.
When you work on a brand's identity and storytelling, you have to be able to live in the past, present, and future all at the same time. Trends come and go and are definitely important because they keep you in the now. Learnings from the past help you recognise what is cyclical learning to be future-forward is important for your evolution. Being curious and having an appetite to observe and absorb is important, and this takes discipline to build. You also need to be nimble and quick on the uptake."

Frontlist: How do you visualize the development of women entrepreneurship in the country?
Srimoyi: We have many examples of women leaders in both the corporate and the lifestyle space. I find that our working environment is more compassionate here to family or personal constraints if I were to compare with other cities I have worked in like, Paris or New York. Governance will follow new societal shifts as more women join the workforce consistently and vice versa?
Frontlist: Does entrepreneurship bring equal opportunities to both men and women, keeping the gender walls aside?
Srimoyi: I moved to Mumbai in 2008 from New York and extended my company shortly after. In the course of the last 14 years of my career track here, I have never felt at disadvantage in my working environment. Perhaps this has to do with my profession in the beat I work with. I started in India with a project for ICICI Bank, in a field that was not my strength but where I could bring domain expertise. I always felt heard and respected in my strong opinions. I don't believe it is the case in all categories of business, in mine, diversity comes in many ways and has been a part of the fabric of our company. Companies like Godrej have been working towards educating in this space, and I believe more corporate groups should follow their lead.

Frontlist: Have the governmental policies become the reason for the start-up waves in the atmosphere of the country? What are the laws and policies supporting the start-up ecosystem around the nation?
Srimoyi: The rise of start-ups has to do with the confidence of new generations in the future of an idea in our country, and #vocalforlocal has become more than a trend. I am proud to watch the number of young entrepreneurs who realise that serving a market of over a billion may make more sense sometimes for their category than looking at a white label in export, for instance. The Government has helped in bringing large-scale endeavours to the forefront, but, what I am interested in, is also the small shop with big dreams.

Frontlist: How important does it becomes for a venture to groom at the initial stages?
Srimoyi: It is critical for a firm to bring a strong culture with a defined ethos and values from its foundation. If voices are dissonant in vision or values, it shows in how the brand operates. Having a strong foundation helps groom and build a strong grip within before going out to the world.

Frontlist: You have such an ample amount of experience in PR; how do you rate networking, marketing, and PR playing an important role in the times of today?
Srimoyi: The one thing that has not changed about PR, no matter which country I am in or which industry I work with, is that this is the business of making connections and building relationships. We have to simply keep adapting basic skills of relationship-building to modern mediums.
What does it mean to build allies? That you create a community of people who believe in you, your brand, and your product or service, and they will support you as you grow. You can think of a core group as your champions, who become a true part of the journey, and you might even rely on some of them for advice or opinion. And eventually, you want this connection to amplify your message to your consumer. One of my greatest lessons has been to always consider what the mutual benefit is. An ideal network is one built on generosity and authenticity.
Frontlist: Do you think women entrepreneurs of this country, like Falguni Nayar (Founder - Nykaa) and Richa Kar (Founder - Zivame), are setting a standard for women entrepreneurship in the country?
Srimoyi: What the founding ladies have achieved is exemplary and sets a precedent for breaking all notions of the glass ceiling with incredible vision and clear execution. Beyond that, they have also set an example within our retail communities: you don't need to come from the field to build success, you own it through knowledge and understanding a white space.