"Secrets of Happiness"
"Secrets of Happiness"
on
Apr 27, 2021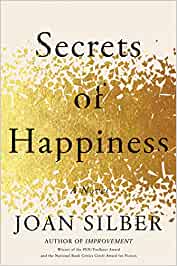 Happiness is our own responsibility and it is an absolute privilege to oneself. "Secrets of Happiness" is a self help book talking about finding happiness. 
Now, Self-help books' market has grown tremendously in recent times as everyone is taking help from books someway or the other, whether it's about searching happiness or how to make friends or upping your personality game etc.
Now when you search for "Secrets of Happiness" you will have to go through a library full of secrets of happiness as authors like Eckhart Tolle, Lucy Diamond, Billy Graham and several others have written books with the same title.
Depending on your favourite author of choice you'll have 7, 8, 10, 12, 50 or 100 secrets of happiness.
All of these authors come to one epicenter that the secret is simple but there is no consensus on whether happiness is revealed by the Danish, the Japanese or your dog.
Joan Silber's "Secret of Happiness" comes to one point that science is unsettled.
"Secrets of Happiness" by Joan Silber seems like a series of stories linked together although it's a big wheel spinning between chapters as every chapter is spinning into some other character in a pool of possibilities. Only a moment is needed to get your bearings and disappointments of leaving one narrator behind and then replacing it with another. (SPOILER AHEAD!) All of these characters have a relationship of closeness, sometimes it's weak but all of them land onto one reason that is searching for happiness. Although not all of them find it.
In this novel the prime mover is a manufacturer of ladies' garments regularly travelling from New York to Thailand. In the opening story his family who is not too far away from their big Manhattan apartment discover that he has a Thai mistress and they go to Queens frequently where Mom no. 2 is a hostess at a Thai restaurant.
This story is narrated by Ethan, a son from the first marriage who finds out about his parents' discomfiting and his father's secret love life. His mom heads off to Thailand to teach English after quitting her job without making any plans of her return.
These stories often seem like late night phone calls from old friends. Joan has tried to create an illusion of a confession spilling out, pushed by every speaker's strange life events.
As interesting and intriguing this group and their stories appear, all revolve around money and love.
Even if Silber tried to hold a coin in the light, testing the mettle of each grasping, grateful, generous soul still these stories turn on questions like - Can a check ever come with no strings attached? Who cares enough to nurse the dying? Who deserves the inheritance?
The final chapter of Silber's "Secrets of Happiness" involved the sale of a rare, stolen copy of "Treasure Island" by Robert Louis Stevenson.
By "Treasure Island" Joan served a clever reminder that the search for riches still animates the drama of so much of everyone's domestic life.