SARANG MAHAJAN talks about his latest book "INKREDIA" | AUTHOR INTERVIEW
SARANG MAHAJAN talks about his latest book "INKREDIA" | AUTHOR INTERVIEW
on
Aug 20, 2019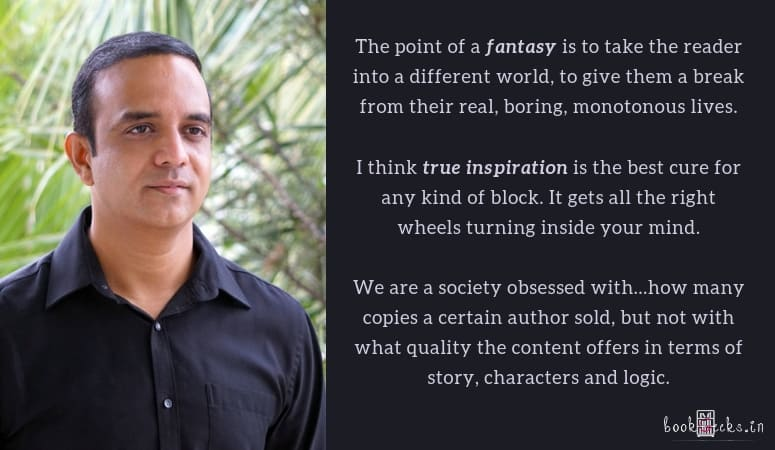 Sarang Mahajan
 is the man behind what is being hailed as India's first 
authentic fantasy fiction
.
Inkredia – Luwan of Brida
 has been generating some rave reviews around the world, with readers from India, USA, and the UK showing their love and appreciation for this latest buzz in the world of Indian fantasy. When he isn't spending time turning his pipedreams into gargantuan sagas, he likes to indulge his creative faculties in his other passions – travel photography and travel writing. He is a programmer turned web designer turned businessman who chose business over the 9-to-5 life because that was the only way he could indulge his passion for writing. Having written a decent number of screenplays for prime Indian channels like Stars and Colors, 
Sarang
 has finally understood that his true calling lies in writing books. His debut book, 
Inkredia,
 is a 
one of a kind fantasy
 which, unlike most Indian fantasies flooding the literary scenes these days, is neither based on mythology nor is it inspired from any western fantasies. Each and every part of the Inkerdia universe is original and created from the scratch. We at bookGeeks got a chance to interact with this talented author. Read on to know what he has to say about his book, his writing and reading in general.
| | |
| --- | --- |
| bookGeeks: | Tell us something about yourself. What are your likes and dislikes, what are your dreams and aspirations? |
| Sarang: | I am an introvert, who, if the situation demands, does not find opening up to be a challenge. If given an option I would prefer an evening chatting with two close friends rather than being a part of a boisterous party of 100. I love food. I love watching movies. I like it better to stay close to nature than being in the heart of a metro. I like to travel. There aren't many things that I don't like in particular, but I do try to stay away from the negativity of any sort. My dream is to write stories that will possess me while I am writing those, and to do it in such a way that I don't have to do absolutely anything else for months while I am at it, except for whatever the story demands such as travelling, research, meeting people and so on. |
| bookGeeks: | Your book Inkredia: Luwan of Brida is getting some really rave reviews from readers and reviewers alike. How do you feel? |
| Sarang: | It pleases me that reviewers have loved the book so far and said a lot of good things; many that I didn't expect them to say, maybe because I am too critical of myself. But what pleases me, even more, is that genuine readers who have been buying the book have loved it so far. Every day I get a lot of responses on my social media accounts. It's a surreal feeling to connect with people this way. I even read the names of all the cities that they belong to for the first time. Yes, it makes me absolutely happy to know that they loved the book, but what I find even more magical is that they had a strong desire to read it in the first place, which made them buy the book. That desire is the product of the good word of mouth that the book has been generating. I think that's the best achievement one can aim for, people recommending the book to others after they have read it. |
| bookGeeks: | If JK Rowling gives you the chance to star one of your book's character in the Harry Potter universe, who will it be and in what circumstance and capacity? |
| Sarang: | Well, if I consider only my first book, Inkredia – Luwan of Brida, the one that has been published, I would go with Kiliarn, because I think he would add value to what's already a phenomenal and rich creation in the first place, and because I don't think there's a character like Kiliarn in the Harry Potter Universe. In what circumstance? That's interesting. Kiliarn is a free spirit, the one who roams around the world, whereas most of the Harry Potter stories take place in Hogwarts. I think he would be quite an asset to the main trio if he met them in the last book when the story finally moves out of Hogwarts. One crazy idea is also that he could be one of the teachers, teaching Defense against the Dark Arts, maybe? I think this will suit him because the teachers of this subject don't last in the school for more than a year, and Kiliarn would also not want to do any one job for too long because of his nature, particularly if it keeps him in one place and also makes him follow rules and discipline. If I can consider the second book of the Inkredia Series, the one that's scheduled for a release in 2019, it would be Luwan, because of the way his character transforms. Although, there are many characters in the second book and it would be fun to try some of those. I loved this question, by the way. Fantastic. |
| bookGeeks: | How often do you take inspiration from your own life or lives around you while writing? Is it possible for fantasy to be influenced by real people and the real world? |
| Sarang: | I almost never do it when it comes to writing fantasy. Not so far. I guess it's possible for a fantasy to be influenced by real people, but it would depend on a few things. One is meeting someone worthy of being an inspiration to base a character on because these characters have to be entertaining and unique. The period in which the story is set will also be a factor. It's tough to imagine today's people in a story set a thousand years ago, although not impossible. The point of a fantasy is to take the reader into a different world, to give them a break from their real, boring, monotonous lives. Yes, even in a fantasy the characters have to be relatable and must bring in the same human values and elements that we experience in our real lives, yet it's tough to find such an inspiration in real life because our lives are not that dramatic. |
| bookGeeks: | Have you ever faced the much-dreaded writer's block? If yes, how did you deal with it? |
| Sarang: | I don't think I have faced a writer's block yet. At least not in the way that I can recall it at the moment. Though I keep facing situations that don't let me sit down and write. Whenever I return from a long break and resume my writing, it does take a bit for me to find that rhythm, to separate myself from the real world stuff and enter the imaginary one, but I do get there sooner than later. If I ever truly face a writer's block, I think I will stop trying to write and focus on something else, but I will also keep watching or reading stuff that will inspire me. It's not about the content that other creators came up with, but about the fact that they came up with it, that they did something amazing. That will do the trick. I think true inspiration is the best cure for any kind of block. It gets all the right wheels turning inside your mind. |
| bookGeeks: | JK Rowling or George RR Martin? |
| Sarang: | If you think in terms of their literature, I think what George Martin has achieved is way more difficult than what JK Rowling has achieved. Martin has created a character-driven fictional universe with mind-blowing plot twists. He toys with the reader's mind in ways that are unimaginable for regular writers. One would have to be a sadist and a psychopath and a genius to achieve something like that; to write something like the Red Wedding. Yet, I would always go for JK Rowling. I believe she has spread the message of love, courage and friendship better than any other writer… and that she has delivered to children, at the age when it matters most. Personally, I connect better with her kind of stories as a reader. And I also think that she would reach out to a lot more readers with her message than George Martin ever will. |
| bookGeeks: | If a Bollywood movie is to be made based on Inkredia: Luwan of Brida, who would you like to be cast in the role of Luwan? |
| Sarang: | It will be some new-comer, given Luwan's age, which is 17. Could it be Ishaan Khattar? I don't know, haven't seen him much. Even if we were to forget the age for a moment, I can't come up with an answer to this. I think I would leave the burden upon the casting Director with a note saying: 'Tall, lean and athletic. Intense but responds well to good humour. A face that you can trust.' |
| bookGeeks: | What are your thoughts about fantasy writing in India? |
| Sarang: | I don't think we have ever looked at the fantasy genre the right way. Until ten years ago, the idea of fantasy in India was that it's something for children where the story need not have any logic, where there are brave heroes that can crush enemies from the word go and where there are gaudily dressed villains with a loud laugh. Now, that idea is slowly transforming into a similar setting but one that's loosely based on sagas or figures from Indian mythology. We are still at an amateur level because we don't try to write a fantasy with some literary values, if not all. Our heroes are always born-to-fight and ready from the outset. There's no character struggle. I think, given the kind of upbringing that we get, given our social and economic structure as a society, it was never going to be an easy task for India to grow authors that wrote fantasy with similar conviction as they wrote books based on social or personal drama, which has been done outstandingly by some Indian authors. As a result, whatever fantasy we do have in India is like a body that has suffered severe malnutrition. I hope this changes but I can't see us on that path yet because the masses aren't yet demanding quality in terms of story and characters. Look at the kind of success a movie like Bahubali scores. There's nothing wrong with Bahubali, don't get me wrong, because it entertains those who buy tickets. But we haven't realized how much more we would get from out movies and books if they had a little more depth in the story aspect. We are a society obsessed with how many crores a film made and how many copies a certain author sold, but not with what quality the content offers in terms of story, characters and logic. I believe if we paid attention to that, we'll do way better than we do now. We'll reach a global scale, and that includes a better commercial success as well. |
| bookGeeks: | What is your biggest ambition as a writer? |
| Sarang: | I would like to write stories that are appreciated in India but also outside, especially in the west where the fantasy genre got its strength. |
| bookGeeks: | Other books that you are currently working on? |
| Sarang: | I am, obviously, working on the second book in the Inkredia Series. It's titled The Castle of Tashkrum. Other than this, I have been writing an Indian Fiction Novel that I wish to finish some time in 2019. |
| bookGeeks: | What are you more likely to do – songwriting or poetry? |
| Sarang: | If you put a gun to my head, I will try to write a song. |
| bookGeeks: | Who is your biggest critic in life? |
| Sarang: | I am. And I wish I were not so harsh. I would finish my books faster. But that's as far as writing goes. My mother has been my best critique for all other aspects. She has always pointed out the mistakes which when I got rid of made me a better person. |
| bookGeeks: | Who is your favourite Indian author and why? |
| Sarang: | I can't answer this because of my own shortcomings. I am not a voracious reader and I can't read much else other than the genres that I love, which don't exist in India. Growing up, I read a lot of Marathi books, but even then I used to go for the translations of western classics. |
| bookGeeks: | What is the one advice that you will give to aspiring writers? |
| Sarang: | Do not let mediocre writers that only sell big numbers be your inspiration. You will end up being a mediocre writer yourself and chances are you won't sell many books because the success of these writers lies in several other factors that have nothing to do with writing. Mastering these other factors is way more difficult than writing a good book and not everyone can do it. On the other hand, if you write a good book, your chances of selling good numbers will go up, though it doesn't mean you won't have to struggle or get some important decisions concerning publishing and promotion right. |
| bookGeeks: | If you get a chance to date one fantasy author from any country and anytime period, who will it be? |
| Sarang: | This might sound creepy but if there was a female version of George RR Martin, I would like to briefly date that person, just so I could see how exactly that mind works in real life. I am quite curious to see the person that writes characters like Ramsey Bolton (and also a wide range of other starkly different ones). |