PVLF2023| Blossom Kochhar Aroma Magic| Gifting Partner
Blossom Kochhar Aroma Magic is a pioneer of aromatherapy in India and was founded in 1994 by Dr. Blossom Kocchar and her husband, the late Col. V. Kocchar.
on
Nov 23, 2022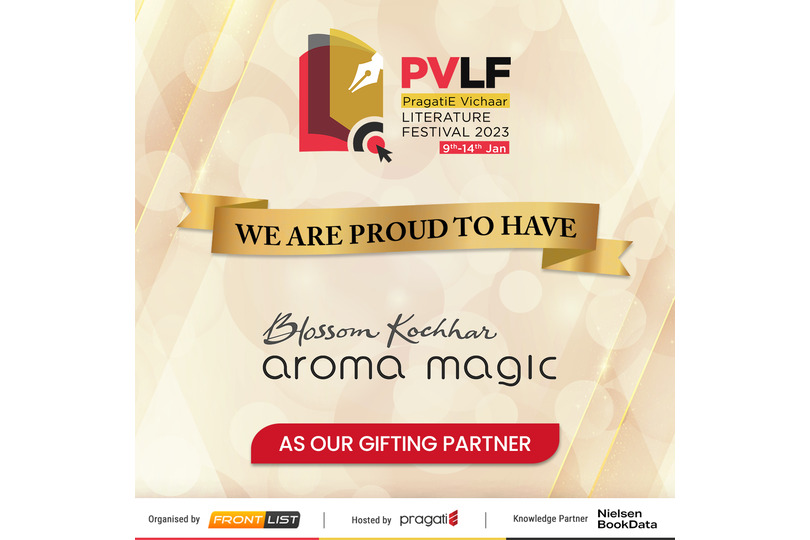 We are thrilled to announce that Blossom Kochhar Aroma Magic will be our Gifting partner at the PVLF Author Excellence Awards 2023.
Blossom Kochhar Aroma Magic is a pioneer of aromatherapy in India and was founded in 1994 by Dr. Blossom Kocchar and her husband, the late Col. V. Kocchar.
About Blossom Kochhar:
Dr. Blossom Kochhar has devoted her entire life to skilling and educating people across the country in Beauty, Hair and Aromatherapy. For the last 42 years, under her tutelage, over a lakh of students and thousands of under privileged youth and women, differently abled children, army widows, cancer survivors and orphans have been skilled and empowered to earn a livelihood for themselves. She is the co-chairperson of the Beauty and Wellness Sector Skill council, India Skills since 2017.
In 1984 she brought Pivot Point, an international education system to India. This laid the foundation of skilling in hair and beauty education in India. Her students gained immense respect and today they are some of the biggest names of the industry. In just a decade after she began, her ambition to make the beauty industry a respectable profession for youth and women, began to take shape.
Being an army wife, she has worked closely in skilling armed forces widows and their children in beauty to earn a livelihood. In early 1998, she started a vocational training institute unit under Army Wives Welfare Association for this purpose and subsidised training have been on since 1998. She has also done grooming classes for BSF officer's wife.
Dr. Blossom Kochhar introduced a structured and systematic approach to hair, beauty and spa education almost 30 years ago in order to bring the Indian beauty industry to the international standards. She is a name to reckon with when it comes to beauty education and she heads the country's premier hair, beauty, make-up and spa school chain called Blossom Kochhar College of Creative Arts & Design (BKCCAD). At BKCCAD every year under-privileged students, women, specially-abled are trained in beauty, hair & make-up for free. She sets the syllabus and the skilling standards. She has been the technical director for Vocation education with Delhi Govt.
Her patience and conviction towards skilling had her travel country wide from the remotest areas of North East to the interiors of Jammu & Kashmir to the depths of Kerala and the heart of Chattisgarh. She is a grooming enthusiast and never leaves a chance to groom as many people as possible. When she is traveling to a new city, she makes sure that the people around her get better knowledge about and get groomed for their benefits.
Dr. Blossom Kochhar has been known for her grooming sessions for over three decades. She had conducted many grooming sessions for various beauty pageant events, celebrities, actresses and has been the official grooming expert for fbb Colors Femina Miss India for two consecutive years now. She believes that a person is their own best advertisement. In her words, "Being a Miss India or a Miss Universe is not about having a pretty face only. It is more about being a woman of substance. It is about how a woman glows and sparkles from within, the presence of mind and the level energy they have on the stage." She had groomed many celebrities like Sushmita Sen, Aishwarya Rai, Priyanka Chopra, Gul Panag, Lara Dutta who are the biggest names in the industry.
Apart from these, she had groomed around 600 corporate people belonging to various corporate sectors. Front office and other staffs from the leading five-star hotels like Oberoi, Shangri-La, Raddison Blu, Westin Sohna have been groomed by Dr. Blossom Kochhar. Some of the most reputed companies in India like Hindustan Times, Maruti had also conducted grooming classes by the grooming expert for the benefits of their staffs.