An exclusive interview with Novoneel Chakraborty. The man behind many bestsellers
An exclusive interview with Novoneel Chakraborty. The man behind many bestsellers
on
Apr 15, 2020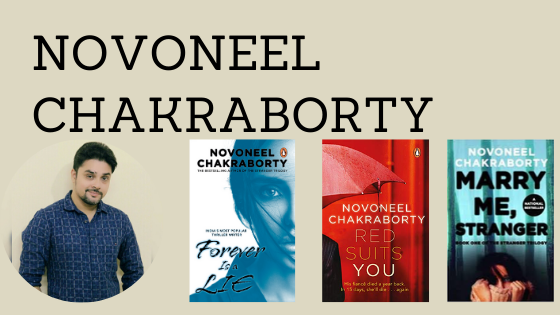 COVID-19 pandemic has affected millions of people globally.
The government of India has announced the nationwide lockdown 2.0 till May 3.
As people are spending their quarantine by exploring novels and knowing about their favourite writers,
Author Novoneel Chakraborty
shared his ideas and views in an exclusive interview with
Frontlist.
Q. What is your inspiration behind writing your thriller novels?
I think a thrilling way of telling my stories comes naturally from within. That's how I like to tell my stories. With a lot of twists and turns and with a certain degree of unpredictability. I enjoy keeping the reader on a hook.
Q. Why did you choose to be an author?
I guess I was destined to be one. Certain events and situations turned up in a way when I was in college which brought me to this juncture in life. And none of it was planned by me. I simply kept floating on the ocean of life.
Q. Besides writing, what are your other interests?
My other interests apart from writing stories are movies, reading and travelling.
Q. What kind of authors do you read?
I don't go by authors really. I go through blurbs and pick up whichever story I find interesting enough according to me.
Q. How were your initial days as an author? Any pointers for new authors?
The initial days weren't anything surprising since I had my reality check done. Fame and money takes time to follow you and if anyone wants to become an author because of those things, then it's a black hole they are getting into. Telling stories to sustain your life requires a lot of patience and hard work.
Q. According to you, how to craft a bestseller?
One can only craft a story. A bestseller is something which the book becomes if it sells well. And selling of a book involves a lot of factors, one of which is how it's written.
Q. As the COVID-19 pandemic hit the global industries, as a writer where do you think is the Indian Publishing industry is standing right now?
I don't have any numbers to put forward any statistics but I'm sure that the publishing industry is just another industry which would pay heavily because of the pandemic. Book buying is anyway a borderline luxury for Indians and with the economy taking a beating, I am only hoping the damage is as minimum as it can get. Since it not only involves the authors but the bookstores, their staffs and a lot of people.
Q. What is your schedule in this quarantine? Are you working on any new piece?
I'm managing my time between work, reading and watching. Working on a few ideas let's see when it becomes a full-fledged book.
Q. Any special read which you want to recommend to our readers in this lockdown?
I'm currently reading The Japanese Lover which people can give a read. It's a period love story.
Q. What kind of role ebooks are playing in this lockdown?
Well, since the only way you can buy new books is ebooks, I'm sure there must be a certain surge in it's sales. As long as people can read I think in today's times the mode doesn't matter.
Q. This time has given a whole another level to ebooks and PDF, what do you think about the future post- COVID-19?
The ones who get used to ebook reading during this lockdown, may take up e-reading. Otherwise, I feel paperbacks will be back once the lockdown is over.
Q. In your views, how will the lives of people be changed after the pandemic of COVID-19?
I don't think there will be a 360-degree change in anything. The human tendency will make us get back to where we were before COVID 19. Maybe certain hygiene practices become a part of our system at a community level. If that happens, it will be great.
Q. As India is having a 21-day lockdown amid COVID-19, How can a writer use this quarantine for his/her work? Especially the budding writers.
Time management is the answer.
The point isn't to be at it all the time. But give a certain time during the day where one can intensely squeeze out quality content.
Chakraborty has shared the insights of his quarantine life during COVID-19. He counts as one of the best Indian thriller writers. His novels Black Suits you, X, Marry me Stranger trilogy has made his name in the writing industry.
His popularity among the young readers makes him the part of the list of best Indian writers.
Check out
Frontlist
for more updates