Niyogi Books's FIRST CHILDREN'S BOOK – Why can't Elephants be Red? By Author Vani Tripathi Tikoo
Publisher Niyogi Books' FIRST CHILDREN'S BOOK – Why can't Elephants be Red? By Author Vani Tripathi Tikoo
on
Feb 17, 2023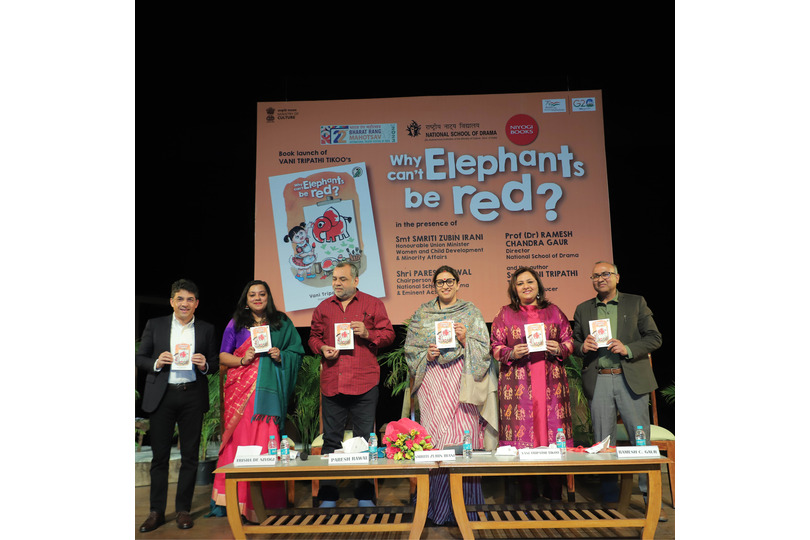 Niyogi Books is proud to announce its first illustrated children's book Why can't Elephants be Red? by Vani Tripathi Tikoo.
A debut book by actor, producer and Board Member, CBFC Board, Vani Tripathi, Why can't Elephants be Red? takes a deep dive into the subliminal world resided in by gritty children who are much more resilient than adults. The author delves into their world from a childlike perspective, keeping her parental hat aside.
The author is also a practitioner of GRIPS Theatre, renowned emancipatory children's and youth theatre based out of Berlin where adults perform as children, with children and for children. This book can be considered to be an extension of her work in the space of theatre and education.
Vani Tripathi Tikoo, about writing this book, says, 'This book is a salute to the tolerance and resilience of children who can adapt to new surroundings and situations that are sometimes out of their control. They are in sharp contrast to adults like us who constantly crib and complain about things not going their way. Perhaps the adult mind sometimes forgets that we once were children too. My prayer is to bring back that innocence that we have lost and forgotten in our hurry to grow up and become adults.'
On publishing the book, Trisha De Niyogi, Director and COO, Niyogi Books, says, 'We are delighted to present to you an illustrated children's book that takes readers into the adorable and magical world of a little girl for whom everyday life is full of wonder, surprises and fun. It will, in all probability, bring out in you a feeling of nostalgia for a time when we were young, curious, amiable and agile ourselves. An interesting book for all age groups, it can be enjoyed by children and young parents alike. Also, let's not forget the uncles and aunts, grandmothers and grandfathers and brothers and sisters who all play important roles in the raising of a child. As the saying goes, 'It takes a village (read: family) to raise a child.'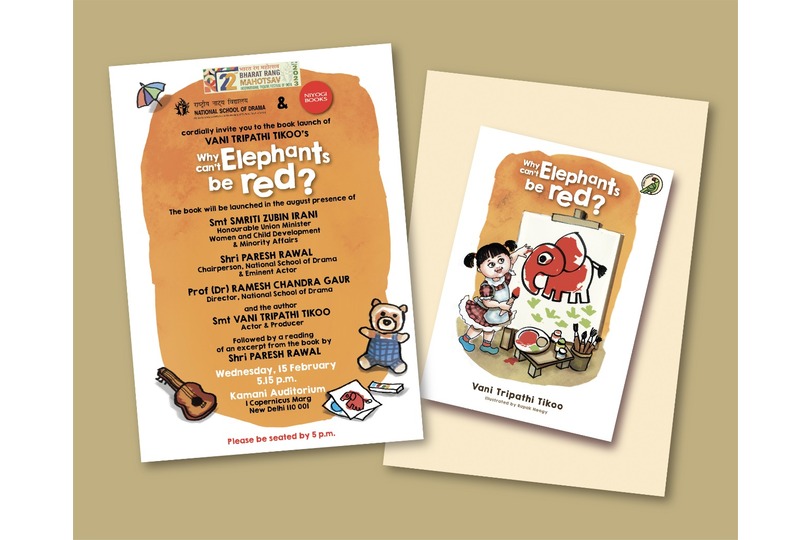 ABOUT THE BOOK
Akku is a lively, imaginative and adventurous two-and-a-half-years-old little girl. Growing up partly in Gurgaon and mostly in Singapore, she is the darling of her big joint family consisting of her parents, grandparents, aunts, uncles and cousins, as well as her caregiver and her friend.
From playing with her fishy friends and beloved puppy to discovering the wonders of swimming pools, sea beaches, food courts and restaurants, every new experience fills Akku with joy and curious questions. Be it omelettes, pakoras or curd rice, she gobbles them all up. She loves to scribble and draw and mixes up colors to create new ones. Her imagination runs riot with elephants that are red, crabs that have moustaches and unicorns that don't have horns. Whether it's an art class or a playdate with her friend, Akku has fun and learns new things about her world. But the biggest adventure of all awaits Akku—her first day at school.
ABOUT THE AUTHOR
Vani Tripathi Tikoo is a versatile theatre, television and film actor with extensive teaching experience at the Theatre in Education Company of the National School of Drama, New Delhi. She considers The Little Prince as the Bible for all adults who want to understand children. Keeping her work with children alive after having written plays that turned into performances and conducting theatre with kids for more than two decades, she has finally forayed into writing for children. This is her first book as an author. She considers children to be the gurus who save us from the perils of adulthood!
ABOUT THE PUBLISHER
An internationally acclaimed publishing house, Niyogi Books, established in 2004, has more than 500 titles today. We not only specialize in textual context but also strive to give equal importance to visuals. We purvey a wide range of content on art, architecture, history, culture, spirituality, memoirs, and every aspect which connects us to our rich heritage. Under our umbrella, we have fiction and non-fiction that cover books on social science, cookery and self-help as well as English translation of modern classics from different Indian languages. Niyogi Books has recently launched four new imprints: Olive Turtle (English Fiction), Thornbird (English Translation), Paper Missile (Non-Fiction) and Bahuvachan (Hindi Translation: Fiction & Non-Fiction). Also, we have co-published a number of critically acclaimed books with reputed institutions like the British Library, Rietberg Museum, Zurich, IGNCA, National Gallery of Modern Art, Ministry of Culture (Govt. of India), National Manuscript Mission, Sahitya Akademi, among many others.