Interview with Milee Ashwarya- Publisher, Penguin Random House
on
Mar 07, 2023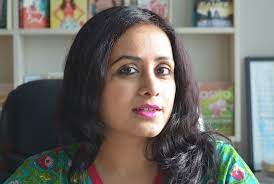 Milee Ashwarya is Publisher, Ebury Publishing and Vintage Publishing at Penguin Random House India. Her focus has been on championing the best voices in fiction and non-fiction while publishing a range of bestsellers across segments. Her authors include Prime Minister Narendra Modi, Piyush Pandey, Hussain S. Zaidi, Yuvraj Singh, Hindol Sengupta, R. Gopalakrishnan, Karan Johar, Ravi Subramaniam, Anand Neelakantan, Navi Radjou, Shilpa Shetty, Novoneel Chakraborty, Amjad Ali Khan, Shradha Sharma, Emraan Hashmi, Sonali Bendre, Radhakrishnan Pillai and Payal Gidwani Tiwari to name a few. A TEDx speaker, she is passionate about issues related to working women, parenting, and the environment. She was recently awarded the Women Achievers' Samman 2017 for publishing by the Global Organization of People of Indian Origin (GOPIO) and the Distinguished Alumni Award 2017 for Excellence in Publishing by Hindu College, Delhi University.
Frontlist: A girl from the state of Bihar, which provides India with most of the IAS or SP officers, how does it feel to become one of India's most powerful women in Publishing?
Milee: There are brilliant professionals from Bihar in every field, not only civil services but also media, legal and more. I'm a proud Bihari and publishing professional.
Frontlist: It is said that you are passionate about issues related to working women. Please enlighten us on some of the similar issues you have published.
Milee: We've only recently published a lot of books on issues around women: Boys Don't Cry and Feminist Rani by Meghna Pant, as well as memoirs of women who have led interesting and challenging lives such as Sach Kahun Toh by Neena Gupta.
Frontlist: You were awarded the Women Achievers' Samman 2017 for Publishing by the Global Organization of People of Indian Origin (GOPIO). Do you think such titles and awards motivate the women working in the industry to achieve more?
Milee: Absolutely. Awards do that. They encourage people by recognizing the work that has gone in. There should be more such initiatives to motivate women and men alike. And yes, always nice to be appreciated. In fact, this one was particularly special at it was GOPIO.
Frontlist: On the occasion of the 75th Anniversary of Indian Independence, Ebury Publishing and Vintage announced the launch of a new imprint, 'Penguin Veer', dedicated to stories of and from the country's armed forces legacy. Does this genre of war, defence, and military stories excite you?
Milee: Yes, it does excite me. There is a wide and growing readership in this genre, and Penguin has published many bestselling and eminent titles, including The Brave: Param Vir Chakra Stories, 1965: Stories from the Indo-Pak War and Kargil by Rachna Bisht Rawat, and Vijyant at Kargil: The Biography of a War Hero by Col. VN Thapar and Neha Dwivedi.
Frontlist: What changes do you want to bring in the business side of the publishing industry, dominated by the male gender?
Milee: Publishing has a healthy ratio of women, I feel, and even in Penguin, there are several women at the executive and the management level. We are very proud of this fact.
Frontlist: The work of publishing before the pandemic is not the same now. Consumer behaviors have changed very fast. Do you think publishers need to adapt to the new mindset and skills to operate at the global level?
Milee: We've all been adapting, and yes, there needs to be more. In the age of digital media and consumerism, we need to offer our readers a choice, not only in terms of subject but also the format in which they wish to consume the book.