MEGHA AHUJA talks about her latest book "STAND-BY LOVE" | AUTHOR INTERVIEW
MEGHA AHUJA talks about her latest book "STAND-BY LOVE" | AUTHOR INTERVIEW
on
Aug 20, 2019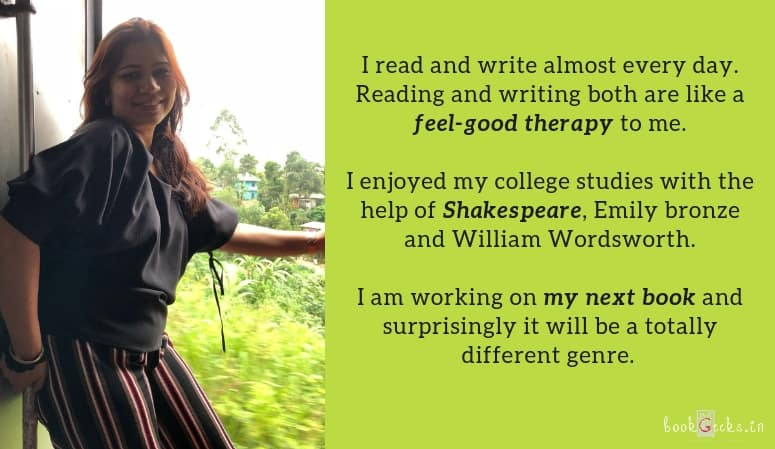 Author 
Megha Ahuja
 believes in doing the right kind of research for every piece of writing that she commits herself to do. And that's probably why you will find a lot of regional influences, cultural nuances, and detailed descriptions of places and things in her stories. This is her way of transporting her readers from real to written, from words to visuals and from reality to dreams. Her advice to aspiring authors who can't wait to try their hands at writing is to read a lot. 
Megha Ahuja
 also suggests that once they are sure about going down this path, they should never give in to procrastination. Her writing mantra is simple – to write as it is without mulling too much on style and errors. Just when she was looking for something to write her story about, a chance incident in the life of one of her close friends gave her the necessary push and inspired her to write the book, 
Stand-By Love
.
Stand-By Love
 is the story of a guy Rohan whose issues with marriage cannot be pinned down to the usual reason of commitment phobia. His apprehensions about marriage stem from a past that he just cannot remember. Rohan suffers from dissociative amnesia and sometimes gets flashes from a past that he is simply unable to recall and which continues to haunt his present relationship with long term girlfriend Akshi. We at bookGeeks got a chance to have a candid conversation with 
Megha Ahuja
. Read on to know more about what she has to say about her experience as a writer.
| | |
| --- | --- |
| bookGeeks: | Firstly, tell us a bit about the beautiful cover design of your book. |
| Megha: | This beautiful cover page was designed by my co-sister Pratibha Chhabra with the help of a friend who is a graphic designer. We were looking for the cover page which shows the conflict in the minds of the main protagonists and we also wanted to use a "shadow" background. After reviewing many cover pages online we were quite disappointed and after waiting for nearly a month, my sister convinced her friend to design it and we got a brilliant cover. |
| bookGeeks: | When did you come up with the idea of this book? |
| Megha: | I was thinking about penning a book since 2015 and when an incident occurred in one of my friend's life in a similar way I felt this topic is very relevant. So I decided to begin my writing career with a meaningful story. |
| bookGeeks: | What kind of research did you have to undertake to write this book? |
| Megha: | Story background and the location settings are always very important so I did research about the places near Pune and Goa. I also learned about Christian marriages and church proceedings and Marathi culture. |
| bookGeeks: | What are your upcoming projects? |
| Megha: | I am working on my next book and surprisingly it will be of a totally different genre. What I can say here is that in my upcoming book the story will create a parallel universe in a reader's mind through which they can relate and relive their emotions and get benefits in the subtle thought process. |
| bookGeeks: | How often do you write? |
| Megha: | I read and write almost every day. Reading and writing both are like a feel-good therapy to me and they give me immense pleasure. |
| bookGeeks: | Tell our aspiring writers a bit more about how to go about the writing process. |
| Megha: | I have gone through this and still finding myself in the writing journey. I would suggest that one should read a lot before trying your hand at writing and if you have an uncontrollable desire to write something, you should not stop yourself and bother about style and errors. First, finish what you want to say. Thoughts change in our mind every nanosecond. So learn to follow the one current thought and write it down. |
| bookGeeks: | How much did Dubai influence you love for writing especially that you've selected it as a setting in your book? |
| Megha: | Dubai has been my home for the last 15 years. I want people to know that Dubai is an amazing place. One can find a variety of culture here and if I would have chosen a different place it would be imaginary. What I can visualize clearly my reader can do that too. |
| bookGeeks: | Who are the authors that have had a lot of influence on your writing? |
| Megha: | I enjoyed my college studies with the help of Shakespeare, Emily Brontë and William Wordsworth. I have been profoundly influenced by the works of Swami Vivekananda and poets like Ramdhari Singh Dinkar. |
| bookGeeks: | What do you like reading in your spare time? |
| Megha: | I like books by Vikas Swarup, Chetan Bhagat. I just finished On Writing by Stephen King. |