Interview with Varghese Mathai, author of The Village MAESTRO & other 100 stories
The stories became so popular with students that, if they missed a class, they came to my office, not to catch up with the substance of the lecture they had missed, but just to catch up with the story!
on
Mar 30, 2023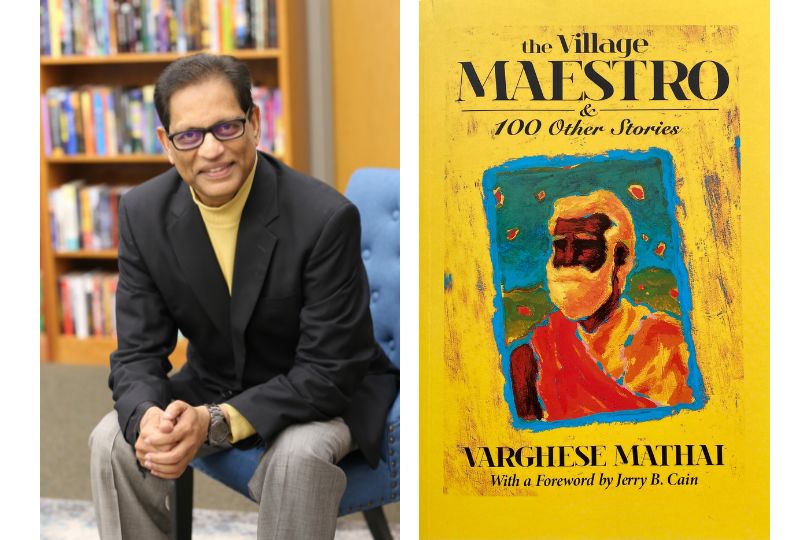 A Fulbright Scholar and visiting Professor of English at St. Stephen's College, Delhi, Varghese Mathai has a PhD. from Baylor University,Texas, where he was a Mortar Board Scholar and held the Robert Browning Fellowship. Since 2005 he has been teaching at Judson University, where he now holds the Benjamin P. Browne Chair, and is Professor of Doctoral Writing. Earlier, he held academic appointments at LeTourneau University, the University of St Thomas in St Paul, and the University of Minnesota. Among his other books is The Malabar Mandate: A Life of Volbrecht Nagel. His next book, Mahakavi K. V. Simon: A Miltonic Genius in Malayalam Literature (Bloomsbury) is due for release in 2022.

Frontlist: The Village Maestro and 100 Other Stories is a compilation of different parables. How did you come across these fables?
Varghese: Some stories I witnessed myself. Some I heard from family or friends. But most of them are stories that struck me from my research and general reading. You know, the academic life is continually exciting, because you spend the whole of your working life following different lines of research which lead in all directions – if only you have the curiosity and willingness to follow them

Frontlist: How did your routine of beginning lectures with a brief parable transform into the concept for this book?

Varghese: The stories became so popular with students that, if they missed a class, they came to my office, not to catch up with the substance of the lecture they had missed, but just to catch up with the story! Even after they graduated, some students got in touch to check some detail in a story, or to ask for the text – or to use my story in something they were presenting themselves. Over the years, many students have urged me to put the stories together into a book. So here it is, finally.

Frontlist: Please walk us through the procedure you followed for choosing and creating the stories presented in the book.

Varghese: Some people are very disciplined about such things. Jyoti Guptara in his book, Business Storyelling, recommends keeping a "story bank". My "story bank" is in my head, because I have to keep electronic and paper files on many other subjects. Of course, if I want to use a story, I have to check the details to make sure that I have them right, but with the knowledge sources available today, that isn't too difficult. For my classes, of course, I tried to pick a story that was, if possible, appropriate to the topic for the day – or was at least surprising or interesting because the important thing is to keep students interested and that requires a strategy which emphasizes variety.

Frontlist: How has your experience as a professor influenced your writing and storytelling style?

Varghese: Have you ever tried to keep the attention of college students? Their attention spans are short, and their heads are full of interesting and important things which they would rather be thinking about or doing. So my learnings from the experience of keeping them interested in class have certainly influenced the selection and telling of these stories.

Frontlist: Would you consider creating additional anthologies of short stories similar to "The Village Maestro and 100 Other Stories" in the future?
Varghese: Oh there is a wealth of stories in my head. My publisher and I are discussing another volume already. But let's take one step at a time. I have another book coming out this year, a study of Mahakavi K. V. Simon, so that will keep me busy for a while. After that, perhaps

Frontlist: In creating the stories featured in "The Village Maestro and 100 Other Stories," were there any specific cultures or religions that served as sources of inspiration?
Varghese: My world is all cultures, all religions, and all subjects. My only criteria for selection are: is the story worth telling? And does it fit in the particular necklace that I am trying to create?

Frontlist: What is the intended message or theme you aim to convey to readers through the stories in "The Village Maestro and 100 Other Stories"?

Varghese: Each story, though it comes from different areas of human life and intellectual endeavour, is meant to provoke self-reflection. And different people take away different things from each story. One person may be encouraged, another may be cheered, a third may realise that he or she needs to do something, or change something. That is as it should be. The stories are meant for inspiration and challenge. You could, if you wish, sit down and read them from beginning to end in one sitting, but the best way of enjoying the stories and getting the greatest benefit from them is to read them one at a time, and to allow time for meditation and reflection on that story. These stories can really make you a more effective performer – and, perhaps of greater importance, they can really help to make you a better person.