Interview With Trisha De Niyogi, Director at Niyogi Books
on
Aug 02, 2022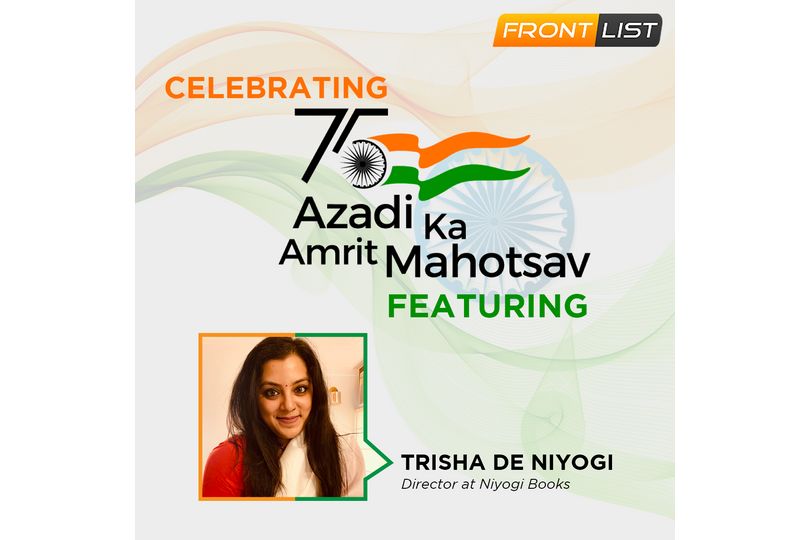 Frontlist: Since you graduated in Mathematics, Economics, and Business Administration, how did you start your career in the Publishing Industry?
Trisha: My parents founded a publishing house together in 2004. The excitement at home was quite palpable, even for a fourteen-year-old. Our dinner-table conversations were centered around different aspects of publishing a book. My parents had a lot to learn as first-generation publishers, and I loved tagging along. I was only fifteen when I decided I wanted to be in publishing.
However, even as a child, I loved mathematics and wanted to study the subject and its applications. While I studied Mathematics honours, I took up Hindi literature and Economics as my optional papers. When I was studying Economics at the University of Warwick, I would attend all open lectures organised by the English Literature and History departments. It was there for the first time that I heard lectures delivered by Dr. Samik Bandyopadhyay and Dr. Amit Chaudhuri. But that wasn't all.
Warwick Arts Centre was the epicenter of our time on campus. From attending Gurcharan Das's lecture on mythology to watching a contemporary take on King Lear to a front-seat experience of Anoushka Shankar's fusion sitar—I tried to immerse myself in as many fields as possible.
I have always had a keen interest in sports, and I regularly played tennis and even took classes in rock climbing. Since I was a child, my training in Bharatnatyam and learning to play the piano helped introduce me to many other aspects of our culture and heritage.
Last but not least, I have always read as much as possible. I could jump from 3D printing to behavioral sciences, from the classics to the arts. In fact, I believe publishing is one field where anything you do, learn or read can be implemented in your work. As a result, you never really work a day!
Frontlist: Niyogi Books has embarked on a journey to introduce Indian Heritage through its illustrated books. What are the career prospects in the book illustration industry?
Trisha: An illustrated book need not be for children, as is commonly assumed. Anything which illustrates or elucidates the text, i.e., photographs, paintings, documents, letters, and even sketches, all contribute to the making of an illustrated book. A large-format, highly researched book on Pahari paintings is an illustrated book. An illustrated children's book is also a subset of illustrated books. Mangas, graphic novels, and comics are some other examples of illustrated books.
We at Niyogi Books specialize in illustrated books on a wide range of subjects like art, architecture, history, heritage, biographies, children's books, and more. There is ample scope for a photographer and or an illustrator in the publishing industry. For example, our book Voices from the Lost Horizon by Anvita Abbi and illustrated by Subir Roy.
Also, book covers are very important nowadays for a book's success. Book covers are a precursor of what is there in the book's pages. So publishing houses always look for talented illustrators to design their book covers.
Frontlist: How did Niyogi Books cope with the Digital wave since the Pandemic outbreak?
Trisha: The pandemic has indeed had a profound impact on Indian publishing – publishing in general. It is well-established that Indians still prefer to touch and feel their books before buying them. But during the pandemic, bookstores were shut down, operations were restricted, and libraries were out of bounds. No physical books were sold, which meant zero revenue for most publishers. But the pandemic also taught us how to use digital channels more effectively. We started selling more ebooks.
How do we reach out to the readers – this was the question on everyone's mind. We saw sales (of e-books, audiobooks, and other digital formats) go up significantly during the lockdowns. We also saw significant online events and session growth during the last few years.
While it can be said that we hopped on to the digital wave to reach out to the readers, we believe we learned a lot to make use of the digital wave more effectively. Not only did we have a presence in the online space with our digital products, including e-illustrated books and online sessions – live or pre-recorded – we also learned how to package our content keeping in mind the move towards digital. Our title, Voices from the Lost Horizon by Dr Anvita Abbi, launched during the lockdown; we integrated audio-visual elements into the physical book. All the songs at the end of each chapter can be heard in the original ambiance. I shall not disclose any further detail about this book as we would like you to take a look at the book yourself.
Now, when we are moving about again and physical events are back (and we really need to get out), we cannot afford to underestimate the hybrid model -- online and offline go hand in hand. It also delineates the cost-effective nature of the internet and the tools for us to diffuse into the world of readers. It is great equipment; if used wisely, it can be very effective. In fact, during the second lockdown, when we all truly felt the terror, we wanted to do something to distract our minds and alleviate the stress. For ten consecutive days, we gave away e-books of Indian literature in translation published by Niyogi Books to the readers. We had a fabulous response.
During the first lockdown, we realised that the sleep cycle for most people had gone for a toss, and while one had a lot of activities lined up during the day, we started a month-long poetry series at midnight.
As Pablo Neruda said, "You can cut all the flowers, but you cannot keep Spring from coming." When things got tough, we adapted, and it is paying off now! – Spring is here!
Frontlist: The book publishing sector has advanced significantly since 1900. According to you, where does the Indian Publishing Industry stand today?
Trisha: Publishing is a very fast-moving and fast-changing field. Trends come and go, but good literature and books have a long shelf life in English and other Indian languages. The print runs have shrunk, but we also see that the demand for our illustrated books is now higher than ever. Children's books are the fastest growing segment. In contrast, fiction is becoming difficult to sell off late.
Books to screen are much in vogue and thankfully so.
Indian literature in translation is now a part of mainstream publishing. In the 1980s and 1990s, the likes of Geeta Dharamrajan, Mini Krishnan, Urvashi Butalia, and Nirmal Kanti Bhattacharjee laid the groundwork for translations in India. Today, we have awards where translations are celebrated, such as the JCB awards. This year Geetanjali Shree became the first Indian to win the International Booker Prize. Nevertheless, there is a long way to go, and there always shall be a long way to go.
Interestingly are now seeing a rise in graphic novels in the Indian market.
Frontlist: How are you planning to take Niyogi Books on another trajectory regarding company values and innovations?
Trisha: We are not only identifying the lacuna in subject matters on which books are needed, but we are also constantly trying to make our books an experience but adding new features and elements.
We intend to extend our expertise as illustrated book publishers to children's books, and we shall be launching our youngest imprint early next year. Our objective is to make these books entertaining for Children without sounding pedantic. We would like the children to pick it up for themselves and the parents and teachers to feel confident about them.
Frontlist: Would you like to share any achievements within a span of your publishing career which taught you that Publishing is your forte and will always be the one?
Trisha: I simply believe that we are very young and have a long way to go. I learn something new every day, and that is perhaps my driving force. Challenges make us want to stay put, put our heads down and work.
I don't think I would ever want to get out of this industry – for good or bad. I think I will be around for a long, long time.
Frontlist: The United Nations introduced 17 Sustainable Development Goals. What's your take on creating a sustainable publishing industry?
Trisha: The publishing industry in India has always been very much in sync with the Sustainable Development Goals, even before they were adopted. Mahasweta Devi's writings have always had a significant impact on not just me but almost every serious reader in the country. Rudali and Draupadi are perhaps two of the most important writings highlighting the urgent need for equality in our society. Arundhati Roy's powerful family drama The God of Small Things (winner of the Booker Prize in 1997) explores casteism, social discrimination, misogyny, how women are perceived in India, and gender discrimination.
A couple of years ago, we published a translation of famous Hindi writer Govind Mishra's book titled In the Glow of your Being, which highlights the fact that the modern Indian woman – is equal to her male counterpart in every aspect of life, be it education, career, intellect, ambition, and the rest – has no equality when it comes to individual freedom or choices, shackled as she is by the fetters variously named 'tradition,' 'Indian culture,' or 'value systems.' We have published similar books such as A Plate of White Marble, a translation of the modern classic Swet Patharer Thala by Bani Basu, Breaking Paths: Stories of Women Who Dared by Meera Khanna, and many more. In fact, from what I have observed, in this industry, including our own office, the gender ratio in our offices is pretty much 50:50, which should set an example for the rest of the industries.
By the end of this year, we are bringing out a very important piece of work titled Entering the Maze. This volume places Krishnagopal Mallick at the intersection of urban, Bengali, and queer cultures and, in so doing, makes him available to readers famished for queer narratives from the global South. Thus, it transcends the boundaries and standards of 'local' and reaches every corner of the 'global.' Many such voices are being published regularly by Indian publishers who are not just understanding the pulse of their readers but also trying to fuel the movement for a better tomorrow.
Recently, we published Iridescent Skin: A Multispecies Journey of White Sharks & Caged Humans by marine anthropologist Raj Sekhar Aich. The book highlights the importance of human-animal interaction and life below water, and this is the first time an Indian has attempted to write such an ambitious book. Though the subject is not based in India, we sincerely believe that the Indian readership will take a deep interest in this book, and in fact, this could pave the way for more Indian books on the vast subject of life below water.
During the lockdowns, we saw a rise in the demand for books on health and well-being, especially from the backlist, which shows that publishers are mostly not behind the curve. They have been perceptive and have published and are publishing more literature to bring about a change and contribute towards the fight for ending poverty, improving equality, protecting the planet, and ensuring peace and prosperity.