Interview with Tarana Husain Khan, author of "Degh to Dastarkhwan: Qissas and Recipes from Rampur Cuisine"
Rampur cuisine is an amalgamation of Mughal, Awadhi, and other north Indian cuisines with distinct Pathan overtones.
on
Mar 29, 2023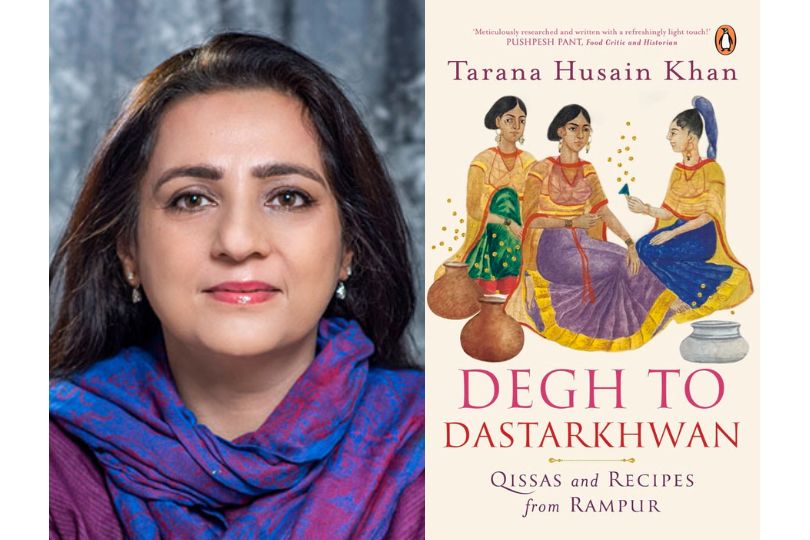 Dr Tarana Husain Khan is a writer and cultural historian. Her writings on the oral history, culture, and the famed cuisine of the erstwhile princely state of Rampur have appeared in prominent publications such as Al Jazeera, Eaten Magazine, Scroll.in and in the anthologies Desi Delicacies (Pan Macmillan, India) and Dastarkhwan: Food Writing from South Asia and Diaspora (Beacon Books, UK). She is the author of the historical fiction The Begum and the Dastan, which won the Kalinga Literary Award for fiction and was shortlisted for the Women Writer's Award by She The People and longlisted for AutHER Award.
She is currently working on a Research Fellowship at the University of Sheffield for an Arts and Humanities Research Council-funded project, 'Forgotten Food: Culinary Memory, Local Heritage and Lost Agricultural Varieties in India.'

Frontlist: How did you get the notion to write a book on Rampur Cuisine and its food history?
Tarana: While researching the various aspects of Rampur cuisine, I started writing articles on Rampur culinary heritage, leading to a series called Food Fables. These articles became quite popular and were widely shared. One of these articles led to an AHRC project, 'Forgotten Foods: Culinary Memory and lost Varieties of Rice in India.' Since I had a good number of articles, I approached my lit agent with a proposal for a book on Rampur's food history, and that's how I started working on Degh to Dastarkhwan.

Frontlist: Is there a story behind how an unenthusiastic cook discovered Rampur Cuisine? In what ways does Rampur Cuisine differ from other scrumptious & royal dishes?
Tarana: Yes, thereby hangs a tale! I was not a foodie or a cooking genius, nor had I thought of writing on Rampur food. I was researching Rampur culture when a librarian at the Raza Library suggested that I investigate a cache of cookbook manuscripts dating 19 century. I was enthralled and intrigued by the repertoire of recipes listed in the cookbooks. I wanted to know the taste of fifty pulaos and hundred curries. Thus began my journey from an indifferent cook to an avid researcher of Rampur cuisine.
Rampur cuisine is an amalgamation of Mughal, Awadhi, and other north Indian cuisines with distinct Pathan overtones. So, there are the melding of various spices, a shunning of overuse of aromatics, and bold earthy flavours. For instance, Awadhi cuisine, which influenced Rampur cuisine, uses nearly thirty spices in the kababs, whereas we use about a third of spices and aromatics. The focus is completely different.

Frontlist: "Degh To Dastarkhwan" differs significantly from your previous book. How was your experience delving into food writing?
Tarana: I realized that you need a different muscle for writing nonfiction and a different one for writing fiction. I had to exercise this new mental muscle to write about food history and culture. So it was a different experience of writing. But I am a storyteller at heart, so my food writing also has characters and storylines --it is a way of talking about Food as an emotional narrative.

Frontlist: Which dish is one of your favorites mentioned in the book? How do you connect with this dish at an emotional level?
Tarana: My all-time favourite is "Doodhiya Murgh Qorma." It is a simple yet filling meat or chicken curry with light spices, and it has a whitish curry base that is smooth and opulent at the same time. This is one dish that I remember our old family retainer Bakka cooking. The memory is very faint, and it was only when I cooked this dish after translating it from an old cookbook that my taste buds told me I had had this dish before. It took me back to those childhood years when our old khansama was presiding over the kitchen and dishing out these amazing curries. So it does connect to me on a very emotional level.
Frontlist: Your book illustrates the various emotions associated with different cuisines. How did you start developing your relationship with Food while penning down "Degh to Dastarkhwan"?

Tarana: Degh To Dastarkhwan looks at Food as a shade of emotion, a memory, a celebration, and a shared history. During my research, I realized that every dish found resonance with a deeply felt emotion, and I started connecting the dishes to mine and collective food memories. For instance, I remembered how pulao was a part of prayer called Fatiha which was observed every Thursday in my ancestral home. The idea of remembering and praying for ancestors over Food is a cultural connection that is also deeply emotional. So for me, pulao is always associated with remembering people who are not there with us anymore. Once I realized this emotional connect, I went back and mixed all the dishes with memories and food history; that is how I wrote my book.

Frontlist: Do you have any sweet memories of Rampur cuisine that you recall today and miss dearly?
Tarana: I remember sitting on the floor with low tables in front and eating taar gosh in clay bowls with hot rotis at a wedding feast. Wedding feasts were generally held in common courtyards or inside the homes and had a personal touch. Nowadays, most weddings are celebrated in banquet halls and never convey that same sense of hospitality and homeliness. So this is one thing that I miss dearly.

Frontlist: Will you be writing more books on culinary or perhaps based on Rampur in the future?

Tarana: Yes, I plan to write another book on the forgotten foods of Rampur cuisine which shall be a journey into the depth of Rampur culture and culinary tradition.