Interview with Tanvi Srivastava translator of, "The War Diary of Asha-san" by Lt Bharati 'Asha' Sahay Choudhry
The War Diary of Asha-san: From Tokyo to Netaji's Indian National Army by Lt Bharati 'Asha' Sahay, translated by Tanvi Srivastava
on
Nov 23, 2022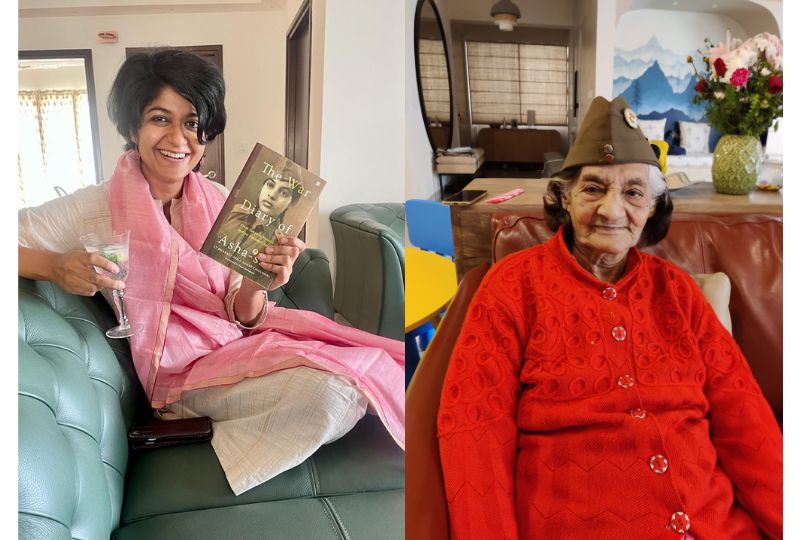 Lt Bharati 'Asha' Sahay Choudhry was born in Kobe, Japan, in 1928 and joined the Rani of Jhansi Regiment of the Indian National Army at the age of seventeen. Her father, Anand Mohan Sahay, was a minister in the cabinet of the Azad Hind Government and a political adviser to Netaji Subhas Chandra Bose. Asha is currently ninety-four years old and lives in Patna with her son, Sanjay Choudhry, and her daughter-in-law, Ratna.
Tanvi Srivastava is a writer of fiction and has published short stories both online and in print. She is also a travel entrepreneur specializing in African expeditions. Tanvi is married to Asha's grandson and lives in Bangalore with her two wild children.
Frontlist:What were the most significant cultural shocks you encountered while translating this book from Japanese to English?
Tanvi: I wouldn't say I encountered cultural shocks while translating The War Diary of Asha-san, but there were definite cultural surprises. Japanese society in the 1940s was fiercely nationalistic. Asha-san was a product of such a society. And so, for someone like her—who was born in Japan with no memory of India—to feel genuine loyalty and patriotism for India came as a surprise to me. I am still in awe of the sacrifices she was willing to endure at such a young age.
The most significant cultural shock Asha-san experienced was probably upon her return to India. From a modernized and relatively liberal Japan, she returned to rural Bihar—an India steeped in patriarchy, casteism and social stigmas. I can't imagine how she must have felt.
Frontlist: What, in your opinion, are the most important aspects of writing good fiction?

Tanvi: I wish I could say it was one thing—unique characters or a great plot arch—but it's never one thing. Writing good fiction needs dedication—you need to create an authentic world, create compelling characters, and have them interact with one another while progressing along an engrossing plotline. You need to have the audacity to write this world with confidence. You need to have the humility to know that the story is not working and needs editing. Writing great fiction is difficult because it is such a solitary activity and it's so easy to get lost; having a cohort of writers who give you feedback and guide you is most critical in my opinion.
Frontlist: There are many freedom fighters, but what drove Asha san to stand out?
Tanvi: I'm going to throw the question back at you. What were you doing when you were 17 years old? I, for example, was in my final year of school, wrapped up in my friends, thinking of the next party and how to get to the next party without my parents knowing about it. I was not saying farewell to my friends and family for perhaps the last time; I was not traveling across Asia in the throes of WW2, surviving machine gun fire and carpet bombing. I was not willing to sacrifice everything to live, fight, and die as a soldier of Azad Hind. It is the context makes Asha-san's story special. To be so young. To be a woman. To sacrifice everything for the notion of India.
There were such few women who were given permission to join the freedom movement—and the credit for this goes to Asha-san's parents—Sati & Anand Mohan Sahay—and Netaji, for permitting the daughters of India to contribute equally.
Frontlist: How did you find the writing process and the overall experience translating this book?
Tanvi: I find translation to be one of the most immersive ways of engaging in literature. When you are translating, you delve into two languages, wrestling for meaning. You are transported into another world—much like when you read—but because you linger around the words for much longer, the experience is much deeper and more transformative.
When I began this translation, I did not imagine the book would be published; I did it as an experiment for myself. I did not realize what a mesmerizing experience it would be. I worked non-stop for several months, exiting my room only when my young ones demanded it!
Jenny Bhatt, a writer and translator, calls translation an act of love and recovery. I agree completely. I felt like an archaeologist, recovering this astounding story that was lost in another language. Having said that, translation is so much more than the literal conversion of words from one language to another. In fact, I spent more time researching and restructuring the book than translating it.
Frontlist: What is the difference between a translator and a writer? Please express your thoughts.

Tanvi: A translator has an end in sight, while a writer never does! On a serious note, I find that I use a different part of my brain when translating. I am focused wholly on language, and do not get frustrated or lost. I can proceed with certainty because I have a final manuscript. A writer of fiction is perpetually in doubt—about the world they've created, the characters, the plotlines, and their own craft.
Then there's research—while a writer has to research for their own imaginary world, a translator has to research a world created by someone else. There is a lot more responsibility on the translator's shoulders at each step.
Frontlist: This book profoundly traces India's struggle for liberation. What values and inspirations can today's generation draw from this manuscript?
Tanvi: When we think of India's struggle for freedom, we think of faded history books and dusty sepia photographs. We are looking back into history from enormous distance. And when you distance yourself from a story, it is difficult to relate to. However, what if I tell you, Asha-san is sitting in the next room and is willing to talk about her experiences? History will come alive for you. That's the beauty of Asha-san's diary—it brings to life the day-to-day struggle that was the freedom movement.
Asha-san was staying with us in Bangalore till a few months ago. My children were fortunate to interact with her, to witness her fighting spirit. Asha-san, despite her age and physical infirmity, treats all obstacles with humour and optimism. This is something I adore about her. I believe it is something she learnt at a very young age, living through extraordinary circumstances. I hope those who read Asha-san's diary learn to believe that everyone is capable of the extraordinary. You need to find a cause to put above yourself.