Interview With Tanuja Sodhi, Author of "Unfetter : Heal Your Mind, Body and Spirit"
on
Jun 13, 2022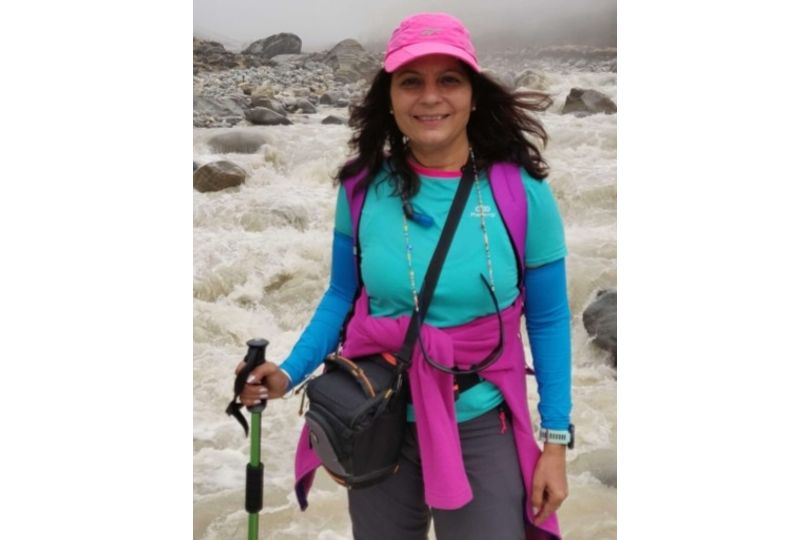 Tanuja Sodhi is a reputed health coach, life coach, motivational speaker and author of Parenting in the Age of McDonald's and Raising a True Winner. She is a veteran Indian Naval officer from the first batch of women officers. She is a graduate from the Institute for Integrative Nutrition, US and Optimize, US. She has earned her master's degrees in business administration and English literature. She is also a certified fitness instructor from Reebok.

Unfetter: Heal Your Mind, Body and Spirit is the result of her burning desire to help women be their healthiest and happiest selves. It also serves as an inspiration for them to dream big, 'unfetter' their spirit and relentlessly pursue their aspirations.

Tanuja is an avid marathoner and an Ironman 70.3 triathlete. When not behind her writing desk, she can be found at the gym strengthening her muscles, running on the roads or trekking in the mountains.
Frontlist- Share some of the ways that you have mentioned in the book to prevent living in the past.
Tanuja- Constantly living in the past robs us of all the joy of living in the NOW- the present moment. It is responsible for a lot of stress and misery caused by feelings such as resentment, guilt, bitterness, regret, etc. Practicing 'mindfulness' is one of the surest ways of helping us let go of the past and to start living in the present. Certain mindfulness tools are so powerful that they can generate instant peace, relaxation and calm by bringing a positive shift in our thought process.
Some of the tools that have helped me immensely in letting go of my stressful past and becoming happier are- meditation, gratitude journaling, various deep breathing exercises, positive self-talk, and practising self-compassion.
Frontlist- Share some smart nutrition protocols that will assist you in maintaining a clean and wholesome diet.
Tanuja- Each one of us has unique and diverse dietary approaches that may work for us. However, there are certain general protocols that are known to work universally to be able to lead a healthy life Some of these are-
Abandon packaged and processed foods as far as possible
Eliminate sugar (esp. sweetened beverages) and refined carbs
Eat mostly high fibre foods like assorted vegetables and fruit
Add high-quality protein and fats (mostly omega 3)
Eat mostly home-cooked food
Regulate portion sizes
Always read food labels before buying packaged food
Clear your kitchen cabinets of all junk food
Eat early dinner
Stay well hydrated through the day
Frontlist- "Motivation is what gets you started. Habit is what keeps you Going"; How can we choose the happiness habit that can infuse our lives with happiness?
Tanuja- Changing our existing habits to replace them with the desirable ones is often considered a herculean task because breaking an inferior habit is not easy. But the good news is that there are certain well-tried tools that can assist you in forming new habits with considerable ease. Some of these are following the ABC system proposed by Dr BJ Fogg, the 'if-then' algorithm, focusing on the process rather than the result, creating time-blocks, planning for the day a night before, etc. These concepts are explained clearly in the chapter Happiness Habits in the book.
Frontlist- Please share some of the recommendations to keep female hormones in harmony.
Tanuja- Understanding our hormones and then nurturing them can save us from a lot of emotional and physical health conditions such as chronic stress, anxiety, depression, weight gain, insomnia, and lower metabolic rate. We can make certain lifestyle changes to rebalance our hormones when they go out of whack, such as-
Eating hormone friendly foods like turmeric, leafy green vegetables, cruciferous vegetables, pomegranate, walnuts, seeds, wild-caught salmon, coconut oil, ghee, avocado, fresh berries, garlic, and olive oil
Consuming only organic and local foods without hormones, toxins, GMOs, especially if consuming meats, dairy, and seafood as much as possible
Avoiding certain foods and environmental toxins (listed in the book)
Eating healthy omega 3 fats
Engaging in proper stress management through the tools laid out in UNFETTER
Empowering ourselves with positive self-talk
Frontlist- You have featured courageous stories of real women that can serve as beacons of hope. Please share one of the common values that they have instilled in you.
Tanuja- A common attribute that runs through all the personal stories that I've shared in the book is that despite intense ordeals, these women refused to give up on life to just settle for a cheerless future. Instead, each of them rose like a phoenix with their steely resolve and relentless perseverance, using their sufferings as fuel for their transformation. There's nothing as empowering as reading about how someone pushed past excruciating pain with sheer courage without giving up hope and faith, to emerge stronger. They bear testimony to the fact that we all have huge reservoirs of inner strength deep within us that we often grossly underestimate. They are also examples of how we can all deploy numerous wellness tools to heal, reboot, and then rewrite our life stories.
Frontlist- Are you working on your next project? If so, then share a glimpse of it.
Tanuja- Presently, I'm in the process of designing an online coaching program for women that is aimed at enhancing their holistic health and well-being. It will cover the domains such as mental-emotional-physical wellbeing, mindfulness, nutrition, fitness, sleep, soul goals, and self-care. This coaching program will be closely aligned to the content of my book UNFETTER to help women to move from theory to practice to taking control of their health and happiness.