Interview with Sujata Parashar, author of 'In Pursuit of Mi Amor'
Interview with Sujata Parashar, author of 'In Pursuit of Mi Amor'
on
Oct 29, 2021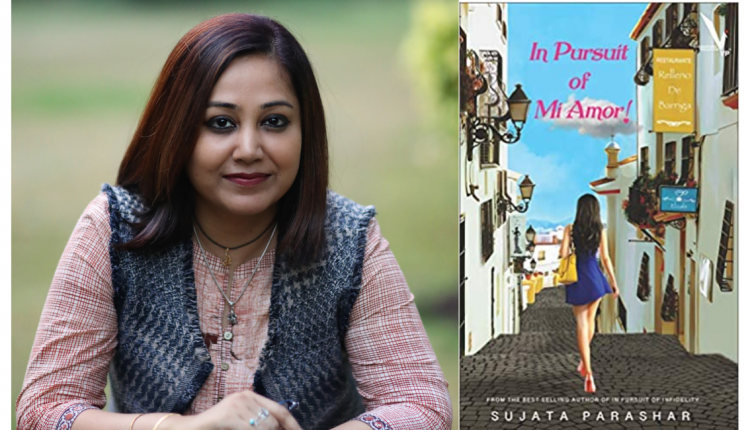 Bestselling novelist, short-story writer, and poet
, Sujata Parashar
became widely popular with her 'Pursuit' series and has so far written twelve books across genres. This postgraduate in human rights, however, has rich and diverse work experience. Apart from authoring bestsellers, Sujata is a
psychosocial trainer and the founder of a talk-therapy-based platform
, The Talk-It-Out-Express; a platform to enhance emotional wellbeing.  
Sujata was recognized as one of the Women Achievers of 2021 by Apeksha Sandesh News. Also her novel,
The Temple Bar Woman
was bestowed the Best Fiction award by A3 Foundation in June the same year. She has also been the recipient of the
100 Women Faces 2018
award, instituted by Womennovator and COWE (the Confederation of Women Entrepreneurs of India) for her contribution to Indian literature. And was presented the prestigious Karamaveer Chakra Award (in 2016 and 2019) instituted by iCongo (the Indian Confederation of NGOs) and the UN.
Ques 1 -  You try to shed light on emotional healing and encouraging a healthy life through "In Pursuit of Mi Amor' 4th book in the 'Pursuit' series. How did you come up with the idea of the Book?
Ans. I'm a psychosocial trainer and a talk therapist and have been working in the area of emotional health and wellbeing for over 15 years. In 2019 I also founded a talk-therapy based consulting platform, The-Talk-It-Out-Express with the aim of helping people enhance their emotional health. I came up with the idea for this novel while working on a project focusing on people with hemophilia (PWH) especially the youth. Hemophilia is a genetic bleeding disorder and mostly manifests in the male child. 'In Pursuit of Mi Amor,' is a mature romance and explores the healing power of love. The male protagonist, Amar Varma in the novel has hemophilia. His traumatic past experiences (as a person with hemophilia) leaves him feeling bitter about love and committed relationship. This is a common scenario for young men suffering from the rare bleeding disorder. Among other things, my aim was to also show how a person with hemophilia suffers (and is shaped) due to buried emotions and prejudices.
Ques - Characters like Amar Varma and Suhana Singh portray different aspects of emotional damages. What message are you trying to convey to readers? Do you think your story will resonate with everyone?
Ans. As I've mentioned above, this is a mature romance and there are two love stories running parallelly. While the main theme of the novel is to explore the healing power of love (overcoming emotional damage due to past trauma); I also wanted to give the readers a glimpse of how pain and negative emotions shape our thinking causing more damage to ourselves and others if not handled carefully. As the popular Buddhist phrase goes, 'pain is inevitable, suffering is optional.' Thus to overcome any kind of emotional distress, it's important to speak out and seek help.
Ques - When did you start your journey of being a writer?
Ans. My first novel In Pursuit of Infidelity was published in 2009 by Rupa. It became an instant bestseller and catapulted me into the world of writing. In September this year, I completed 12 years as a writer and coincidentally my 12th book, a hand guide on single parenting, Going Solo – Raising Happy Kids was also released in the same month. The journey has been enriching so far but I've miles to go.
Ques - You've been working as a psychosocial expert. What common cases have you seen in people thus far and how do you persuade them to cope with mental problems?
Ans. The best way to cope with problems like anxiety, grief, anger, the feeling of worthlessness, etc is to first identify the negative thought and emotions causing uneasiness, then understand the real reason for the distress. Often what seems to be the problem is just a superficial manifestation of a deeper concern. It requires self-reflection or talk therapy to understand the source of emotional distress. And finally, it is important to express yourself instead of just suppressing or neglecting the emotional uneasiness. Neglected emotions result in serious psychosomatic diseases like eczema, sleep disorders, stress depression, heart problems, etc. and it also damages relationships.
Ques - How do you manage your life as an author and a social worker? How did your career as a social worker reflect on your writings?
Ans. I don't actively focus on it. I do what needs to be done. Both the areas of my work are interlinked or so I feel. Almost all my novels reflect or have been influenced by my work in the development sector. From my first novel, In Pursuit of Infidelity which explored the impact of infidelity on the institution of marriage to the socio-political thriller, The Temple Bar Woman which was dedicated to the fearless survivors of sexual assault to my latest nonfiction, Going Solo – Raising Happy Kids, a hand guide on single parenting, all my books knowingly or unknowingly reflect the activist side of me. It's all done effortlessly.