Interview with Sourabh Mukherjee, author of Death Served Cold
Interview with Sourabh Mukherjee, author of Death Served Cold
on
Aug 23, 2021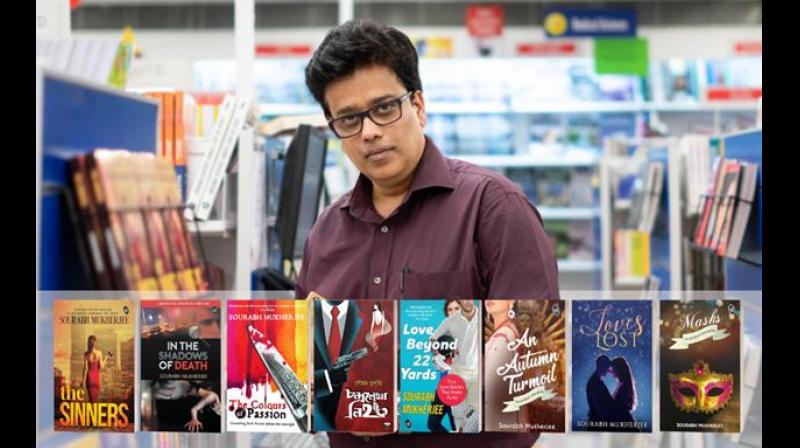 Sourabh Mukherjee is the author of the true-crime book Death Served Cold. He has earlier authored three psychological thriller novels – The Sinners, The Colours of Passion,
and In the Shadows of Death.
He
has also written a thriller novel in Bengali titled Chandralekha Nihato, and three collections of short stories – Loves Lost, It's All About Love Series, and Beyond 22 Yards Series – published as e-books. 
His books have been made into audiobooks, considered for screen adaptations, and featured in dailies, magazines, and news and literary portals. He has won several literary awards and speaks regularly in literary events and book fairs. In his day job, he works in a Senior Leadership position in a technology MNC, sits in Academic Councils of eminent Engineering and Business schools, speaks in technology conferences in India and abroad, and has written a popular textbook on emerging technologies titled Big Data Simplified.
About Death Served Cold: 
Death Served Cold
is a collection of stories based on true incidents of murders committed by some of the most notorious female murderers from different parts of India over the last three decades. This book is the result of painstaking research on this subject, and brings to light shocking acts of sadism and aggression rarely associated with women. 
Death Served Cold is a psychological thriller, a collection of dark stories of a female's dangerous mind. How did you come up with the idea for this book?
As a society, we tend to look at women as nurturers – the caring mother, the doting sister, the loving wife. We are more inclined to associate acts of violence and aggression with men. There is, of course, no scientific basis for such a perception, and this is a case of gender stereotyping. However, every time we get to know about a woman committing an act of violence, we are shocked.
Over the years, I have been taken aback by some of the incidents mentioned in the book – for example, the lawyer wife strangling her husband with the cord of a mobile phone charger, or a wife listening to the last cries of her husband on the phone as her lover kills him, or an apparently pious and devout woman committing six murders over a period of fourteen years.
I wanted to create an anthology of these stories, as I was sure that they would make for a thrilling roller-coaster ride for my readers.
How do you manage your life as an Electronics and Telecommunications Engineer, an author and a speaker as well?
I feel it's primarily about how well one manages one's time in a productive and fruitful manner. It's about knowing one's priorities and knowing what one is passionate about. One often ends up spending a lot of time every day in idle and aimless browsing, chatting away for hours in multiple WhatsApp groups, or allowing oneself to be affected by the negative vibes on social media. I consciously stay away from these traps. 
Share some tips for researching and writing a Psychological thriller book.
I feel it's very important to zero in on a specific theme, and then conduct extensive research on the subject. While writing this book, for instance, I read through court orders, several newspaper reports running for weeks and months on these stories, findings from police investigations and forensics reports. It is also important to filter out the noise and the gossip from these accounts and develop a factual and unbiased view.
At the same time, as in all my psychological thrillers, it is very important to understand and write about the psyche of these murderers. More than the 'who' and the 'how', the 'why' makes for a fascinating read. There is nothing more intriguing than the complexities and unpredictability of the human mind, which can drive the girl next door to commit a gruesome murder.
What advice would you like to give aspiring thriller writers?
I think it is very important to develop a deep understanding of human psychology. It is important for a reader to relate to your antagonist. At the end of the story, the reader should say, 'Had I been in that situation, I would probably have acted in the same way.'
Also, the modern reader is exposed to a wide variety of global content in the form of books, movies and web series across a variety of platforms, and is therefore very mature and smart. It is the responsibility of the writer to come up with themes that are contemporary and relatable, and make sure that methods of investigation are modern and make use of the latest technologies.
When did you start your writing journey? Have you ever faced any writer's block ?
My debut novel In the Shadows of Death
was published in 2015, and since then, I have been writing regularly.
I have managed to keep a writer's block at bay, by making sure that I never stop writing. For example, when I am between two novels, I write short stories (which explains the three short story collections). I also bring variety to my writing by writing on different topics, like educational books, different themes and even different languages. In fact, my short stories are also in a variety of genres like romance, supernatural, drama and mystery.
Your books have also been made into Audio Books. Do you really think Audio Books have brought a new revolution in the Publishing Industry?
Audiobooks have definitely created a niche for themselves, especially for those willing to listen to stories on the go – like, when they are working out, commuting to work, or going for a walk. My Audible books have found their own audience. In fact, the audiobook version of my Bengali novel on a popular Indian audiobook platform has been downloaded more than 17,000 times in the last year!