Interview With Smitha Kulkarni, author of The Secret Escape to a New Life
The Secret Escape to a New Life, helps the reader on their journey to self-discovery
on
Mar 23, 2023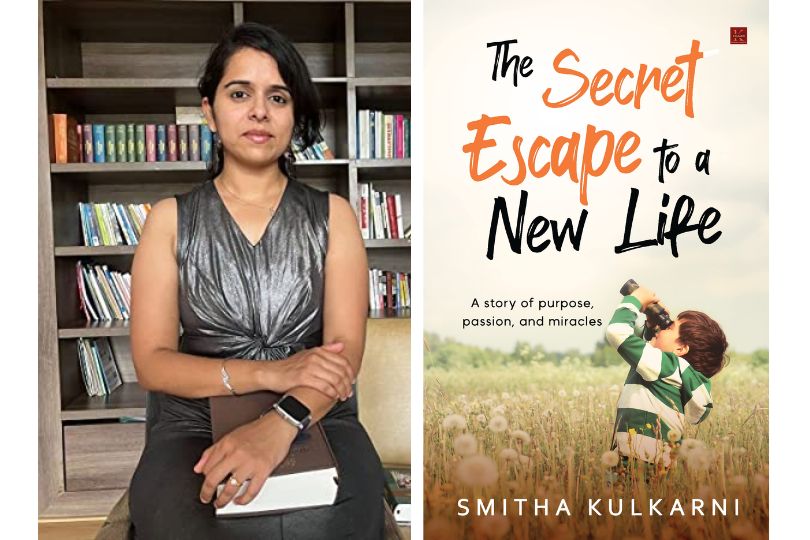 A girl grown up in a small town near Hampi in Karnataka, Smitha Kulkarni is an engineer by profession and a creative person at heart. During her childhood, she had a hobby of writing poetry, short stories, and screenplays, which has now become a habit and is taking the form of books. She is always delighted to see a reader enjoying her book.

Frontlist: What inspired you to write "The Secret Escape to a New Life," and how did you come up with the concept of the book?

Smitha: We are brave dreamers as children, but that quality fades as we grow. We begin to fill our minds with regrets rather than aspirations. It is always preferable to do something that we innately enjoy rather than squander our valuable lives. At any age, one can follow the universe's calling and find the meaning of life. These ideas had been lingering in my mind for years, and when my research, and experiences were combined, I was able to create a world of a young boy who wanted to escape the mundane life but is completely twisted in the hands of fate.

Frontlist: The novel touches on themes of purpose, passion, and self-discovery. Do you think these are important themes for readers to explore in their own lives, and why?

Smitha: Yes, these are topics that are extremely essential to every human being. By discovering and pursuing our life's mission, we will be a light to those around us. Hundreds of legends have inspired generations by skillfully engaging in and living a content life with their path to self-discovery. If my novel, The Secret Escape to a New Life, helps the reader on their journey to self-discovery, I will be delighted.

Frontlist: How do you think your book will help readers who may be struggling to discover their purpose in life?

Smitha: My story's characters and situations are extremely relatable. We have all succumbed to societal pressures at some point in our lives. We've all loved someone. We all have our own difficulties and losses. The book is structured in such a way that the story, chapter after chapter, touch the reader's heartstrings like soothing meditative music. The story's blend of hope, love, romance, and humor will help the reader reflect on their own lives and dreams. I hope that after reading the book, the reader is filled with enough inspiration and hope to work on their dreams.

Frontlist: The three main characters in your book are very different from one another. Can you tell us more about how you developed their personalities and what inspired their individual storylines?

Smitha: Well! Those characters were not created by me, but they welcomed me with open arms and were eager to be a part of the story. I needed to establish loss, hope, and levity. As a result, I have three characters: Samay, Khushi, and Ranjit. They are all vulnerable and strong in their own way. Other lovable characters include Aditi, Kabir, Saroj, and others who add magic to the story. The people I have met, the books I've read, the situations I've been through, the movies I've seen, the dreams I've had, and my fictitious fantasies have all helped shape the characters in my novel.

Frontlist: How do you think readers will relate to Samay and his struggles, and what do you hope they will learn from his story?

Smitha: Samay is the next-door boy who grows up into a baffled adult. He will appeal to every reader in some way. His way of life, his dreams, his losses, and his helplessness will serve as a mirror to reflect our lives and dreams. This book is a humble effort and I wish that after reading this book my readers will learn to be more empathetic and hopeful about themselves and others.

Frontlist: You mention in the book's description that love and purpose are two sides of the same coin. Can you elaborate on this idea and how it is explored in your book?

Smitha: If you do not love your life, you will not try to find a strong purpose to live. And if you do not have a purpose to live you will not love your life. Read the last two sentences one more now. And thus, purpose and love are two sides of the same coin. This is the central theme of my book. Every character in my story has their own journey towards self-love, self-regard, love for others, and love for life. Without further giving too much away, I urge everyone to grab a copy of this book to learn more.

Frontlist: Your book deals with some heavy themes, such as depression and loss. How did you approach writing about these topics in a sensitive and respectful way?

Smitha: Naturally, I am a person who takes great care to express my thoughts and opinions in a respectful manner when communicating with others. This simple quality has greatly aided me in writing about difficult topics in a convincing and respectful manner.
Thinking of depression, a quote comes to my mind.
"Depression is being colorblind and constantly told how colorful the world is." – Atticus
I am satisfied that I was able to write an uplifting story that contours around depression, loss, and hopelessness in a subtle and lighthearted manner. It took a lot of research, talking to doctors and therapists who treat depression, and talking to people who have experienced it. By the way, the book is a completely cheerful and uplifting read. I am confident that it will make you happy.

Website: https://smithakulkarni.com/