Interview With Shubha Vilas, Author of "Illustrated Ramayana For Children"
on
Sep 21, 2022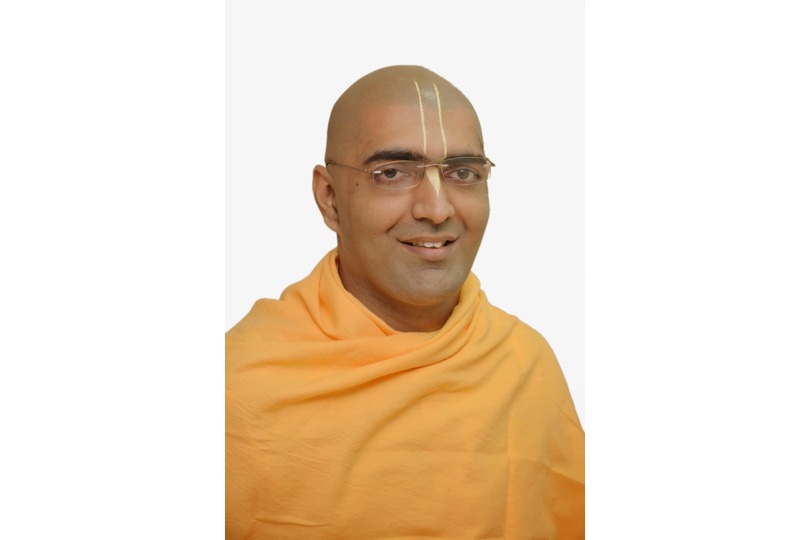 Shubha Vilas is a storyteller, motivational speaker, and author, who holds a degree in engineering and patent law, but he chose to leave mainstream society to live a life of contemplation and study scripture in depth. As a child, his grandmother regaled him with stories from the Ramayana, which captured his heart and soul and thus began his tryst with scriptures. He started writing stories inspired by the Ramayana and how it is still as relevant to us as it was in the Treta yuga. Some of his popular works include Open Eyed Meditations, and Mystical Tales for A Magical Life: 11 Unheard Fantastic Vedic Stories which transform Vedic literature and epics into relatable stories and contemporary life lessons. Shubha has also penned down a fun-filled version of Panchatantra stories for children titled Pandit Vishnu Sharma's Panchatantra: Illustrated Tales from Ancient India, to captivate them with beautiful illustrations, and lessons that sharpen their thinking abilities. Shubha is deeply passionate about imparting education that helps build character in children. This has led him to create a value-education module that can be incorporated into children's existing syllabi. With this module, he guides young minds toward an inspiring life, filled with values and principles. Ishan Trivedi is an award-winning Illustrator-Storyteller from New Delhi, India. After completing his Master's in Fine Arts from Lucknow University, Ishan has worked with several top children's book publishers in India and abroad. His unique art style combines several traditional Indian Folk styles and is presented with a contemporary taste. Some of his notable books are Boondi and Nimboda. He also enjoys sculpting and customizing action figures.
Frontlist: Why did you decide to compose 'Ramayana for Children? Why do you think children would be interested in reading a mythological book?
Shubha: Children love stories. I personally feel that Ramayana is one of the most amazing stories that any child can hear. I spent my entire childhood hearing stories from Ramayana; which fascinated me to no end and I am sure it will fascinate any child if it is told well. That is the reason I wrote the 'Illustrated Ramayana for Kids' and I can share with you that hundreds and thousands of kids have spoken to me personally about how that book has touched them, transformed them, and made them happy.
Frontlist: From kidnapping princesses to killing demons, Ramayana revolves around violence. To what extent did you tone all these down to make it children-friendly?
Shubha: Of course, I have toned down a lot of the violent aspects to make it sound more fun and interesting rather than actually violent and gory. Kids enjoy stories that are humorous and at the same time realistic. In fact, their natural thought process is standing up for the righteous and not letting anything wrong happen to them. Ultimately kids need to know the realities of life; which is, that we need to fight for the good, and for that sometimes it requires some violence. But the way the violence is presented has to be in a very sensitive and kid-friendly way. That's what I've done.
Frontlist: Do you believe the Ramayana and other mythical texts should be included in present school curriculums? What values do you think this will instill in students?
Shubha: I very strongly feel that our ancient Vedic text should be included in the modern-day curriculum in a way that is very relatable and inspiring for a child. In fact, I am developing an entire curriculum based on the Indian epics for children right from standard 1 to standard 10. The first five workbooks for standards 1-5 are ready and I am teaching them in a couple of schools the entire curriculum should be ready by next year. So this is going to be the first of its kind curriculum that has been designed completely based on Indian epics. It is designed in a way that teaches morals and values that are child-friendly and not at all preachy or boring. The entire curriculum is activity based. I have created workbooks, PowerPoint presentations, and teacher manuals. Every workbook is based on a textbook which is one of my story books. And in that way, it is an end-to-end solution for any school.
Frontlist: The book incorporates beautiful illustrations from various instances of the Ramayana. Do you think these illustrations help in the cognitive development of children?
Shubha: Illustrations bring out imagination. Of course, books that are text-based also bring out imagination but the combination of text and illustration together keeps the child engaged in the most powerful way, according to me. So that is why 'Illustrated Ramayana for Kids is a book that is an attractive combination of lively and dramatic illustrations as well as a narrative that is very powerful and intriguing at the same time. So my aim is to help a child's cognitive abilities by stimulating visual as well as verbal senses.
Frontlist: To what degree did you simplify the language of this centuries-old mythological tale to make it comprehensive for the young ones?
Shubha: I simplify the language to a great degree. In fact, if you see at the 'Ramayana - the game of life' series, which is my book series for adults on the Ramayana, the language is very different from what I have used in 'Illustrated Ramayana for Kids'. That actually shows how much I have simplified it. The language in the series is much simpler as compared to the original text, which is in Sanskrit and very heavy to understand for a common man. But the children's book, 'Illustrated Ramayana for Kids, is, even more, child friendly - to make it simple for a child to understand and at the same time improve the child's vocabulary. So it is a very sensitive balance of both.
Frontlist: You have a degree in engineering and have studied patent law. What compelled you to walk the path of spirituality?
Shubha: My engineering degree gave me logical thinking and my legal degree gave me analytical thinking. I use both of them to study the scriptures, understand spirituality and teach spirituality both in a written form as well as in spoken form to people in a logical and analytical way. And I think that's the combination that really helps me to connect to people and transform their hearts.