Interview with Shri Yuvraj Malik, Director, National Book Trust, India
Check the full interview to know the details of New Delhi World Book Fair 2023
on
Jan 03, 2023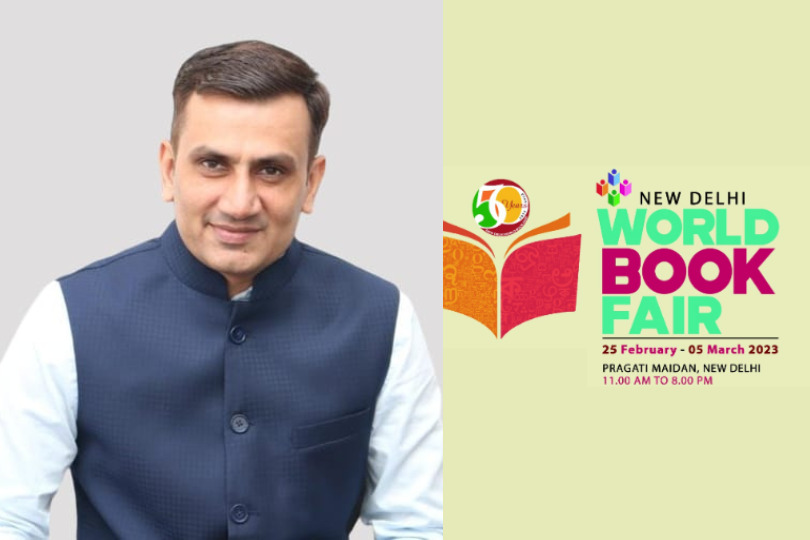 Frontlist: What are the publishing industry and exhibitors looking forward to from New Delhi World Book Fair 2023?

Lt. Col Yuvraj: Since the pandemic stalled in-person events for the last two years across the whole country and the world, the NDWBF 2023 edition will present an opportune platform for the publishing industry to be back in its form. The NDWBF is Afro-Asia's largest book fair regarding sales, visibility, promotions, international exhibitors, copyright exchanges, trade visitors, and business sessions. We are anticipating a footfall of 14 to 15 lakh people. NDWBF 2023 will bring together not just publishers and readers but also authors, illustrators, and educationists, in meaningful dialogue through various book promotional activities and programs.
Frontlist: As we all know, NDWBF will complete its 50 years since 1972. Is there anything special planned for this year by the National Book Trust India?

Lt. Col Yuvraj: The New Delhi World Book Fair is back in its in-person format from 25th February to 5th March 2023 at ITPO's new International Exhibition Centre at Pragati Maidan. Celebrating its 50 years journey, this edition is themed Azadi ka Amrit Mahotsava. It will showcase the G20 pavilion, Award-winning books, Yuva authors, India@75, Sri Aurobindo, various photo exhibitions, Army band, Open-mic events at the Amphitheatre, and much more. With France as the Guest of Honour Country, the specially designed Guest Pavilion will have a delegation of about 60 authors, publishers, illustrators, dignitaries, etc. In addition, there will be B2B conferences – the New Delhi Rights Table (in a new format), the re-launch of the translation grants assistance scheme, CEOSpeak, and the regular Author's Corners, Children's Pavilion, cultural performances – all in all, a treat for book lovers!
Frontlist: How many Exhibitors and Trade Visitors from around the world are we expecting to attend the NDWBF 2023?

Lt. Col Yuvraj: There will be a large number of exhibitors, participants, and visitors from not only India but across the globe. The exhibition area is spread out to approx. 40,000 sq.m. and can house about 2000 stalls and an exhibition area. The halls are classified and categorized as trade publishers, foreign publishers, Indian language publishers, children's publishers, distributors, science & technology publishers, humanities and social sciences, and so on. We expect at least 1400 exhibitors across 2500 stalls.
Frontlist: What special activities can visitors expect from this Edition?
Lt. Col Yuvraj: In addition to its regular features, the event will include, Author's Corners, Lekhak Manch, International Events Corner, Children's Pavilion, Theme Pavilion, the YUVA corner (where interactions with the young PM-YUVA authors will take place), the Child Author Corner (where published child authors will interact with the audience), the G20 Pavilion, and Amphitheatre (where in addition to Folk and Cultural performances in the evening will take place. There will be regular activities in the morning, such as open mic, army and police bands, talk shows, etc.) Moreover, the two-day New Delhi Rights Table (B2B platform for publishers interested in copyright and translation agreements and other business arrangements) will be held on the sidelines of the book fair, and the translation grant will be re-launched at this event.

Frontlist: What new experiences await attendees under the theme Azadi ka Amrit Mahotsav?
Lt. Col Yuvraj: The NDWBF 2023 will have a centrally-placed, specially designed Theme Pavilion on Azadi Ka Amrit Mahotsav, commemorating 75 years of Indian Independence and the glorious history of its people, culture, and achievements put up across 1000 sq.m. with special exhibits. Moreover, the event will feature an exhibition of more than 750 titles on Freedom Fighters, the National Movement of India, etc., in all major Indian languages and English, and works of 100+ publishers on Digital Exhibition of India's achievements during the last 75 years, an Events Corner for hosting panel discussions, books and photo exhibitions, book releases, cultural events, workshops, etc. The aesthetically-built Theme Pavilion is being designed by the National Institute of Design (NID), Ahmedabad – the Design Partner of NDWBF.

Frontlist: With France as the Guest of Honour country, how many French authors and publishers can we anticipate joining and expanding international collaboration with the Indian publishing industry?

Lt. Col Yuvraj: France is the Guest of Honour Country at NDWBF 2023 (as a follow-up of the PM-President Joint Statement signed in March 2018), and book lovers will get a unique opportunity to enjoy French literature and culture at the Foreign Pavilion along with a variety of literary activities at the International Events Corner. France is putting up a special Guest of Honour Pavilion and is bringing about 60 delegates from France. Visitors to the fair will be able to meet many French publishers, illustrators, and authors and will be able to browse through several French books and translated works as well.
Frontlist: How important are such book fairs for the Indian publishing industry?
Lt. Col Yuvraj: Contradictory to the endless discussions on physical books becoming obsolete, we ardently believe that Book Fairs like these are essential in bringing awareness to the fact that this is not the case at all. The purpose of a book fair is to encourage reading culture, promote local publishing houses and booksellers, and foster a love for books. Learning is a never-ending process; books are the best medium to increase our knowledge and awareness and become a well-educated and well-aware society. Despite the so-called technological and digital impact, the printed word is still popular among readers. The rising footfall in NDWBF every year proves this. I always say and do believe that one book can change your life.