Interview with Savio Mascarenhas, Group Art Director at Amar Chitra Katha Pvt Ltd
on
Oct 07, 2022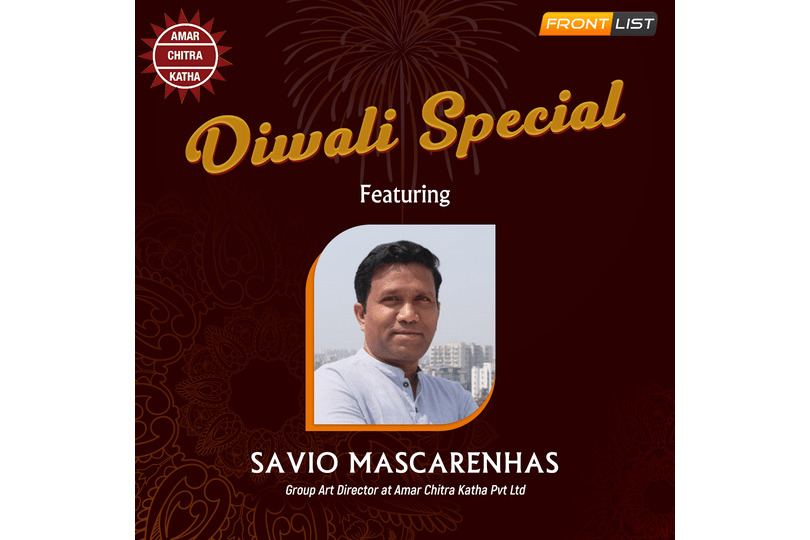 Growing up with a galaxy of characters from Tinkle and Amar Chitra Katha, Savio Mascarenhas subconsciously chose to belong and live in this Neverland. Thus for the past 28 years, he has spent most of his time with the comically indomitable and unarguably hilarious characters from Tinkle and the heroes and legends of Amar Chitra Katha.
With a flair for drawing since childhood, doodling and sketching on the back pages of his and his friend's notebooks, Savio breezed through his educational journey. He is a Commerce graduate with a post-graduation in advertising and public relations from Mumbai University. This led him into the advertising world, where he started his career as a copywriter. And as luck would have it, he got an opportunity to freelance for Tinkle, drawing comic gags called See 'n' smile. That was the beginning of his life as a comic book artist, freelancing with Tinkle and eventually joining as a staff artist in 1994.
While at Tinkle, Savio co-created some amazing characters like Mopes and Purr and Little Shambu with writer Reena Puri, Janoo and Wooly Woo with writer Vineeta Vaid, Super Suppandi, and finally Shikari Shambu; that he continued illustrating after the legendary creator of the legendary hunter, Vasant Halbe.
Savio Mascarenhas is the Group Art Director at Amar Chitra Katha Pvt Ltd. He is also a TEDx Speaker on the use of visuals in learning. He has been sharing the idea of VAL (Visual Art Learning) with schools. He visits schools regularly, conducting comic-making workshops for children.

Frontlist: How does the readership status of Amar Chitra Katha's books differ between Physical Books and Digital Books? Do you believe that the charm of Physical books is waning nowadays?

Savio: ACK finds itself in a very important juncture where the world is digital. With our readers in the age group of 8-80 years, we have managed to keep that balance of catering to both. There is always a generation that believes in the print and readers that would prefer to go digital. We make our presence known in both these spaces. Now that the markets have opened up, the demand for print is also increasing. As for the charm, that will stay forever. The charm of reading a story well told with visuals that remain imprinted in your mind. And like everything in nature, there will be a balance between print and digital.

Frontlist: Storytelling has been a part of life since medieval times. How has Amar Chitra Katha brought a wave to learning the intricacies of Storytelling skills?

Savio: Yes, storytellers have indeed been an important cog in the wheels of history through the ages. The method of storytelling has evolved over the centuries, giving birth to newer forms. ACK has, over the years, mastered this knack, understanding the reader's pulse. It's a unique way of telling a story by combining it with the visuals from the comics, making it a mix of audio and visuals.

Frontlist: How has Amar Chitra Katha been inculcating knowledge of Mythology in younger generations?

Savio: It's without a doubt that ACKs have been the pioneer in telling the stories of India in an illustrated format. And that has been the endearing factor in making it the most popular medium for generations. When Uncle Pai first thought of sharing the legends and lore of India, he realized that the most accessible and simplest way was to do it through comics. The colourful visuals and the simple language were the keys to its popularity with the youth. Communicating to the young in a format that would hold their attention and interest works even today, making ACK the most favoured storyteller panning across ages.

Frontlist: What new things can we expect from Amar Chitra Katha on Diwali to promote Indian Mythology in the World of Indian Comics?

Savio: We don't have an all-new title for Diwali this year. But we will prepare a special collection of existing titles with a theme that will connect with Dussehra and Diwali. This time our theme is the unequivocal triumph of good over tyranny, greed, and oppression. Called 'Tales of Victory,' it contains titles like Lord of Lanka and Krishna and Narakasura.

Frontlist: It has been 55 years since Amar Chitra Katha carried on the legacy to encourage the enriching Indian Comics to the world. Could you please discuss the journey with us?

Savio: 55 years and counting! A legacy created by Uncle Pai has come a long way and will continue to do so. The initial few years were challenging. Finding space in the little books shops and schools was a struggle. It was a huge task. Uncle Pai took it upon himself to travel to the remotest of shops, convincing them to stack up ACKs. It took time to gain that trust and for the sales to pick up. So yes, by the early 70s' ACK began gaining popularity in schools, all through the efforts of Uncle Pai, who felt that taking ACK directly to the young readers was the masterstroke of our success. And the rest is history. We built up a base of loyal readers who have passed on the legacy to their children.

Frontlist: What makes Amar Chitra Katha so unique that it suffices enough to overpower marvel comics in India, or perhaps at the International level?

Savio: The uniqueness lies in the variety; our rich history, culture, and heritage are so vast that there is much to be shared with the world. We at ACK try to bring every version of a story, every version of the lores and legends, for people to know. The efforts that go into making an ACK are immense; right from the research and the creation of art, everything is meticulously done. We are known for our credibility, and we see to it that the legacy we currently are the caretakers of will remain intact to be passed on to the teams that come after us. And that makes us so special and unique, placing us in a league of our own.