Interview With Sahil Gupta, Director-Founder, V&S Publishers
on
Aug 06, 2022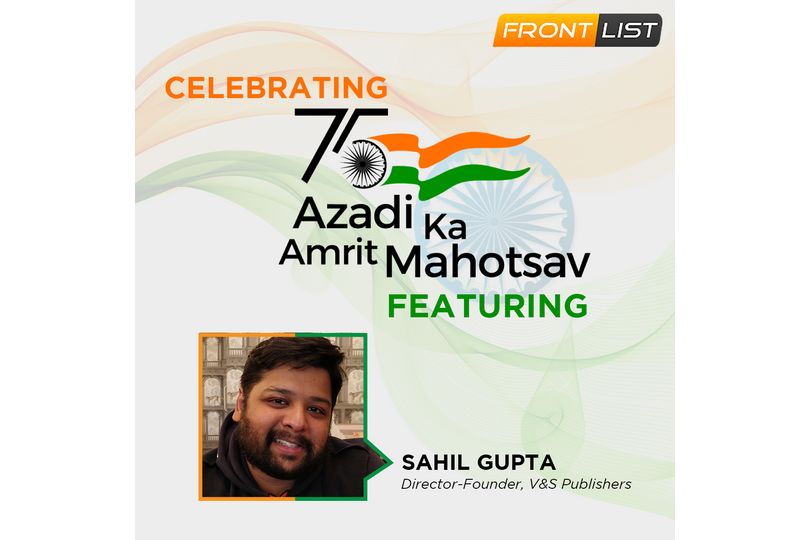 Frontlist: When tapping into the Publishing legacy, how did you manage everything initially, and did you want to make a career, or were you following your father's footsteps?
Sahil: It's much more complicated than what people make of it. People feel established businesses are easy to handle, and one simply has to exchange hands and sit on the throne. It is very different from how people perceive it. There is a lot of pressure, and often, the policies are rather stringent and budget modest, giving you limited scope to work and build upon. I joined in 2009. It was out of my own choice. I always felt this was my thing, and I joined straight out of college and pursued my MBA later. Our industry was at the cusp of an Edtech revolution at that time. Having been the leaders in Trade Book Publishing for decades, there was a lot of pressure to be the best at what we did.
We always felt we were the trendsetters, and with technology just entering Publishing, at that time, eCommerce and ebooks had just started; it was imperative that we put our best foot forward and again be the pioneers at adopting tech in Publishing. I started small, and the initial profile I remember was more to do with business development & expansion, particularly in untapped territories, be it sales in tier 3 cities, understanding the edtech sector, or collaborating with eCommerce vendors. The task of being at the forefront of Publishing books by adopting Ebooks was handed over to me very early. It was interesting. Venturing into uncharted territories was challenging. I also did extensive sales touring, as my father always used to tell me that understanding ground realities was essential for running a successful business in India. He couldn't have been more right as I soon learned business basics. I realized very early there was a lot of scope for improvements in business processes and changes concerning catalog and personnel. As often is the case with legacy businesses and family-run setups, it wasn't easy to branch out and change things overnight. Still, I felt my initial few years were a rather steep learning curve for me and made me understand the nitty-gritty of business and ethics. Eventually, after a couple of years, my father and I started our setup of V&S Publishers because of ideological differences. I think rebuilding things with a new foundation from scratch helped shape my career as it was very tough initially, handling everything on our own and not taking things for granted. We had limited budgets and multiple things to take care of because the industry then was rapidly changing, and every second wasted I felt was an opportunity lost. We have done well over the last decade despite all the challenges by God's grace. We now have a catalog of over 1000 titles across 9 languages, with more than 50 categories published and books selling worldwide in multiple formats, from Print to Ebooks and Audiobooks.
Frontlist: Quality of education has been hugely impacted due to the pandemic. How can we address the educational gaps while creating sustainable development?
Sahil: I strongly feel that the quality of education has gone downhill over the last few years, particularly during the pandemic. I think there has been a lot of focus on e-learning and the holistic development of a student. Rightly so, the focus on building a strong foundation should not be shifting; this is where we are faltering. The worst thing is we wouldn't know about this for at least 15 years because the generation now getting educated would feel this effect after a decade when they enter the job arena. In the last few years, many people in power positions have blindly embraced western philosophies of education, and I feel it doesn't work in India. By the time we realize this, it will already be too late. Call me old school, but India as an education sector, especially at the primary level in schools, is still not equipped and ready to take such a giant leap. You see many Indians at top positions worldwide as CEOs of big multinationals because they have a very strong base they could build in the future and keep learning. Because their fundamentals were strong, they could hone their skills when the time came. Pandemic proved this furthermore; while the focus was on e-learning and edtech and rounded development, people and masses in India didn't have access to electricity, internet, and devices and further lacked understanding of how e-learning works. Books are and will remain at the heart of education, and if India has to become a knowledge economy, then there is no substitute for quality books. There are a lot of gaps for Books(Quality & Distribution) despite them being here for the last 75 years post-independence, despite all the initiatives government has taken and the work put in by private publishers, so when it comes to sustainable development, there is a long way to go. I feel some holes need to be filled, and Publishers, educationists, and government must collaborate to create initiatives that contribute towards this in the long run. We cannot simply copy what someone else is doing, lower the quality standards, and ensure everyone passes the exam. What is needed is a plan of action where Books, Elearning, and Education leads to the development of people at the base level, which is sustainable and sufficient over the next 100 years. Isn't this sustainable development in the true sense. If people are aware and educated and their base is strong, that is when they contribute to the development of the economy. The problem lies in the fact that all the stakeholders in our sector are not in sync, which often leads to hara-kiri. Then competitors, customers, and students all play catch-up games, eventually resulting in very poor learning for the child, which should be the most important agenda.
Frontlist: Do you believe that a career in Publishing industry is as enticing as other career prospects?
Sahil: Definitely! I am a strong believer that Publishing Industry has a very bright future. I, in fact, often conduct pro-bono seminars in colleges where I encourage students to take up Publishing as a career. I think the way publishing is visualized to be re-understood. It's not just about books and printing. It's about CONTENT. It's about Educating. It's about Learning. I think the next decade will see lines getting blurred even more between tech sectors and publishers. Eventually, publishing companies will amalgamate IT and infra in their setup because at the heart of the industry is CONTENT which no one understands better than Publishers. What content, how, where, why, and who content are all equally important. I think some sectors will outperform others. Children's Books, School Books, and Competitive Examinations will do brilliantly. As a young man looking for a job, I feel the culture, the pay and overall what you contribute to society and nation-building is unmatched in the Book Publishing sector. I urge the government and stakeholders to encourage students and the youth to take up Publishing because, over the next decade and more, the sky is the limit for Publishing Sector and Books.
Frontlist: Consumers have access to multiple content formats nowadays. How has it influenced the monetization of printed book format?
Sahil: Access to content and authentic content are very different things. Of course, the last few years have been tough for the book publishing industry, especially in printed format, but that's because our sector is undergoing a transition. Publishers are content creators who are still understanding and figuring out the best way to deliver and monetize content. There is a lot of free content available. There is a lot of content available across multiple formats for consumption, which sometimes leads to cannibalization, but eventually, the print will sustain itself. Print and E formats will go hand in hand, I feel. The monetization models for printed content may change from a typical sale model to a more consolidated subscription model where the print is just one of the deliverables. We understood that it's not that buying power is not increasing for people; it is. It's just that they don't feel the need to purchase print books anymore. And these needs are a function of where the nation's economy is and how it's doing. Pandemic has shown that people are willing to spend on education and entertainment. The growth of Edtech companies and OTT platforms is testimony to that. I think more than the monetization, it's the distribution network structure that's a problem, and as this improves, the monetization for print books will get better. Again, I think tech will have a significant role to play in this. I see a lot of consolidation happening in the distribution sector. Publishers must be open-minded and proactive in adopting newer ways to monetize their content, be it print or E. Gone are the days of 500 paged hardback printed books. Books going forward can be better monetized if they are concise. It's like selling smaller packets of content.
Frontlist: How did the book supply chain disrupt due to the pandemic, and how did V&S Publishers navigate themselves into the digital era?
Sahil: Big time. The biggest drawback and disruption during the pandemic was that of the supply chain and distribution network. As it is, our book sales network has traditionally been marred with challenges like long credit cycles, returns, and poor logistics. The pandemic broke the back of this channel. Many small bookshops closed shutters overnight without paying ever to publishers. Big book shops consolidated and shifted business to selling toys etc. which meant publishers not only lost money during settlement but also lost key clients in big and small cities, which meant that suddenly the availability of books in tier 2 and tier 3 cities was just not there because there was no book shop anymore. We at V&S Publishers luckily had a very strong Online Ecommerce Distribution Network in place, which did help us in ensuring that we were able to make our ends meet even during the pandemic, albeit barely. Obviously, eCommerce couldn't cover up for the sales we lost in the market, and we are still recovering from the same. Still, the silver lining was that it made us focus on eCommerce a lot more and helped us tap into a market whose dynamics were very different from the usual trade we do. The fact that we had relatively filtered out many of the previous defaulter parties ensured that we didn't burn our hands to the extent many other players in our industry did. Ebooks sales, although modest, did surge during the pandemic, so we were already present on that front and were able to reap some rewards 😊
Frontlist: The United Nations introduced 17 Sustainable Development goals. How are you planning to implement all of them as a publisher?
Sahil: As a book publisher, as an educationist, I feel that most of the goals defined can be achieved by education. Over the next decade, education will and has to be the cornerstone around which these goals can be achieved and the Indian economy revolves. And as a publisher, through our books, we try to educate people; we try to help them learn, help them attain skills, clear their doubts, and give them an understanding which eventually will help them feed themselves, become independent, earn and thereby eradicate poverty.
It has been our constant endeavor as a Book Publisher to give something back to society over the years. We request our Indian government to empower us, Publishers, to take this forward by helping us with suitable grants, funds & policies which benefit us.
Frontlist: What has changed in the publishing industry from the time you joined this industry till today?
Sahil: A lot. The last decade has seen many changes, from Tech integration to eCommerce distribution to Ebooks and much more. But the most significant change has been how the content is consumed. Content consumption was limited to books, magazines, and newspapers, primarily for us as Publishers. While there were other content mediums like TV and radio, there were limited options. Statistics show that the total content consumption has grown many folds across geographies and demographics and irrespective of the strata of life people are from, which is a healthy sign. Books need to be viewed from THE CONTENT PERSPECTIVE, and this understanding of where-what-how the content is read, viewed, and consumed is the most important thing & it's this pattern over the last decade has changed significantly to do so at a rapid pace. As a publisher of books, we need to adapt. Books need to be more concise. They need to have some media component to it. Images are no longer enough. Video content is becoming mandatory for a lot of subjects. Basically, the pricing structures of our books and our monetizing model are being governed by consumer behavior now more than ever before. Reading habits have died significantly over the last decade, so that's a significant change. I think people have become more dishonest. There was a sense of morality and ethics when it came to Books and Publishing earlier, but it has become much more commercial. I think the CSR side of the business has reduced significantly, and it has become highly profit-centric nowadays. Margins have shrunk, but the industry has expanded through so many changes.
Frontlist: The publishing industry impacts not only education but also employment opportunities. What initiatives can we bring to create a balance between them?
Sahil: Educate students. Tell them what publishing is. There is a lack of awareness about what Book publishing entails and how it happens. Compare it, for example, with the IT industry or manufacturing industry. There is so much emphasis on awareness, training centers, and skilled people. This needs to happen a lot more. Students, aspirants, and people who are employable need to know that Book publishing is a sector, and we are constantly looking for skilled personnel. The industry's growth prospects and size need to be discussed more. In fact, as an industry, we perhaps have some of the best opportunities in the freelancing space for people who may already be working in some other sector. We often need Subject Matter Experts, so that's an important employment sector. I feel initiatives, both on the private and Government front, need to be centered around recognizing Book Publishing Industry and spreading awareness about it. I think Government needs to portray and publicize and talk about PUBLISHING SECTOR AND EDUCATION SECTOR in sync and view us, Publishers, as torchbearers and not as capitalists. With the industry going and expanding the way it has over the last decade am sure going forward, we will see more and more people getting employment opportunities in our sector.