Interview With Richa Jha (Author), Mithila Ananth (Illustrator) author of Giggi and Daddy
The book owes its appeal to Mithila's light, breezy, and incredibly fun illustrations! Her exceptional visual comic timing lends "Giggi and Daddy" its crackling zaniness.
on
May 29, 2023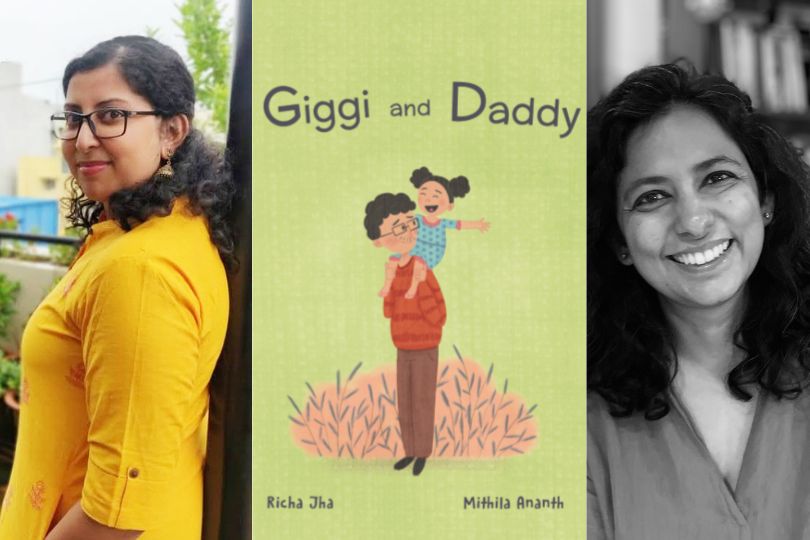 Richa Jha is a children's author and a passionate advocate of children's picture books. She runs Pickle Yolk Books, an award-winning independent publishing house for picture books in India.
Mithila Ananth When not illustrating or dreaming up stories for her yet-to-be-written novel, Mithila Ananth can be found reading books, collecting stationery, trying new hobbies, and watching FRIENDS on Netflix (on repeat). She lives in Bangalore, India, with her husband Nikhil and their 5-year-old cat, Ollie, and is currently still awaiting her Hogwarts letter in the mail (any day now!).
Frontlist: What is the main message of the story "Giggi and Daddy"?
Richa: Mommies and daddies, we don't need to be super-parents to our child; just being ourselves and available is enough to create a deep parent-child bond! Giggi's daddy sets out to be the 'best daddy in the world' and to be a dad who will do 'anything for her; just about anything'. Parenting isn't a race or an assessment that needs to be aced. Our children never see us like that, anyway. We can create countless magic moments with our children just by being ourselves and by being fully present with them when we are with them.
Frontlist: How effective do you think the illustrations in the book are in bringing the story to life in a way that is appealing and enjoyable for readers?
Richa: The book owes its appeal to Mithila's light, breezy, and incredibly fun illustrations! Her exceptional visual comic timing lends "Giggi and Daddy" its crackling zaniness. Everything about the daddy looks so believable, even if he is zipping Giggi to school on his back, flying high above the school bus (in his superhero cape, of course!), or getting her a live and breathing dinosaur for a birthday present! Irresistible and funny, that's what Mithila's illustrations have made the book.
Frontlist: What are some ways that parents can make their children feel loved and valued?
Richa: The two things that cement any parent-child bond are being fully present with the child when we are with them (even if it's only for thirty minutes a day) and being the best pair of ears that the child could find or ever hope to find anywhere in the world.
Frontlist: Do you think this book would be helpful for children who are struggling with their relationship with their parents? Why or why not?
Richa: I would say it's the other way around. For the child, the book ends up being a funny story about a dad who is forever spinning tall tales about what a terrific dad he is. A superdad, in every way. The book is more of a subtle nod to all those parents who realize that there is far more to parenting than trying to be a perfect one. It is those little things that we do with our children that fill up their lives with joy.
Frontlist: What did you set out to show through your illustrations in "Giggi and Daddy"?
Mithila: Most stories out there focus on the relationship between a mother and her child. Richa, the author, had a very clear vision of this story being about a little girl and the very special bond she shares with her loving, doting father. I tried my best to shine the spotlight on that.
Frontlist: Did you have a real father in mind when creating Giggi's daddy?
Mithila: When I was a little girl, I remember my dad coming back home from work and, despite being tired after a long day, he always made sure to take some time to play a little with my sister and me - whether it was swatting around a ball with kid-size plastic racquets or teaching us how to somersault safely on the bed. I lost my father when I was very young, so even though I never got to grow up with him, I treasure the little memories I have of him and thought back to them while drawing Giggi's Daddy.
Frontlist: If there were one emotion that you decided to single out through your illustrations in this book, what would that be?
Mithila: The absolute adoration between a father and his daughter. That is the heart and soul of "Giggi and Daddy," and I wanted it to shine through on every page of the book!
Frontlist: How did you add the visual context to so many things left unsaid in the text?
Mithila: The notes from the author helped! Richa is such a creative and imaginative person, and I enjoyed brainstorming with her about ideas that I could add to the artwork to convey things without spelling them out in the text.
Frontlist: What special touches did you give in the illustrations to bring the book to life in a way that is appealing and enjoyable for the readers?
Mithila: I loved exaggerating the goofiness of the Dad's character, like somersaulting after he learns he's going to be a dad, riding in on an enormous dinosaur that he's gifting to his little princess, doing ballet while wearing a pink tutu, and having a lovely picnic on the moon!