Interview with Rekha Mehra, Poet and Author of Zindagi Teri Dhoop Chhaon
Interview with Rekha Mehra, Poet and Author of Zindagi Teri Dhoop Chhaon
on
Dec 29, 2021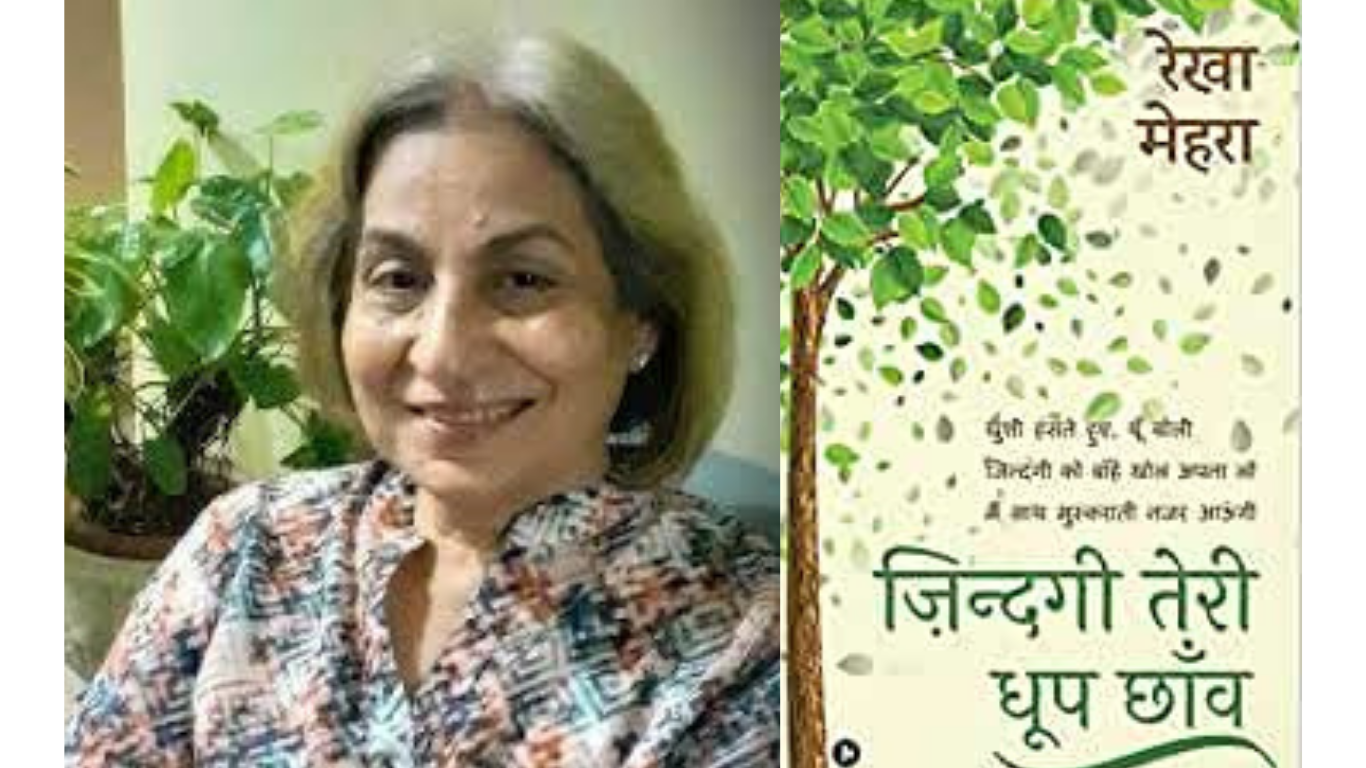 Rekha is a prolific reader, delving deep into Hindi literature, poetry and history. An avid gardener, she enjoys spending time in nature and travelling. Through her poetry, she brings peace, joy and contentment from her eyes to the reader's universe. A diverse world sparkling with pearls of wisdom.
Rekha Mehra's Zindagi Teri Dhoop Chaon is her first book of poetry.
Have a look at her exclusive interview:

Frontlist: Most women choose to focus on their careers rather than getting married. However, you chose your family and devoted yourself to raising your children. Now you have published a poetry book. What made
you take this step?
Rekha: I feel life is all about choices. Even though I was a good student and had many career options, I chose marriage at that time as it was the done thing in the family. Once I made the decision to get married, there was no looking back. I was totally immersed in my family life and l spent my time finding the right balance. As time passed and the children grew up, I did feel a void, and I spent time reading the best of Hindi and English literature and poetry. A few years ago, I found creative expression in words and poetry, a culmination of all the years I spent with myself in quietude. Looking back, I have lived a peaceful life with no regrets.

Frontlist: Why did you feel this was the right time to publish your book?
Rekha: I wrote the first few poems during my summer holidays in our family home in the hill station of Dalhousie during my school years. After marriage, I moved to Mumbai and then Delhi. I was completely involved in raising my children. After they grew up and got busy in their own life, I had a vacuum. At that time, I had become a student at Chinmaya Mission and was studying ancient scriptures in Sanskrit. I rediscovered my language and had a desire to express my emotions. Zindagi Teri Dhoop Chhaon is the result of all those years put on paper. Then, around two years ago, the pandemic struck. It turned out to be a very stressful time emotionally, physically and financially for everyone. I had time on my hands and the desire to bring joy and hope through my poetry to my family and friends, who encouraged me to keep writing and sharing. I collected all my journals and selected my favorite poems. It was a daunting task, but my daughter Neeti helped me in this. Finally, earlier this year in 2021 we got it published. I am thankful it has been received well and is spreading happiness. It has been a bestseller on poetry lists since its launch.

Frontlist: The poetry book is divided into these subjects: Khushi, Bachpan, Dalhousie, Zindagi Teri Dhoop Chaav, Mann Mere Shaant Hoja. When did you start compiling these?
Rekha: Zindagi Teri Dhoop Chhaon in many ways is my autobiography. In all its simplicity, it reflects the small, fleeting joys of Zindagi or Life, which brings me everlasting peace and contentment. Each section resonates with the wider world. My memories in verses are sub-divided into five themed parts, each reflecting a different emotion. I begin with Khushi or Happiness, finding solace in the memories of the past, searching for compassion and love in the present moment. In Bachpan or Childhood, I recall growing up across cities surrounded by loved ones. This is followed by Dalhousie, the beautiful Himachal hill station, home to my ancestral dwelling. I wrote my first poems in a small red diary in 1964 in the hills of Dalhousie, where Rabindra Nath Tagore had penned his masterpiece Gitanjali. Zindagi Teri Dhoop Chhaon or the Light and Shadows of Life touches upon life's highs and lows. Finally, I end with Man Mere Shant Ho Ja or Hush, be quiet mind, contemplating on a better future for our children and mankind on the whole.
Frontlist: Can you please share some excerpts from your favorite piece and also tell us the reason to write that particular incident?
Rekha: Each poem is very close to my heart and is deeply etched in a moment, memory or person.

Some of my favorite poems are:

महीन चादर
महीन चादर
इच्छाओं की
खड्डी पर चढ़ी

ख्वाबों के
रंगीन धागों से बनी
कुदरत के हर
रंग रूप में उभरी
मेरी जिंदगी की
यह सुंदर,, महीन चादर
Maheen Chaadar
Maheen chaadar
Ichchhaon ki
khaddee par chadhee

Khvaabon ke
Rangeen dhaagon se banee
Kudarat ke har
Rang roop mein ubharee
Meri zindagi ki
yah sundar maheen chaadar
खुशी और मैं

मुझे कुछ उदास देख
खुशी यू बोली
मेरा साथ चाहिए तो
कदम से कदम मिला रखना
घर और मन की
खिड़कियां दरवाजे
खुले रहे
ठंडी हवा को आने देना
सुबह की धूप
और बारिश की बूंदों में भीग जाना
चिड़िया को दाना पानी देते रहना
पौधों से भी आते जाते
कुछ बातें कर लेना
रास्ते में मां दादी मिले
तो कुछ मुस्कुरा देना
मैंने खिड़की क्या खोली
खुशी मुस्कुरा हाथ हिला,,
मुझ से बोली
मैंने जो कहा याद रखना

आजके माहौल में
कुछ लोग ज्यादा उदास हैं
कुछ खुशी उन्हें भी बाटं आऊं
घबराना मत
हिम्मत मत हारना
खुश रहना
मैंने जो कहा
करते रहना
मैं जल्द लौटूंगी
मैंने खिड़की क्या खोली
खुशी मुस्कुरा हाथ हिला,,
मुझ से बोली
मैंने जो कहा याद रखना
आजके माहौल में
कुछ लोग ज्यादा उदास हैं
कुछ खुशी उन्हें भी बाटं आऊं

घबराना मत
हिम्मत मत हारना
खुश रहना
मैंने जो कहा
करते रहना
मैं जल्द लौटूंगी
Khushi aur main

mujhe kuchh udaas dekh
khushee yoo bolee
mera saath chaahie to
kadam se kadam mila rakhana
ghar aur man kee
khidakiyaan daravaaje
khule rahe
thandee hava ko aane dena
subah kee dhoop
aur baarish kee boondon mein bheeg jaana
chidiya ko daana paanee dete rahana
paudhon se bhee aate jaate
kuchh baaten kar lena
raaste mein maan daadee mile
to kuchh muskura dena
mainne khidakee kya kholee
khushee muskura haath hila,,
mujh se bolee
mainne jo kaha yaad rakhana
aajake maahaul mein
kuchh log jyaada udaas hain
kuchh khushee unhen bhee baatan aaoon
ghabaraana mat
himmat mat haarana
khush rahana
mainne jo kaha
karate rahana
main jald lautoongee

Frontlist: How can a poet find the source of inspiration from living as well as
non-living things?
Rekha : My family, the one I was born to and the one that I belong to believe in Advaita philosophy and the oneness of the universe. All living and non-living beings carry the same consciousness, and thus to me, inspiration comes from anything in this magnificent universe.

Frontlist: Does your own evolution as a poet create a self-pressure of
delivering a piece with utmost beauty?
Rekha: I never started writing poetry with the idea of becoming a great poet one day. Whenever thoughts and feelings were bubbling in my mind, I would write them in the dairy. My evolution as a poet is a subjective journey.
I have lived life as a Karma Yogini, drawing real life examples from my parents who went through the terror of partition, and built a life afresh after, with grace, hard work and simplicity.
I immersed myself in Vedic philosophy and live life by its ideals. Happiness is a way of life for me, living a life of equanimity, focusing on what's pure, positive and permanent. I believe that life needs to be lived with a smile on your face. "An abundant and enriching life is a life of simplicity that is in sync with the universe, with compassion and respect for others." Zindagi Teri Dhoop Chhaon resonates with the universe. Life is a bitter-sweet journey to be lived to the fullest.