Interview with Ramesh Arreja, author of 'Karmyogi : In battle of inner demons'
Interview with Ramesh Arreja, author of 'Karmyogi : In battle of inner demons'
on
Nov 10, 2021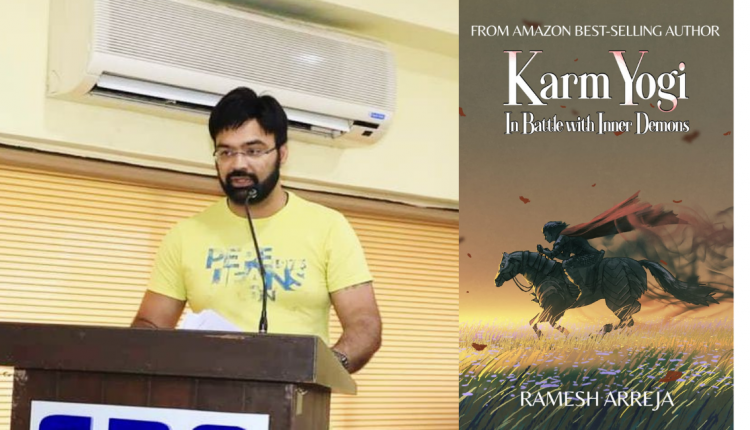 Ramesh Arreja is a banker by profession, but a writer at heart. An ardent devotee of Shiva, his stories and poems often reflect the spiritual aspect which never fails to mesmerize his readers. An aspiring screenwriter and a member of SWA (Screen Writers Association of India).
Ques. Karma Yogi – a mythological fiction that is very different from your previous books? When did you decide that you want to write something like this and why?
Ans. Actually, it's a mix of Mythology with fiction. Not entirely based on mythology but a few excerpts worth retelling are taken and a story is created around it. I always had an inclination towards Mythology since childhood when I use to hear stories from Lord Shiva, Ganesha, Lord Ram, and many more. It always intrigued me. My first book "Extraordinary fate of an Ordinary Man, A man in a prejudiced world" is also of the same genre.
Ques. A banker by Profession and writer by heart. When did you start the journey of being a writer?
Ans. I am a nature lover. I find solace when I am close to nature. My writing journey too started when I was posted at Goa in 2017. It started with an Academic book "The Number Crunchers" then progressed towards the Fiction " Extraordinary fate of an Ordinary Man" and a few Anthologies I have contributed to.
Ques. Do you really think that people will feel connected with this story?
Share your thoughts.
Ans. I am a firm believer in related Stories and writing. As I write I am always inclined to writing stories that are realistic and resonate with readers. If you see reviews of my last novel. Almost every reader has mentioned this point that they felt as if they were living the life of the protagonist. Karmyogi is no different.
Ques. Why did you chose self-publishing over Vanity Publishers?
Ans. Publishers are gonna kill me for this. But having experience the same I feel there is a lack of transparency, an author does not know how many copies are sold. There is always some manipulation in it. With self-publishing, I can invest the money saved on marketing and reach a greater reader base.
Ques. As a screenwriter yourself, what advice would you give to aspiring screenwriters?
Ans. I have been learning screenwriting for quite some time now. Finished writing a story for web series. Though I am new to it I have learned quite a few lessons. My advice to aspiring writers would be to have patience. Don't rush things. While creating characters you have to dive deep into their lives and bring out the gems. You have to show the internal struggles, the conflicts, and the resolution, especially while writing a web series. It's a constant learning process.