Interview with Pranika Sharma & Aakriti Patni, founders of Saga Fiction
on
Nov 07, 2022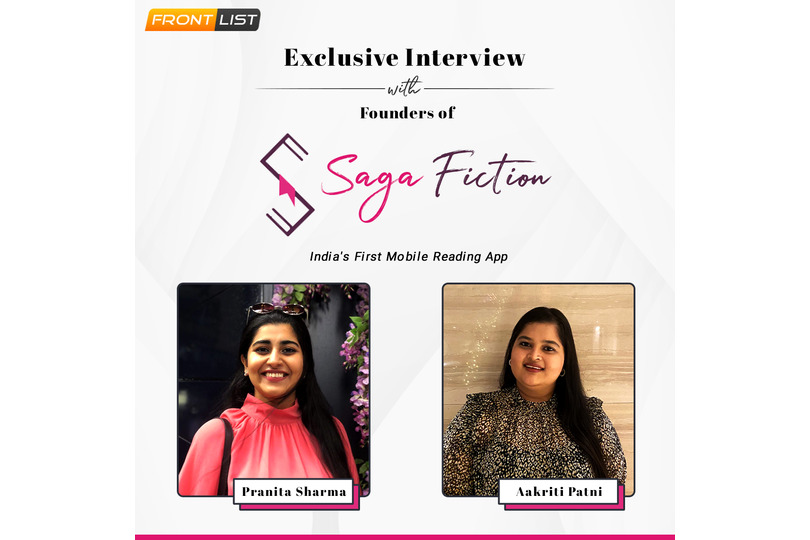 India's First Mobile Fiction App, Saga Fiction, embraces various commercial fiction genres focusing on quick consumption and experimenting with a new style of storytelling, Saga compacts original stories into an episodic format. The serialized fiction approach is designed for hustlers looking for a respite from their fast-paced life with our bite-sized reads.
At Saga Fiction, they set a high standard of publishing and provide our authors with complete editorial support and publication exclusivity. Forming plot lines, defining character arcs, and a structural edit: they walk with the author on the journey of writing a book for Saga. They offer great benefits, in terms of advance payments and royalties for the authors, upon commissioning their manuscript. Further, they market and promote each author's works separately from the app.
Pranika Sharma obtained a Bachelor's in English Literature, followed by a Masters in Creative Writing from Loughborough University, UK, before working extensively with top publishing houses.
Aakriti Patni worked as an independent mass media professional and then pursued Masters in Magazine Journalism from City University, London. She has been part of newsrooms and brings strong editorial and digital marketing experience to Saga Fiction.
Frontlist: What inspired you to envision the "Saga Fiction" venture?
Aakriti & Pranika: Saga Fiction was born from a sheer love for reading and a lifelong friendship. Pranika and I bonded over books in our preteens, and we always dreamt of having a publishing house of our own. Lo and behold, 15 years later, we took the leap, and Saga was formed. We wanted to work with stories, shaping them to be the best version of themselves. As with readers, we wanted to bring to other readers stories they could devour and love the way we do. That's what we envisioned for Saga to be, a space for readers.
Frontlist: Could you please discuss what differentiates "Saga Fiction" from other digital reading platforms?
Aakriti & Pranika: What sets us apart from other reading apps is our content. We're very selective about the stories we showcase on our app and publish in general and the authors we work with. We have set about curating a special selection of titles in varied genres that would attract readers of all ages and sensibilities. Moreover, we have a meticulous and thought-provoking editorial process, where we work on the plot, characters, and more. As we tell our authors, we walk with you on the journey of writing a book.
Frontlist: After beginning as a digital platform, do you think it's wise to enter the book publishing industry? What potential impact could this milestone have on the growth of Saga Fiction?
Aakriti & Pranika: When we first started, we were never keen to be only digital. Print was always on the cards. Although, given the pandemic and the growth of e-publications, we thought that was the vertical we needed to start with. Now, after being in the industry for over two years, we've realized that the demand for print has always been there. People are hungry to read, and there is an equal demand and market for print and digital. It depends more on the readers, some may like to read on the go on their phones via our app or on Kindle devices while others need the feel of a physical book. It's simply that, as readers, we understand that need and would like to cater to all audiences within their comfort zone. Moreover, we're reaching a more extensive set of readers by establishing a foothold in both markets.
Frontlist: How has Saga Fiction opened its doors to provide a platform for debut writers?
Aakriti & Pranika: The publishing industry is unfortunately notorious for being a closed door. Traditional publishers often don't entertain unsolicited authors, stick to literary agents and have a strict set of rules for the kind of content they want to publish. That's where a new-age publishing house like ours comes in. We directly connect with authors and are keen on publishing diverse genres, voices, and stories. We love reaching out to authors ourselves!
Frontlist: What special discounts are available for app users to enhance the reading experience and attract more readers?
Aakriti & Pranika: The Saga Fiction app is getting an upgrade! We're launching a new coin currency on the app that will enhance the user and the reading experience while also making the app more affordable. Users can now earn reward coins by completing simple tasks and spending those to read on Saga Fiction. Additionally, we run giveaways and promotions on social media where readers can stand a chance to win free coins.
Frontlist: What unique benefits might the author leverage from this app?
Aakriti & Pranika: With the Saga Fiction app, the authors have the flexibility to experiment with different formats of writing; short stories, episodic series, and anthologies all have a place on the app. With an interactive comments section, authors have a direct connection with their readers, and the app gives them a great opportunity to build a community and reader base.
Frontlist: Do you believe you can generate more revenue in the book publishing sector after experiencing digital freedom?
Aakriti & Pranika: As great as our digital journey has been, we're sitting on untapped market potential with the print industry. In our experience, we've seen some readers shy away from digital, preferring to read in print only. With our expansion into print, we will not only reach a wider set of readers, but we will also be able to understand the digital and print reading markets better.