Interview with Novoneel Chakraborty, author of 'Whisper To Me Your Lies'
Interview with Novoneel Chakraborty, author of 'Whisper To Me Your Lies'
on
Nov 10, 2021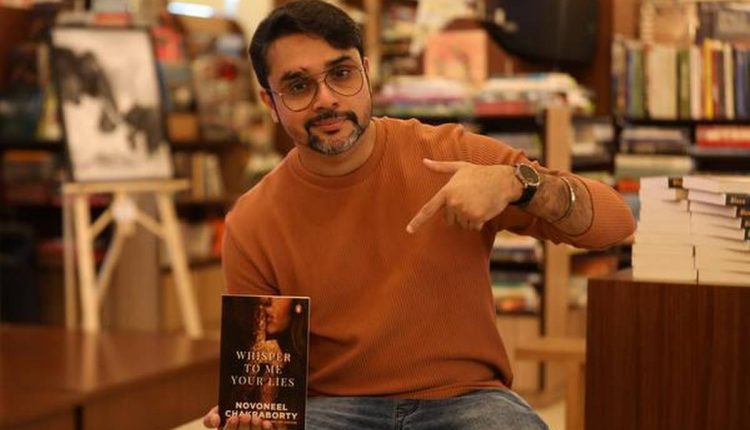 Novoneel Chakraborty is a famous Indian scriptwriter and author. Recently he penned down his first Crime Novel 'Whisper To Me Your Lies'.
Ques – Tell us something about your latest book.
Ans. My latest 'Whisper To Me Your Lies' is my first attempt at a hardcore crime thriller. I always wanted to dive into this subgenre having written several thrillers. It's a pacy, twisted story deals about a girl's search for the killer of her boyfriend. But as it unfolds the reader would know nothing is what it seems.

Ques – 'Whisper To Me' is your first crime novel. What attracted you to
this genre?
Ans. Crime always fascinated me. Especially the broken relationships it entails within its womb which is rarely explored. Crime, as they say, never goes out of fashion. It's this eye-brow-raising facet of it that always aroused me as a storyteller even though I never attempted this genre before this book. I was waiting for a story that would unfold in a crime thriller manner but would actually be an emotional one.

Ques – How did you come up with the Ekantika Pakrashi Character? What was
the idea behind this character?
Ans. I wanted to knit a character who on the face of it looked innocuous like the majority of small-town people who take a leap from their comfort zone and come to big cities while at the same time someone who has nestled twisted and dangerous intentions. Ekantika is not only a rebellious product of the dastardly society we live in and have accepted subconsciously but also who is ready to put her entire life on the edge to pacify one obsession of hers. What that obsession is? Of course, when one shall read the book, will know.

Ques – Why did you choose the title 'Whisper to Me Your Lies'?
Ans. Talking about it would give away spoilers for people who haven't read the book but on a broader level, the title comes from the fact that we, as people, are more defined by our lies than our truths. Or so I believe. As our lies are what we want to hide from the world. And what we want to hide is what we essentially are.

Ques – It's been a lot of time since your first book was published. What changes have you seen in your writing career during this time?
Ans. I'm more professional. More in control of the craft as a storyteller. We not only learn from every story but also in all these years life has happened which has also constantly shaped me as a human being whose reflection, I'm sure, my recent writing carries.

Ques – What kind of initiative would you like to do for aspiring writers?
Ans. Would love to do certain workshops, if time permits, so I can share my storytelling experience with them.