Interview With Nitasha Devasar- Managing Director | Taylor & Francis India & South Asia, Vice President and Commercial Lead
on
Mar 05, 2022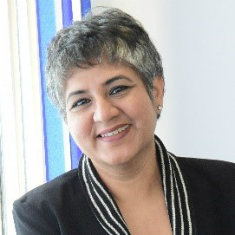 Nitasha Devasar is the two-term President of the Association of Publishers in India(API), the trade body for international publishers in In­dia, and is the immediate past president. Before joining Taylor & Francis, she was Academic Publishing Director at Oxford University Press India for 12 years.
A writer and commentator on Indian Publishing, her edited book Publishers on Publishing: Inside India's Book Business (2018) gives a panoramic insider's view. She sits on the Editorial Board of Logos, Journal of the World Publishing Community, published by Brill.
Nitasha is an adviser to the Women Leadership Forum of Asia and mentors aspiring leaders on the Taylor & Francis Group, Women Leadership Program. She was lauded as Channel News Asia's Woman of Substance in Asia 2017. Her leadership focus is on business and personal transformation, and she is currently working on a book on her leadership journey.

Frontlist: Ms. Devasar, you have donned multiple hats in your publishing career and have been a keen observer of the industry as well. What changes are needed to move the Indian Publishing industry to a growth trajectory?
Nitasha: Indian publishing is celebrating its 75th anniversary and is an $8-10 billion industry. So, it has resilience and is a big part of our educational and cultural landscape. What we need is to harness this effectively by publishers of all hues, local and international, language and trade, COMING TOGETHER to build on what we create, impact our education system, and influence government policy.
Second, we need to embrace TECHNOLOGY and harness its power to grow our businesses and enhance customer value. And we can support each other for this.
Linked to the value is the QUALITY of our content. That is important to nurture and safeguard. This is what will make us sustain and grow. As an industry, our relationship with quality has been fraught. We cannot make an access or pricing a reason for diluting content quality.
Copyright protection is closely aligned to quality, and that is something we need to build more awareness of among our stakeholders and peers. Indian publishing is well respected globally, and we can, if we want, get support and help for all this from the international community.
Frontlist: You've worked for almost a decade as Managing Director at Taylor & Francis. How has your journey with Taylor & Francis changed you as a professional?
Nitasha: When I think about my journey, two things stand out: One, that as MD, I was in a position to make a difference to our business and our colleagues in India. It was both power and privilege to do something good, and I took it to heart. It has enhanced me as a professional and as a person.
Second, by being part of an international business, I have been exposed to a diversity of cultures, people, markets, ways of thinking and working as well as global best practices. That has widened my horizons and raised my aspirations, and this has helped me and my colleagues in India tremendously.
Frontlist: Your book, Publishers on Publishing, looks at the industry from the lens of its various constituents, but doesn't specifically cover anything on gender, why?

Nitasha: Thank you, that's a great question! I didn't cover gender because, frankly, I didn't consider it a factor. In fact, I never even thought of it, and that may have more to do with me than with the state of Indian publishing. I see myself as a publishing professional and not as a woman doing publishing professionally. So, I probably didn't look at the industry through that lens.
That is not to say, however, that this would not be a worthwhile exercise. Traditionally we have seen more women in Editorial and Commissioning roles and none in Sales. That still continues though we are seeing a lot more women in Marketing, which is a growing specialization, due to the increased focus on customers and providing bespoke value. Being in a commercial role myself, I would certainly like to see more women coming into Sales, as they are across the world. I don't think the binaries of creativity versus commerce that are attached to these functions and to genders are real. We do, however, need to create a work environment that supports women in these roles. Addressing the gender pay gap in the profession is also a consideration.
Frontlist: For your book, you worked with more than 60 publishing professionals, local and global. How was that experience?
Nitasha: Working with peers and professionals for my book was fun and great learning. It reminded me yet again about why I love being in this profession: people were generous with their time and their contributions. Many even stuck to deadlines, and for those who dropped off, others stepped in at very short notice. I think if people consider something of value, they do step up, and we should remember that and align more closely to work to sustain Indian publishing.
Frontlist: You are an author yourself, alongside being a publisher. From a writer's perspective, what new avenues for authors are needed for better exposure?

Nitasha: Authors today have more choices and options, including self-publishing than, ever before. The other side of this is, of course, how to be visible and discoverable in this ever-expanding universe of content. A writer can, in theory, be both publisher and marketeer, so what is needed is a partnership approach with the publisher at each stage of the process from manuscript to market. Social media is an effective tool for reaching out to your audience: using videos, book and chapter abstracts, and riding on trending subjects and waves on social media can all work well. If one is writing for a specific or specialist audience, reaching out on their networks with the value your work provides can be valuable.
Frontlist: This year's theme for International Women's Day is 'BreakTheBias'. In this context, what would be your advice to women stepping into the professional world?
Nitasha: I would say, don't let who you are, restrict who you can be. It frees you to learn, grow and contribute. It can be hard because you may be viewed through different lenses in the workplace, but if you don't let your gender define you, you will look deeper to see how you can improve and develop professionally. In today's workplace, this effort to continually learn is an asset.
The other thing I would say is, embrace your otherness. Make you being different a strength, a positive you can harness to bring diverse perspectives and views to an issue. Again, this is hard, as our tendency is to conform and fit in or alternatively to rebel. But building resilience and staying power are important because only then will you be able to stay the course and succeed. So, don't give up or give in if you believe something is important.

Frontlist: In your career, you have smashed several glass ceilings, and young women could learn from your experiences. We have seen several recent books by successful women. Are you planning to share your journey in a book?
Nitasha: I don't know about 'smashing' ceilings, but I have had an opportunity to create and slip through some cracks! I do read the books by successful women and men with great curiosity. I am always looking for the secret sauce of success underlying their story. And, of course, I look for similarities with my own journey. Sometimes things resonate, but mostly I am left with a feeling that something is missing or it's not the whole story. It got me thinking about what these missing ingredients are. So, I am using my own story to explore all the unsaid and untold things one experiences in one's professional journey. It isn't always easy, so I understand why even successful people don't want to dwell on them. As my writing progresses, I am coming to believe it is important to do this, as much for myself as for others who are making their professional journey.