Interview With Naresh Jain - Chairman, Oswaal Books
on
May 04, 2022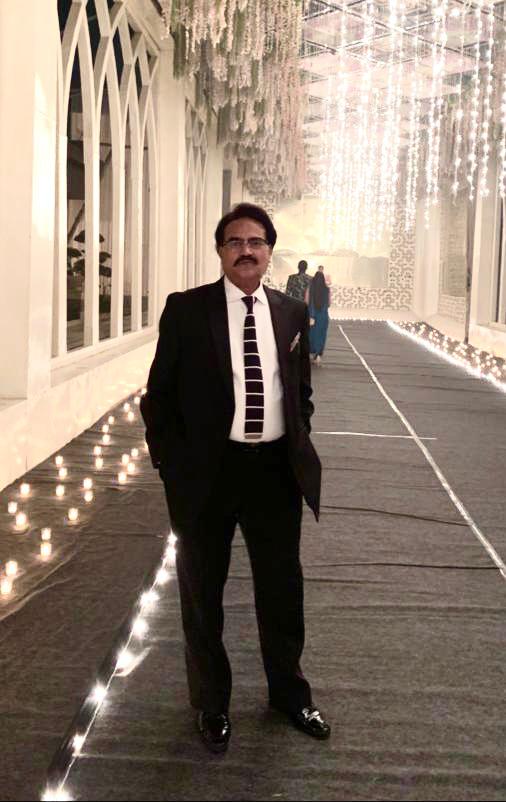 Naresh Jain is the Managing Director at Oswaal Books and has an experience in publishing that spans over 40 years. His educationist mind is the driving force behind all the successful and popular books that Oswaal launches. His excellent vision and far-sightedness have helped Oswaal Books not just stand ahead of their fellow publishers but also become the most preferred choice for students of the CBSE Board.
Being an avid reader himself since a very young age, Naresh Jain's understanding of a student's requirements is par excellence. In his four-decade-old career, he has launched several series of books that have become bestsellers amongst students in India and across the globe.

Frontlist: How did Oswaal Books sustain themselves in the Pandemic Crisis?
Naresh: The COVID-19 Pandemic plunged the world into innumerable crises in all walks of life, and it can be unequivocally said that the education sector metamorphosed the greatest to combat these changing world dynamics. The demands for digital education began augmenting at an unhesitating speed and have not waned out even now. A large number of book publishers went down due to a crippling decrease in sales and a simultaneous rippling demand for e-books and online subscriptions. Although we at Oswaal Books adopted an initial strategy of going with the flow and avoiding getting sucked in by the changing trends, the digitalisation tide was just too strong to overlook. My expert team and I monitored these happenings closely and tried to chalk a way out.
Turns out, the only way out was to embrace the change. Therefore, I and my team got into developing the utmost level of digitalised work and its integration into the matters of education. The result is obvious today - Oswaal Books boast preparation resources that can be availed based on subscriptions, with the lowest possible prices ranging from Rs 250 to Rs 600, depending on the course type.
Frontlist: What are the varied approaches acquired by your company to become equivalent to the other publishers in the race of digitalisation?
Naresh: Oswaal Books is completely at par with the changing world dynamics and embraced it long ago, at the start of the pandemic, believing that it was the only way forward. The world is now undoubtedly in a digitalisation race with every organisation in every sector, no matter its size, grappling to beat its competitors. However, I and my fellows at Oswaal believe that this race is not one of competition but rather of self-improvement. Thus, we focus on augmenting and enhancing our technological capabilities and devote all our energies to doing so instead of wasting it on looking at the successes of our competitors with nervous eyes. This approach has brought us to the brink of technological advancement and escape the age-old tradition of an educational environment shackled to the chains of boards, markers, and chalks. The crux of our digitalisation approach is quite simple - we believe that today's global world necessitates the provision of comprehensible and up-to-date educational resources to students whenever and wherever they want them. This very mindset has metamorphosed Oswaal's position as India's most experienced and trusted education service provider with a motto based on the amalgamation of the two highly trending domains of technological revolutions and educational necessities.
Frontlist: Now, schools and colleges are paying heed beyond classrooms and inculcating the Ed-tech solutions for the growth of students. As one of the K-12 Publishers, what are you planning to do in this aspect?
Naresh: As per a report published by the RBSA Advisors, it is anticipated that the Indian ed-tech sector would reach a whopping $30 billion by 2032. However, in the beginning, we at Oswaal Books had a firm belief in our objective of making things easier instead of simply giving in to trends. But, I soon realised a subtle fear of missing out on my team members during a meeting about the matters of technology integration in education modes. This interaction pushed me and my team to adopt inculcated-tech solutions for the growth of our students, but this process took almost a year of meticulous preparation and consideration. We came up with the Oswaal 360 platform, which offers innovative and efficient modes of learning through revision tools, concept videos, mind maps, mock tests, daily and weekly practice papers, and much more. This is what makes our digitalisation approaches top-notch, instead of blindly delving into the idea of technology integration because it was quickly becoming the talk of the town, we took out time and decided to opt for the modes that brought about a considerable ease of learning for students. Our subscription-based preparation resources and low-cost but high-quality education resources are a testament to this. Being a K-12 publisher, we are already publishing help books for students.
Frontlist: Over the last two years, the education sector has been revamped due to the new effective learning techniques. What are your thoughts in this context as a key academic publisher in the country?

Naresh: The education sector has undergone considerable change over the last few decades, and even the trends of the past two years do not resemble the present educational norms at all. Although the negative implications of the Covid-19 pandemic were immense, it pushed humans to alter their ways of life and turn towards innovative technologies capable of revolutionizing their lives. Thus, a similar trend was adopted in the education sector in India, with various platforms switching to hybrid educational methods. Even the post-pandemic world shows signs of similar trends; many institutions and educational platforms still use a mix of online and in-person tools. Such trends are successfully pushing the educational future of India into unprecedented dimensions that are bound to bring better results and greater ease and convenience for students.
The areas that still practice the orthodox teaching methods are being rapidly rooted out and are ceasing to exist because of this globalization and technological advancements. The education sector can be seen competing shoulder to shoulder with the advancements in other industries, which is a promising endeavor. Oswaal Books is a significant advocate of these changes and is endeavoring to play its part in this revolution.

Frontlist: It has been 37 years since Oswaal Books' inception. What dynamic things have to be reformed in the syllabus and textbooks to flourish the young minds?

Naresh: Oswaal Books has been serving India for the past 37 years, and it is evident that it has undergone considerable improvement to retain its position as the most trusted educational source. We at Oswaal Books believe that the 21st century has dawned new purposes for education that do not rest merely on access to material resources. Equitable access to other resources, such as jobs, earnings, wealth, and housing, underpins the major concept of inclusive growth that education is bound to bring about. Thus, education has a significant role in developing skills, values, and attitudes in addition to knowledge because an amalgamation of all these values leads people to contribute to a sustainable and inclusive future. Therefore, it is crucial for educational syllabi and textbooks to broaden their horizons and equip students with the essential values required in the world of work and to become responsible, active, and engaged citizens in the process.
Frontlist: With the introduction of regional languages, don't you think Oswaal Books should start publishing Competitive Textbooks and Help books in Regional Languages?

Naresh: Inclusive education is one of the primary goals we at Oswaal Books keep in mind when developing student help books and relevant study material. Publishing competitive textbooks and help books in regional languages is crucial in this regard, and we are completely at par with this requirement. We have already taken significant steps towards the development of books in the regional languages of India, and they are expected to come out soon in the coming years. These books would be, without a shadow of a doubt, comparable with the standards Oswaal Books has already set and would endeavour to help students on an even larger and more efficient scale.