Interview With Mr. Pranav Gupta - Co-founder, Frontlist Media & Secretary-General, IRRO
on
Apr 04, 2022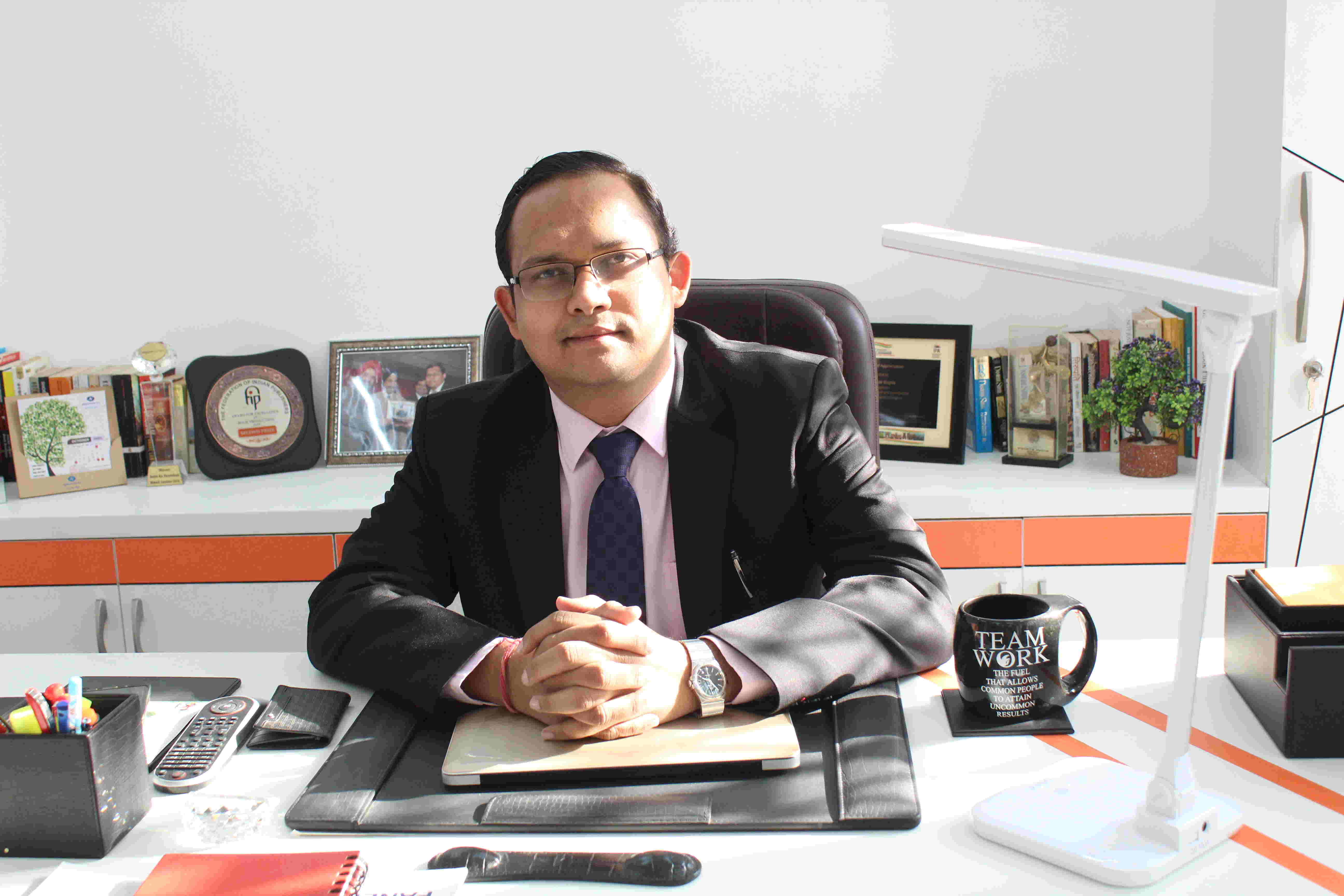 Pranav Gupta is the Co-Founder of Frontlist Media, the #1 platform and magazine representing the Indian publishing industry & the Secretary-General of the Indian Reprographic Rights Organization (IRRO). A third-generation publisher, Pranav grew Prints Publications multi-fold not just in revenue but also in reputation and global markets. Pranav takes pride in being one of the limited publishers who've not used the power of digital & tech, but created multiple brands around it. Some of the brands he represents include Frontlist Media, Prints Publications, Advit Toys, OMLogic, PragatiE.com, Solh Wellness and Buy Books India. Pranav is Joint Secretary Federation of India Publishers (FIP) & Executive Committee Member of the International Publishers Association (IPA).
Frontlist: You founded 'Frontlist' along with Mr. Kapil Gupta. How did the idea for starting this organization come to you? What was your sole objective behind Frontlist as an e-news portal?
Pranav: A publisher for life, I have been delving into technology and digital for years now. Over the years, I and Kapil have strategised and executed a variety of different initiatives within the publishing industry. One gap that consistently pinched us is the lack of any digital portal for the publishing industry. India hosted the IPA Congress in 2018 in New Delhi, which further strengthened my belief that this is an urgent need that needs to be fulfilled. With that, we embarked upon Frontlist – the portal for India's publishing industry. Over the last few years, Frontlist has gained traction and is the site to visit for all industry-relevant news and information. After 3 years of cutting-edge stories, distinct journalism, associating with some of the key leaders of the industry, and organising various virtual events to encourage and promote the young talent in the literary industry. We've gained huge popularity amongst our audiences. Aside from this, we have also established a great rapport with publishers, authors, and we hope to continue doing the same.

Frontlist: It's been six years since you started working at IRRO as the Secretary-General. What have you achieved till now in your tenure, and how did your presence accumulate positive opportunities in the organisation?
Pranav: Indian Reprographic Rights Organisation (IRRO) is a copyright society authorised by the Ministry of Commerce and Industries, Government of India, to work towards the protection of published literary works.
6 years ago, I became a part of the Indian Reprographic Rights Organisation (IRRO) as an executive member and then became the elected 'Secretary-General' in 2018. I am honoured for this opportunity to work with such experienced members and wish to always help them do the great work that they have been doing for over 60 years now. I take pride in informing you that in 2020 - 2021, I successfully pitched the renewal of 'IRRO society registration' with the Govt. of India and presented it to Mr Piyush Goyal, Minister of Commerce and Industries, Govt. of India. Another achievement is that I successfully maintain the relationship with national and international stakeholders and take care of any other associated elements.
Frontlist: People are yet oblivious to the facets of Intellectual Property Law. Could you please elaborate on some key points that define it?
Pranav: Intellectual Property is a broad definition of a group of intangible assets legally owned and protected by a company or individual from unauthorized use or use without permission. So intangible assets are non-physical assets owned by a company or individual. IP includes copyrights, patents, and trademarks owned by an organization or an individual. Intellectual property law gives innovators and creators a monetary reason to work. Copyrights and patents allow artists & inventors to stop anyone else from selling their creations. Therefore, the creators can market their work without direct competition from any other entity.
Frontlist: Our youth is coming up with amazing digital startup ideas that need government assistance. Being an entrepreneur, please share your views on how we can educate them about Intellectual Property.
Pranav: I believe the Indian government is doing a great job by facilitating startups through various programmes. The central government has benefitted 4,000+ startups in the last year, 960 crores of funding have been enabled to Startups through various schemes, and 828 crores sanctioned funds for infrastructure. In reference to educating startups about 'Intellectual Property' rights - IRRO is the answer in India. We are the sole society in India for protecting IP in literary works and even educating individuals or organisations through our digital presence. Also, we support aggressive virtual events curated for the literature industry, such as DBF 2020 & 2021, PragatiE Vichaar Literature Festival, and the upcoming World Book and Copyright Day. Through these events, we can establish the correct narrative for educating upcoming businesses, publishers, authors, and even readers about everything currently buzzing in the industry while being an efficient platform for fruitful networking. Fresh talent meets industry leaders and fellow entrepreneurs through such events, and it does boost the ecosystem of our industry.
Frontlist: You were the only individual who brought the IRRO digitally. Hence, how are you thinking to expand the growth of the Indian Reprographic Rights Organization in the future?
Pranav: I am a proud digital entrepreneur as well, and today most people spend most of their time on the internet. Therefore, we feel that any organisation or association like IRRO needs to have a strong digital presence. So we have successfully curated a world-class website and are actively creating social media collateral on platforms like Facebook, Twitter, and LinkedIn. Today's world needs to be equally available digitally, and hence, we contribute a good majority of our resources to expanding digitally. The future of India is digital.
Frontlist: If we consider the music industry and the implementation of Copyright Laws within the industry, there is a huge gap contrary to the publishing industry and its Copyright Laws. How can we educate the people of the literary world about their rights?
Pranav: The Music Industry has a lot of celebrities - Javed Akhtar fought for the industry and got some amendments done to the law. I must admit we miss the star power here, though we are quite slow but are steady.
Copyright is essential to every creator in the literary world, and they have a right to protect their innovative projects. IRRO continuously and passionately makes efforts to educate professionals from the literary industry about their Intellectual Property Rights. One such initiative will be the upcoming event on 'World Book and Copyright Day' 2022, organised by IRRO. It will be a hybrid event that is open to all with back-to-back informative sessions based on Copyrights and their global societies, Intellectual Property Law, New Technological Developments that have enabled better protection against copyright infringement. The virtual part of the event will be hosted on the virtual platform, PragatiE, supported by the renowned 'International Federation of Reproduction Rights Organisation' and other supporting organisations, including the Federation of Indian Publishers, the Authors Guild of India, and the Afro-Asian Book Council. We are also proud to have 'Ajay Sahni and Associates' as the knowledge partner and Frontlist as our media partner for this event.

Frontlist: What best practices can we adopt to spread the knowledge of copyright ownership in our education system?
Pranav: Although traditional textbooks have provided students with curriculum learning, educational publishers have been at the forefront of this situation. However, it is becoming quite clear that in front of digital alternatives, textbooks may not be the most effective way to impart learning. The issue lies in the new needs of educators where they want to offer students more interactive and flexible learning while also protecting the content from free distribution and piracy.
As a member of the Federation of Indian Publishers, I believe that the transition into digital products is extremely crucial to fall in line with the future vision of new-age learning. I understand that this is a complex and sophisticated process and would possibly change the whole business model. The future of fast-evolving digital products offers a new, exciting opportunity to produce digital-only products.
This new vision of publishers doesn't have to be relegated to ebooks because, in recent years, some EdTech companies have provided schools with more than just digital textbooks. If publishers have to start matching up with the pace of EdTech, we have to start thinking about audio and video content for students that can enhance learning in classrooms and improve student learning outcomes.

Frontlist: Several legal copyright infringement cases stir up the wind in the publishing industry. After considering these cases, how does the publishing ecosystem come up with safety measures to tackle situations like these?
Pranav: There have been many litigations and lawsuits filed by different publishers/authors in India and around the world. Most cases have remained bilateral among the parties, but few were recognised as matters of public importance here in India, such as the famous Delhi University case and the ongoing SciHub/Libgen case, before the Hon'ble Delhi High Court. We at IRRO chose the path of soft diplomacy and made multiple representations before the competent authorities in the Govt. of India for certain amendments under the Copyright Act, 1957 because in both cases, the defendants in the court relied upon the reproduction of the copyrighted work under the fair-use for the research purposes.

Frontlist: What is Frontlist doing as an e-news portal in the publishing industry to educate people about Copyright Laws?
Pranav: Frontlist is an e-news portal that is aggressive in its research and news publishing process. We frequently inform the audience about copyrights through our blogs, organising talk shows with renowned individuals having in-depth knowledge about IP and Copyright Laws, discussing the challenges and the role of technology in the domain of IP. To promote the advocacy for Copyright, Frontlist Media is an exclusive partner for the event of 'World Book and Copyright Day' organised by IRRO. At Frontlist, we feel that plagiarism and photocopying is a major issue, not only in India but at a global level, and we believe it to be our mission and responsibility to inculcate the habit of developing respect for the 'right owners' in the youth of this nation, especially those operating within the literature and academic spectrum. This is a long-term vision, and we need to work hard on these goals. We also request government support in this.