Interview With Monica Malhotra - Managing Director, MBD Group
on
Mar 03, 2023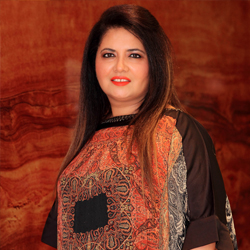 Monica Malhotra Kandhari, a second-generation entrepreneur, is the Managing Director of MBD Group.
She started working at the young age of 16, and today she is recognised as one of the important pillars of the publishing industry for her efforts to promote education across the country. MBD is the only Indian-origin publisher to be included in the National Catalogue of South Africa. More than 100 MBD titles are accredited by the Sri Lankan Ministry of Education. Monica has also worked towards creating synergies with leading international brands like Microsoft and Intel, among others.
She has been elected Vice President (North) for the Federation of Indian Publishers, a key member of CII, and Co-Chair (Publishing) at FICCI.
Monica leads MBD's education business both in print and digital education spaces. She is also involved with the Design & Construction, Hospitality, and Real Estate ventures of MBD Group.

Frontlist: Pandemic has been proven a bane as well as a boon to the industry sector. How has MBD Group evolved within the last 2 years?
Monica: The pandemic hit at the peak of our sales season. Exams were mostly through. Textbooks and learning peripherals were getting shipped across India for the new session. Suddenly, the world came to a halt. Our operations and supply chain were affected. We took a bad hit as our printed material was stuck in transit in different locations across India. Our distributors and booksellers were affected. Our sales figures dipped. It was unbelievable and unprecedented, but we did not lose our moorings. Amid these challenges, AASOKA - our learning app - was born. MBD Alchemie – the EdTech arm of MBD Group, is today making strides in taking the classroom to the child and ensuring a seamless teaching-learning experience. We are a close-knit family now. Each one of us is now an accomplished multitasker and a problem solver. We don't wait for solutions to be delivered. Now, when we encounter a problem, we devise solutions. We have been able to identify and promote novel business opportunities during the pandemic. Our services and systems are robust and more prompt, and we are now able to find solutions on our feet.
Frontlist: How has M-learning turned the tables for MBD Group?
Monica: I would not be exaggerating if I said that M-learning revolutionised the teaching-learning scenario in India and the world over. ALTS - Aasoka Learning and Teaching Solutions, our app for schools with curriculums of CBSE, ICSE, and various State Boards - is a cloud-based platform catering to all academic, administrative, learning, and teaching needs. We managed to go live with this solution during the Pandemic, and we are overwhelmed at the response it received from the teaching-learning community. This year we launched ALTS, and in less than few months, the user base grew from 0 to 50,000. That's no mean feat. Today we are one of the leading players in the M-learning segment for the School Segment.

Frontlist: 'AASOKA' is a great initiative for K-12 Classes, launched at the time of the Pandemic. How does it amp up the educational spectrum to highlight effective new learning?
Monica: AASOKA – MBD Group's Powering, Adaptive, and Personalised Learning app – launched in response to the need of the hour during the Pandemic. The app helps the students avail high-quality study material in the form of e-books, audio lessons, video lessons, and online assessments and assignments. On the contrary, it supports teachers to create and schedule assessments, identifying learning gaps, creating content, etc. It enables students and teachers to sustain a seamless teaching-learning process and straddles online and offline teaching-learning effortlessly. The app is driven by the latest research in Pedagogy and innovations in Teaching Methodology.

Frontlist: What are your thoughts on the 'New Education Policy 2022'?
Monica: The New Education Policy aims to transform schools and higher education across India by translating the aspirations of our youth into reality. NEP's emphasis on foundational literacy, numeracy, and multilingualism is laudable. The flexibility this new policy affords to learners will make it much easier to educate every single learner. As a business house and particularly as publishers, we have always been open to innovation and change. Our Founder, Shri Ashok Kumar Malhotra, started as an author who self-published his book. He started with a single book-selling unit and grew MBD Group to its current stature. From him we have inherited the courage to embrace new ideas and things. India is rising, and we need to scale up and boost our efforts to ensure knowledge is integrated with skills and conducive to employment. Flexibility in entry-exit(s) will help in making the youth educated and future-ready. And I think in this, the new policy will act as an enabler.
Frontlist: According to NEP 2022, Students have the opportunity to choose any particular language. Are you planning to publish the school syllabus in regional languages as well? Please share your thoughts.
Monica: MBD Group started in Jalandhar, Punjab, but today we are a pan-Indian company with a presence across states and curriculum boards. We have been publishing and printing books in more than 13 regional languages in India. Our teaching-learning assets in regional languages have been appreciated by students, teachers, and parents for more than 40 years now. We will continue to create content in the regional languages of India.
Frontlist: Being a humongous publisher, how would you like to help other small and medium publishers to recover from the Pandemic loss?
Monica: MBD Group has a repository of a rich animated content library for the K-12 segment. Our able and strong IT and software team is capable of reading the pulse of schools and end-users of our educational assets and resources. Our content can be customised for use by others. We can support small and medium publishers to digitize their content and develop learning platforms to better their reach in the market.