Interview with Monica Bhide, author of "The Soul Catcher"
on
Jan 21, 2022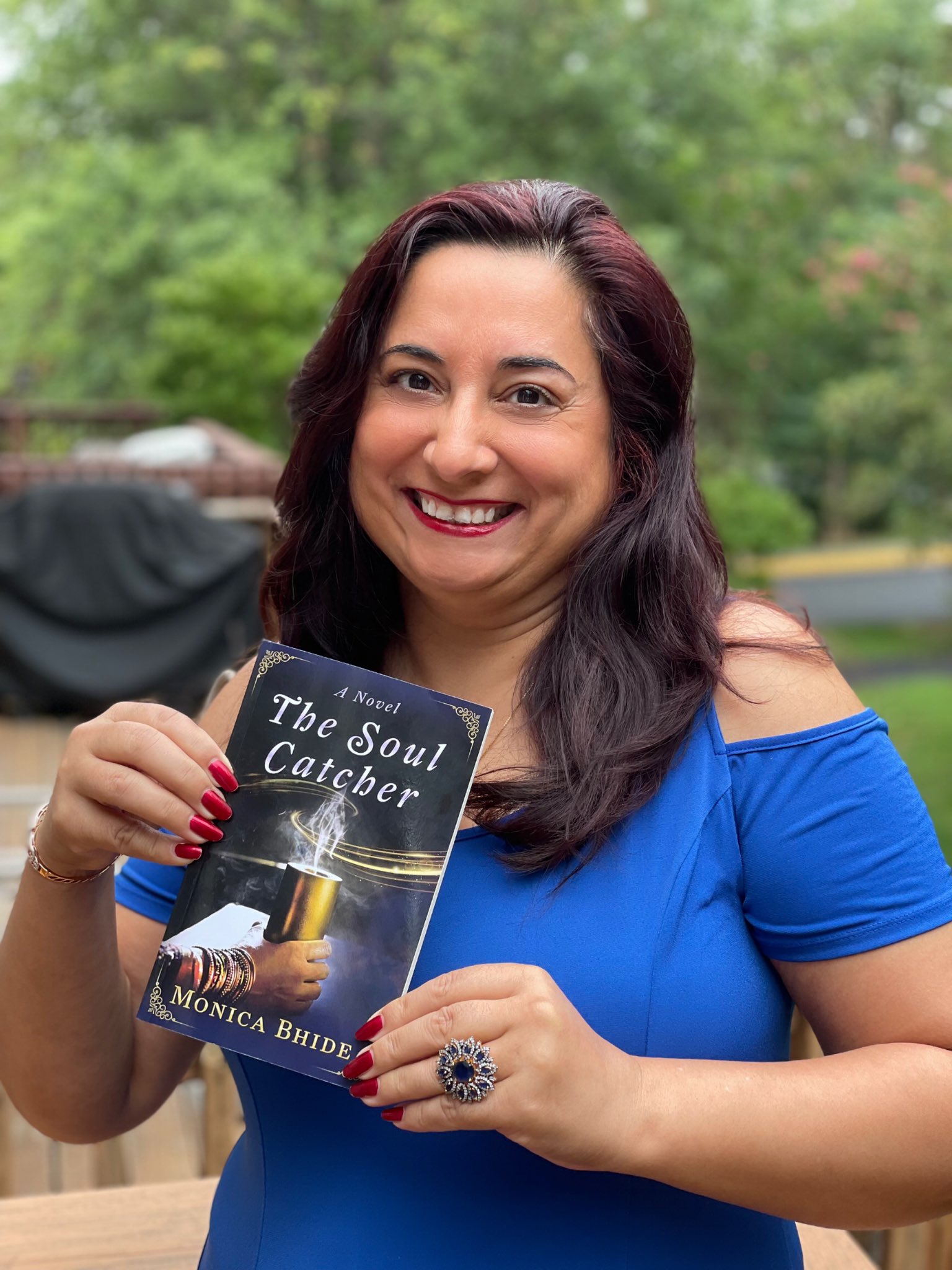 Equal parts storyteller and globe-trotter, Monica Bhide, an award-winning author, accomplished literary coach, and educator with over 15 years of experience, transcends countless borders—chronological, geographical, religious, and economic—to inspire her readers. Born in New Delhi, raised in the Middle East, and now residing outside Washington, D.C., she currently serves as a corporate storyteller for one of the world's leading professional services companies. Her prolific portfolio, enriched by the many places she has called home, channels a distinctly cosmopolitan worldview. Monica has authored eleven books with prestigious publishers including Simon & Schuster, Random House India, Adams Media, and more.
Monica's words, which have appeared on renowned platforms including the New York Times, Washington Post, Christian Science Monitor, Bon Appétit, Food & Wine, and Town & Country, among others, are a collection of culture-driven articles that approach the world food first. Her books, all infused with a signature lyricism, consist of acclaimed cooking compendiums like 2009's Modern Spice, brimming with contemporary versions of traditional Indian recipes.
In addition to her various print storytelling endeavors, Monica appears as a regular voice on radio programs like NPR's Kitchen Window, and recently launched Powered by Hope, a podcast centered on life during a pandemic and what it means to be physically distant yet connected to our very core. She also speaks about the intersection of food, culture, and writing for prestigious conferences and organizations such as the Smithsonian Institution, Sackler Gallery, Les Dames d'Escoffier, and Yale University.
Monica is a graduate of the George Washington University (Washington, D.C.), and holds a master's degree from Lynchburg College (Lynchburg, VA) and a bachelor's degree from Bangalore University (Bangalore, India). She feels fortunate for her rich, multicultural education and enjoys giving back to the global community by serving on committees and volunteering for Les Dames d'Escoffier, and the International Association of Culinary Professionals. Monica lives in Virginia with her two sons.
1. Does pain really make you stronger and eventually change your identity?
I think we would all love to live a life free of all kinds of pain! From broken hearts, to broken bodies to broken spirits, pain is an inevitable part of our existence. I often joke that pain will always come at an inopportune time – but somehow happiness always arrives on cue! So, what does it mean to have pain and what does it do for us? I can only answer in the context of my own life: since pain is inevitable, learning to face it, accept it and deal with it, is the best way to make ourselves more resilient. I don't know that pain can make us stronger but it can certainly make us more empathetic and grateful for what being pain-free feels like. I suffer from chronic pain issues, and the days when I don't have the pain are a gift from the Universe! In the context of The Soul Catcher, the character, Damini, can absorb pain and transform it. That is her curse and blessing. I would venture to say that for her, being able to absorb pain is her strength, and her identity.
2. What is the purpose of one's life?
I am not sure I am qualified to answer this question! This seems to be one for the greats of our times be it Sister Shivani, Dr. Deepak Chopra or Sadhguru. My humble response is: our purpose is to live a life of grace, find our God-given talents and use them in the service of others.
In the context of The Soul Catcher --the characters struggle with their super natural gifts and finding their true purpose – that is what makes their journey intriguing. As I wrote the characters, I often wondered what their purpose was and, if in fact, I had any of those powers, what would my purpose be?
3. How to feel content and calm in this chaotic world that is confused to the very core?
To me there is only one way – that is to be in gratitude for what is. We can't control the chaos of the world but we can control what is in our minds. Channeling the mental energy towards gratitude and focusing on what we can do (versus trying to control others) is one way to feel content. And, I hope, calm! I have a podcast called Powered by Hope that focuses on this very topic, It is free on my site (www.monicabhide.com)
4. Is life incomplete without love, loss, grief, and change in one's life?
Totally – if we did not have loss, how would we know love? If we did not have grief, we would never understand what joy truly is.
5. What is the relationship of a human with fear, death, life, and love?
I think we deal with life as a lover and with death as a jilted lover! When both are the way of the Divine!

6. What inspired you to write this novel?
Set in real, yet magical, modern-day India, my mosaic novel The Soul Catcher has roots in 19th century New Jersey. It was there that one of the most influential inventors in American history, Thomas Edison, lived and worked. Legend has it that Henry Ford asked Edison's son to catch his father's dying breath in a test tube now on display at the Henry Ford Museum.
This idea that the breath of life can be captured—and shared with those who need it most – inspired me to embark upon a mystical journey, transcending time and space.
7. What is the chapter in the novel that is very close to your heart?
The opening chapter that sets up the Soul Catcher


8. Are you working on your next project? If yes then tell us something
about it?
I am working on a love story that is set for release this September. The story focuses on a woman who creates a dream life for herself, despite a tumultuous abusive past, and just when she is on the precipice of her greatest success all the demons from her past come calling.
Excerpts –
`Excerpt 1
"The amber flame is tiny and potent. The candle burns slowly, radiating sweet scents
of musk and frangipani. The wafting floral scents give life. But more importantly, and
without remorse, they also take it away.
The flame burns steadily this evening. It knows someone is going to die tonight.
Yamini gracefully places the candle on a small golden candleholder. She sets it down
on the small, brown coffee table alongside fresh white roses in a crystal vase, a well-worn
book about the Vietnam war, and a jar filled with Christmas cookies. She has been here
before and knows the room well. It is filled with photos of his life. A few show him and his
buddies on their ship, there are two photos with his sons, and one with his wife Janet (taken
on their wedding day sixty years ago, as she told Yamini)."

Excerpt 2
"Why would you bring us here?" Sehar wants to ask her husband, yet she remains
quiet; the energy surrounding the well is disturbing. Like it wanted to sink into your skin and
suck out any hope.
When the waters turned dark, years ago, the locals began to stay away. The dark
waters attracted the sad, the depressed, the unworthy, the unwanted. People would suddenly
disappear and, within a few days, their bodies would be found floating in the muddy, black,
baoli waters. Incredibly, the bodies always looked peaceful, an eerie smile etched on their
faces. The elders forbade children from going to the step-well for swimming or any other
activity. Once a vibrant pool of life giving water, the lively well, turned macabre.
Over the years, the well waters receded and the baoli became just another stop on
The Most Haunted Places of Shahajahanabad tours. While tour operators joked about all the
Other haunted sites in Shahajahanabad, this site always came with a disclaimer. "Don't go
down the stairs. We will not come down and look for you," tour guides would warn curious
tourists.
A year or so ago, much to the horror of the locals, the stench of dead bodies
returned to the baoli, prompting much speculation.
"There is a smell, but there are no bodies," one of the locals complained to the area
police. After a few dozen calls came in, the police investigated but found nothing. "The old
walls are telling tales, but we don't know how to listen yet," one of the senior officers
remarked during a recent press conference and announced they were padlocking the main
entrance to the baoli so no one would wander in by mistake and be hurt."

Excerpt 3
Sister Angela's gift or nightmare, depending on the day, started when she was about
five-years old. From what little she remembered about that time, she had had a tranquil,
carefree childhood, a humble home and, every day, hot meals to eat, turmeric-hued milk to
drink and a soft bed to sleep in.
Angela's small, brightly painted orange house was nestled in the hills of Dronanagri.
Perpetual blue skies, soft gentle breezes, cool nights, and magnificent springs, made this city
a paradise for its residents and a tourist magnet for humans tired of choking on pollution in
the surrounding larger cities. One of little Angela's favorite spots in the city was the Buddha
temple with its hundred stupas. The large golden, over hundred foot tall Buddha statue
gleaming in the Dronanagri sun, always made Angela happy, "Mama, looking at this makes it
feel like flowers are blooming in my heart." Her mother carried her from stupa to stupa so
that the young girl could touch them and roll them. She was tiny and couldn't reach the
black, sholka inscribed stupas on her own. If her mother got tired, which she often did,
Angela would charm one of the young Lamas into carrying her. Each time she touched a
stupa, she would clap with glee. "Such joy," one of the young Lama's remarked once,
"radiates only from ones connected to divinity."
Nothing was expected of her and that made her life idyllic. When she was especially
good, her mother fed her Hisalu, tiny, golden Himalayan raspberries. "These little berries
protect your heart," her mother would tell her. Some mornings, her mom would slice open
tiny pieces of kaphal, a sour dried raspberry, and sprinkle it with chili and salt. Angela much
preferred the sweeter Hisalu but her mom insisted that she needed to eat both for optimum
health. Her mother made a living selling jams and jellies made from these local berries – the
tourists loved them and even the locals took to them.
Then, just as a dark cloud sometimes appears out of the nowhere on a sunny day, her
life changed when Angela began asking her mother strange questions: "Mama, why does that man have a dark stain on his face? Mama, why does that little girl have a black mark on her
knees?"