Interview with Lubaina Bandukwala, Author of "Coral Woman: Dive into the Majestic World of Coral Reefs with Uma Mani!"
Explore the interview with Lubaina Bandukwala, author of 'Coral Woman.' Dive into the majestic world of coral reefs with Uma Mani on Frontlist.
on
Nov 20, 2023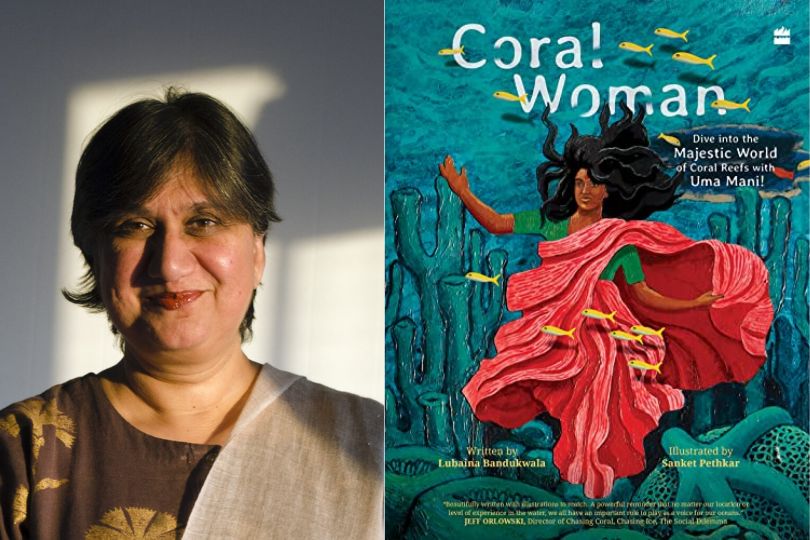 Lubaina Bandukwala has a Master's degree in Mass Communication from the University of Houston. Her words have been wandering through various writing genres including newspapers, magazines, television and documentaries, until they found a home in children's media products.
Frontlist: Your book captures Uma Mani's experiences as a homemaker turned coral reef explorer. What compelled you to highlight her story in a children's book?
Lubaina: Coral Woman is based on a film of the same name by Priya Thuvassary. Avid Learning, a Mumbai-based cultural platform, wanted to take the conversation about coral conservation to children and asked me to work on a book for children. I chose to do it for two reasons: one, it highlighted the dreams of women who otherwise are very often immersed in the daily grind and have little time to fulfill personal goals. I wanted children to turn that lens on the women around them and respect their choices and dreams. Two, there are many children's books about conservation on land and almost nothing about the ocean, particularly about corals. I took the opportunity to go beyond the film and showcase coral reefs around India, of which we know very little.
Frontlist: The book sheds light on India's coral reefs and the challenges they face. How do you introduce these complex ecological issues to children in a way that's engaging and understandable?
Lubaina: Everyone loves a good story – not just children! So, I love writing non-fiction in a fiction-type narrative. I try to use all the elements of fiction to keep my reader engaged – a plot of a kind, a character you are rooting for, and an ambiance that is unique. In this case, I was able to weave in a biography of a lovable and admirable character with a larger understanding of an ecosystem. When it comes to ecological issues, I try to be mindful that I have to encourage discovery and so start at the very basic information and make it relatable to daily life.
Frontlist: Do you believe that children's books have a unique role in fostering environmental consciousness? If so, how can they contribute to creating a generation of environmentally conscious individuals?
Lubaina: Undoubtedly, children's books can play a unique and important role in fostering environmental consciousness. A book that you connected with as a child stays with you for life. I believe children's books can do far more than reel off facts or preach dos and don'ts. I believe that a story that reflects more fundamental emotions – kindness, wonder at something beautiful, anger at destruction, empathy, joy – or an illustration that draws you in another world, can help to create a generation of empathetic, mindful individuals for whom environmental consciousness is a way of life.
Frontlist: We noticed that your book has featured several illustrations from children as well. What was the thought process behind including children's artwork in your book, and how do you think it enhances the storytelling experience?
Lubaina: We had a workshop based on the book by artist Zainab Tambawalla based on Sanket Pethkar's illustrations for the book. Kids really immersed themselves into the story and illustrated various aspects of the story in unique ways. We put these into the book since it was nice to shift the ownership of the story to the readers and how they chose to see it.
Frontlist: What are your key observations while writing for the children? Would you like to share any upcoming projects or themes you plan to explore in the future?
Lubaina: Children today are exposed to so much multi-media content from around the world that they are very open to newer genres and interesting themes. So, it's an exciting time to be a children's writer. I am currently exploring historical fiction, one set during the freedom struggle in Mumbai and another in Qutub Shahi Hyderabad. I love the world building in a historical fiction. I also enjoy exploring how the past is connected to the present in so many ways.
Frontlist: What key message do you want to instill into the young readers' minds through your book? Additionally, do you have a special message for the readers for the upcoming Children's Day?
Lubaina: I feel like if children can relate to Uma's story of discovery through my writing and marvel at the wonder of the reef through Sanket's Illustrations, they will feel drawn to the ocean and its beauty. If you think something is beautiful, you might want to protect it. Opening that door of love is what is important to me. I hope that on this children's day, every child finds a book that speaks to them and enriches their world in many ways.