Interview with Krishna Mavila, author of 'Cracking the Secrets of Stock Market Investing'
Interview with Krishna Mavila, author of 'Cracking the Secrets of Stock Market Investing'
on
Sep 29, 2021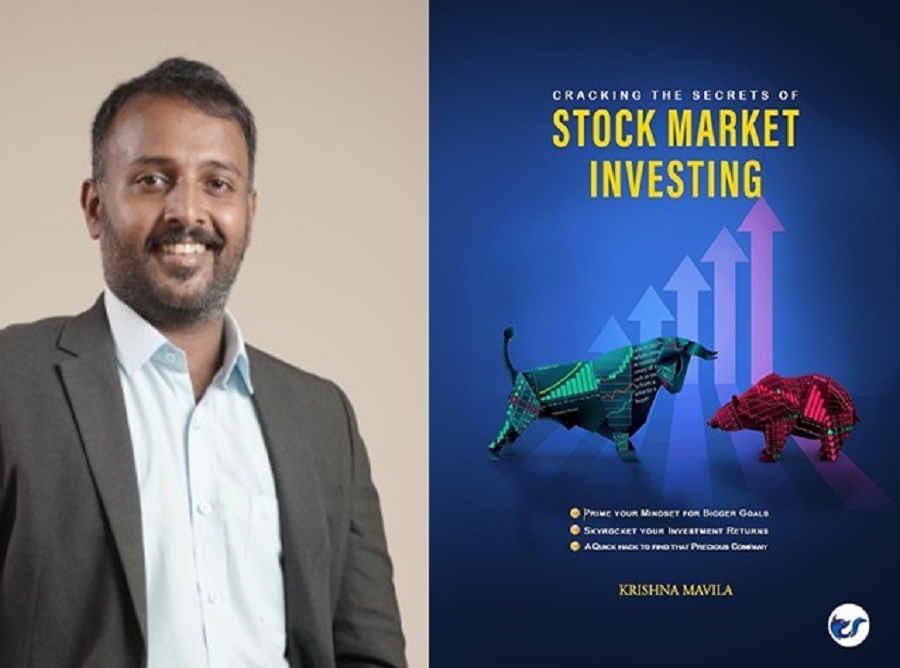 Krishna Mavila , author of the best selling book 'Cracking the Secrets of Stock Market Investing', an NISM certified Research analyst, investor, full time trader, entrepreneur, spiritualist, minimalist and a wealth coach, have helped hundreds of people to achieve financial freedom through trading in stock markets.
A coach and a mentor in the field of capital markets, he has developed systems in trading that can work in any type of markets.
An IHM mumbai graduate, who worked with some of the prominent Multinational companies over the years, now exclusively venturing into stock market trading where he mentors a community of traders in the name of Acetrader hub.
Ques1.
Tell us something about yourself and your Book?
Ans. I am an entrepreneur, investor, full-time trader, and stock market mentor. I have founded Acetrader Hub, a community of traders investors, and students. The stock market is my passion and i am on a mission to help as many people as I can to help them achieve financial freedom. I run some mentoring programs  to help people who are willing to be financially free, they can visit my website krishnamavila.com  to know more about that. 
As far as my book is concerned it is an attempt to help those new investors and traders who step into markets to have a smooth journey to start.
Ques 2. What advice would you give to people who are new in the Stock Market and how to invest?
Ans. For a newbie investor, it is very much important to learn all the basic aspects of markets. How it has behaved in the past, overcoming all the crashes. On a long-term point of view, markets are always going to be making new records as the economy won't be the same as today when we look 20 years down the lane. So to invest in sustainable companies and investing in index funds over a long period of time will definitely add value to one's portfolio.
Ques 3. You are busting all the myths associated with Stock Market investment, share some of the myths with us?
Ans. The major myth is that the Stock market is a place to gamble. This mindset has to be taken away from people and the actual essence of investing should be taken into account. Even though many people make it a place of speculations and gambling, one with proper knowledge and systems will always have the edge.
Ques4. You have highlighted the importance of Financial Education in the contemporary world in the book. How are you taking it further with your next project?
Ans. The importance of Financial literacy is at its utmost peak after the crisis of corona. People have suddenly lost their jobs and their income source, a proper plan to face any adversities would have made life a lot easier in such cases. If you take into account the financial literacy of any developed countries and compare it to developing countries we will see the difference. A countries economy will prosper if financial literacy improves for the masses.
Ques5. What obstacles and challenges did you face in your journey and how did you overcome them?
Ans. Procrastinating is the major factor that makes all of us postpone important things for later. For me, I was dedicated and committed towards my goal. And my vision to empower as many people as possible to be financially independent drives me ahead. I conduct programmes to take forward the intentions and make this country more economically strong by making the people financially literate. I even provide free one-to-one sessions for people who are interested in learning stock markets, they can visit my website krishnamavila.com and book an appointment.