Interview With Jitendra Dixit, author of "Bombay After Ayodhya: A City In Flux"
Jitendra Dixit participated in the Combat International Organised Crime Conference organized by the FBI in New York.
on
Mar 25, 2023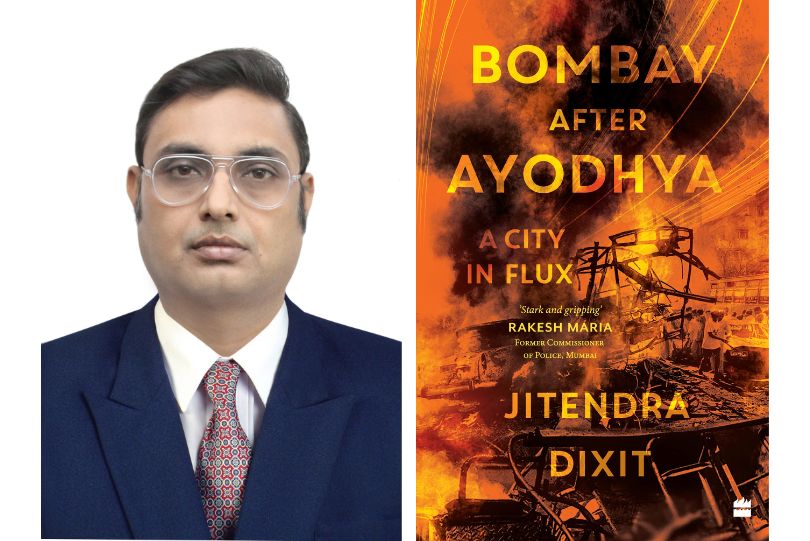 Jitendra Dixit is the west India editor of ABP Network based in Mumbai. His experience of growing up in Mumbai, beset with gang wars and communal clashes, led him to pursue a career in journalism in which he specializes in covering crime and conflict. From the 2002 Gujarat riots to the gang wars of the Mumbai underworld and the 26/11 Mumbai terrorist attacks, Jitendra has reported from the ground in a career spanning over two and a half decades. His documentary on the Kashmir elections of 2014 won the RedInk Award. In 2011, he participated in the Combat International Organised Crime Conference organized by the FBI in New York. He has also assisted the US-based Rand Corporation in its investigation of the piracy business run by a gang in Mumbai. Dixit is the author of 35 Days, Bombay 3, and Valley of Red Snow.

Frontlist: What inspired you to write a book about Mumbai and its transformation after the Ayodhya demolition and subsequent riots?

Jitendra: I am in love with the metropolis of my birth and upbringing. While working on my previous literary endeavour, "Valley of Red Snow - Kashmir Beyond 370," I stumbled upon works by a few Kashmiri writers who were adolescents when militancy started consuming the valley in the early 1990s. They shared their accounts of growing up in Kashmir and the strife they witnessed. As a teenager, myself during that period, reading these Kashmiri authors made me realize that the 1990s Bombay was no different from the Kashmir valley during that same period. Daily killings, shootouts, and news of Kashmir filled newspapers. In Bombay, there were daily bloodbaths due to gang wars and gangsters murdering for extortion. In both places, young minds were indoctrinated to take up arms; in Kashmir, it was for separatist ideology, and in Bombay, it was for financial gain.
Even though there is an abundance of information available to the public domain regarding the Bombay riots, such as the Srikrishna Commission's report and numerous non-governmental fact-finding committees' reports, as a native of Bombay, I have personally witnessed some of the city's significant events, conflicts, and disasters. I wanted to share those experiences from my point of view.
I have always desired to recount my story as someone who not only witnessed that mayhem but was also a victim of it. Twice during the riots, I had to flee my home with my family members to avoid getting killed. The riots impacted various aspects of Mumbai, such as its politics, underworld, businesses, real estate, social fabric, and more. Besides being a Bombayite, I am also a journalist who has covered the city's crime, politics, and conflicts and reported on several significant events in Mumbai's recent history. This book is my attempt to chronicle those events and their impact on the city.

Frontlist: How has the rise of social media impacted the city's response to communal violence and other issues?
Jitendra: Back when the 1992-93 riots ravaged Mumbai, social media and mobile phones were non-existent, and obtaining a landline connection was challenging for an average person. However, in this age of social media, I believe the communal situation has become even more precarious. Mumbai has historically been sensitive to events happening elsewhere in the world. Babri Masjid was demolished in Ayodhya, but Mumbai, 1500 kilometers away, suffered the worst riots. Salman Rushdie wrote a book in Britain, and Iran issued a fatwa against him, but violence erupted in Bombay, claiming 12 lives. The Rohingyas persecution occurred in Myanmar, and Charlie Hebdo magazine published a controversial cartoon in France, but Mumbai witnessed a violent reaction. Following the Godhra train burning incident, riots erupted in Gujarat, and Mumbai faced the brunt of their retaliation in the form of bomb blasts.
With the advent of social media, spreading falsehoods, animosity, and fear toward other communities has become much easier. We anticipated that in the 21st century, people would be more inclined towards progressive thoughts and rationality and not be swayed by emotional manipulation, and however, the ground reality shows otherwise.
Frontlist: You write about Mumbai's altered demographics, gang wars, and new political equations. How have these changes affected the city's social fabric?
Jitendra: Regarding its social fabric, Mumbai can be described as a city of paradoxes. While it's a melting pot of different cultures and businesses, it's also a powder keg that explodes with violence when passions run high. Despite various communities having cordial working relationships with each other, they tend to turn hostile during emotionally charged situations. Mumbai has experienced conflicts based on religious, linguistic, and regional identities. Hindu-Muslim relations, particularly, have been rocky, with the city witnessing seven major clashes between them from 1893 to 1993. However, since the 1992-93 riots, both communities have realized the futility of violence, and there have been no communal riots in Mumbai for the past thirty years.
Unfortunately, the situation is beginning to take a dangerous turn. Children born at the start of this century are unaware of the consequences of communal clashes. With the rise of social media, it has become easier to spread hatred or radicalize them. To make matters worse, political parties are openly fueling communal polarization.
After the riots, the Mumbai underworld got divided into communal lines. Chhota Rajan, the right hand of Dawood Ibrahim, broke away from him. A year after the 1993 blasts, Rajan formed his gang, calling Dawood a traitor of India, and tried to present himself as a "Hindu Don." Similarly, Arun Gawli, Dawood's another nemesis, had the support of Hindu extremist leader Bal Thackeray who openly said, "If they (the Congress) have Dawood, we have Gawli." The riots led to communal polarisation, which was capitalised by the Shiv Sena-BJP alliance. They succeeded in getting to power in the elections two years after the riots. Hindutva as a political plank, became more stronger in Maharashtra. However, 30 years down the line, the Shiv Sena, which was seen as the anti-Muslim and anti-non-Maharashtrian party, has entirely changed under the leadership of Uddhav Thackeray. He has tried to build bridges with Muslims and northern Indians, and there are no longer hateful campaigns against these communities by his party. Udhhav forged an alliance with secular parties like Congress and the NCP to form the MVA government in 2019.
Frontlist: Your book covers the period between 1992 and the present day. In your opinion, what has been the most significant change that Mumbai has undergone during this time?
Jitendra: Mumbai's transformation has been multi-faceted, the most notable being its physical appearance. The old chawls, residential buildings, and slums are being replaced by grand residential towers, altering the city's landscape and skyline. As a result, poor and lower-middle-class citizens who used to live in these old buildings and chawls with Mangalorean-tiled roofs are being pushed out to far-flung suburbs and smaller towns, unable to afford decent housing due to the skyrocketing real estate prices.
While major infrastructure projects like the Trans-Harbour Link and the Coastal Road are underway, they primarily benefit car-owning individuals, leaving the poor and lower-middle-class citizens behind. The majority of the mills in Mumbai have shut down, and towering skyscrapers have dwarfed their chimneys. In their place, malls have been built to cater to the upper-middle-class and wealthy individuals' shopping needs.
Mumbai is becoming an unfriendly city for the poor and lower-middle-class, a far cry from what it was three decades ago.

Frontlist: You have extensively reported crime and conflict in Mumbai, including the 26/11 terror attacks. How has this experience influenced your perspective on the city, and how did it shape your writing of this book?
Jitendra: At the tender age of thirteen, I witnessed Mumbai's infamous riots and serial blasts firsthand as a grade 8 student living in the violence-ridden Masjid Bunder area, also known as Bamabai Number Teen. This place was no stranger to bloodshed, with the likes of Dawood Ibrahim and Pathans engaging in a fierce turf war. Dawood's house on Pakmodia Street was merely a stone's throw away from my own, and we even shared the same pin code - 400003. The horrors of the 1992-93 riots and bombings that made national headlines occurred within a 500-meter radius of my home, such as the police's shooting at Suleman Bakery, the crude bomb attack on the police commissioner, and the murders of two Mathadi workers that sparked a second wave of riots in January 1993. Fear and hatred were so intense that I saw peaceful men turn to violence and bullets striking innocent bystanders. One of the twelve locations bombed on March 12, 1993, was near my home at Katha Bazar, where I saw human body parts scattered around for the first time. Such constant exposure to violence at a young age undoubtedly impacted me, eventually leading me to become a journalist and an author who primarily writes about crime and conflicts.
As a journalist, I've covered a wide range of significant events in Mumbai, including shootouts, terrorist attacks, riots, natural disasters, and judicial trials, giving me a chance to report on them firsthand. However, the medium I work with has limitations, and certain rules and standards must be followed, which often means that some things I come across cannot be shown on TV. I've always wanted to share these off-camera anecdotes, so I wrote this book. My book is a blend of personal experiences, reportage, and research. I researched the book extensively, looking for facts that weren't in the public domain, revisiting incidents, and speaking with people associated with them. For instance, I had the opportunity to meet the elusive investigating officer of the Pramod Mahajan Murder Case, who revealed many intriguing facts. While writing this book, one thing became clear about Mumbai - you can't make sweeping statements about any aspect of it because there will always be counterexamples that contradict them.

Frontlist: In the book, you have discussed the commercialization of iconic festivals like Ganesh Utsav and Dahi Handi. How has this affected the cultural identity of Mumbai and its residents?
Jitendra: Mumbai is a city that thrives on its festivals. They provide a much-needed respite to the harried and hassled Mumbaikars who are caught up in the rat race. Festivals are taken very seriously in Mumbai, and while purists may disagree with me, commercialization has played a significant role in keeping these traditions alive. These festivals have attracted massive crowds by adapting to changing times and fusing with modern sensibilities. Indeed, political parties and other groups often exploit these festivals for their gain, but they also serve to keep the traditions alive and vibrant.
Furthermore, the commercialization of these festivals has also helped boost tourism in Mumbai. The famous Lalbaug Cha Raja during the ten-day Ganesh Utsav is a prime example, with people from all corners of the world flocking to see it. Similarly, Dahi Handi also pulls in a large number of tourists.
Frontlist: What do you hope readers take away from your book, especially those who may not be familiar with the history and politics of Mumbai?
Jitendra: It's imperative to school the younger generation on the horrors of communal conflicts. I've witnessed the savagery as a youth, but it's crucial for the current century's progeny to grasp it too. Nowadays, we're noticing a disturbing pattern where leaders are stoking the fires of bigotry and manipulating sentiments for personal benefit. We're destined to relive history if we fail to learn from history. This book will serve as my contribution to the battle against communalism. The book will interest readers who want to read about the transformation of India's most vibrant yet most difficult city. It will delight those eager readers to read untold stories of Mumbai's politics, the underworld, festivals, recent history, the film industry, and so on.