Interview With Gopal Sharma - Director, Souvenir Publishers
on
May 02, 2022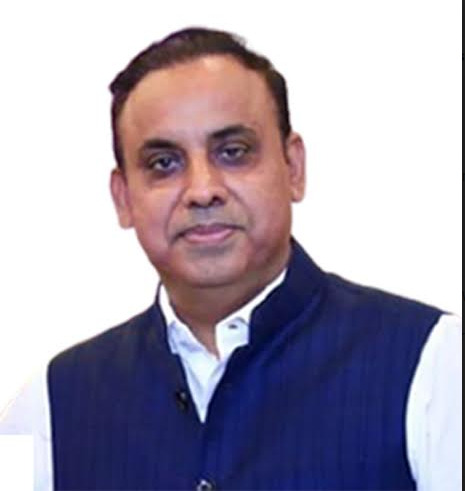 After joining Souvenir Publishers in 1987, Gopal Sharma, Director of the Souvenir Group, has been contributing to the Publishing House, as well as the Indian Education Industry and System, for more than 3 decades. The recipient of several Academic Awards and a member of several academic bodies, he has played a key role in forming a structure that aims at providing quality education across the globe.
He received the Young Publishers Award of the Year in 2001 by Mr Vijay Kapoor (Delhi Governor) and Mr Ashok Ganguly (CBSE Chairman). He is currently the General Secretary of The Federation of Educational Publishers in India (FEPI) and the Executive Member of the Federation of Indian Publishers (FIP).
"The Legacy of Souvenir is not only limited to books. Our values and relations mark our legacy more than anything."- Gopal Sharma, Director, Souvenir Publishers.

Frontlist: Ever since the Pandemic brought our life into disarray, it has also transformed the education system. What new avenues do the Souvenir Publishers intend to bring forward concerning the students in primary and secondary standards?
Gopal: So, when the pandemic hit the country, we took a strategic step to start an initiative called DreamBox Inc, a step to blend education with technology. With DreamBox Inc, we focused on sending education to remote corners of the world through innovative platforms like LMS and SLI. This initiative was to understand the importance of technology in the education sector and also to explain how books can never be replaced. Currently, the company's pedagogic endeavours of online learning through videobooks, audiobooks, question paper generators, and mnemonic cards are showing great results. We are now more confident than ever to achieve our aim, which is to make education reach every remote corner of the world.

Frontlist: Considering the exponential growth in the Ed-tech sector, do you think this can be advantageous for the future of young minds?
Gopal: With advanced technology, it has become easier to give the best learning experience to students. LMS aims at providing the best learning and education to students. The purpose of LMS is to provide online courses for students, question paper generators, question banks, etc., through which a teacher can assess students with transparency. According to the latest survey, teachers who teach primary and secondary students are more receptive to LMS as it allows them to assess students and assign them online work for a better learning process. LMS not only provides educational content but also informational content. Learning through these mediums is helping students overcome several problems that a traditional classroom could not cater to. Hence, we believe that it will be very advantageous for the future of young minds.
Frontlist: According to NEP 2022, people have the volition to choose any particular language now. To support this, have you given thought to publish books in regional languages?
Gopal: At Souvenir, we believe that when it comes to learning, language shouldn't be a barrier! Hence, as the NEP plans on promoting education in regional languages, we are prepared to keep up with the growing demand. Currently, we are planning to produce books in four regional languages to make learning more localized.
Frontlist: The publishing industry is vast, and it entails all segments of the literary world. What new possibilities can you initiate to encourage the young generations to read and write more?
Gopal: Some people think that digital technology will hinder a student's inclination towards reading and writing. However, the opposite is true. The visual impact through videobooks and sound impact through audiobooks help students enhance their imagination and add life to the things they read in books. With the help of the audio-visual content they may have consumed before, students are now able to relate better to what they read. Books are no more compilations of boring texts. They are now sources of knowledge that students just cannot get enough of. It is underrated how much the younger generation reads and writes regularly without thinking of it as boring work.

Frontlist: Today, most publishers adapt themselves to the digital world that introduces new approaches to the marketing of books. What are your thoughts on that?
Gopal: I think when it comes to learning, there is nothing that can replace books. However, as the Pandemic had left educational publishers with no other option, we abided by the situation's demand and focused on Edtech. The way I view it is that Edtech acts as a support system to enhance learning through books. For instance, audiobooks can help children recollect the words, pronunciations, and even the lessons learned as they read along from their books. Nonetheless, an audio file is deficient in providing a complete learning experience, and books play an important role. I believe, most people, especially students, do realize the importance of books, and hence, marketing them is not a hassle. All we need to do is, make the books available to the people who need them.
Frontlist: Prolonged school closure has academically put a stop to children's minds. As one of the K-12 publishers, how can you provide help to restructure the education system?
Gopal: The last two years have cruelly tampered with students' education. Most private schools have started online classes and tests. However, their methods and practices of online classes and examinations remain skeptical. These online classes remain half-baked success due to no assessment and authenticity.
Students have faced several problems, the most important of which are lack of accountability and inefficient assessment. However, through the Learning Management System, all their physical content can be turned into digital content for better online teaching practices. With the growing technology, LMS has become a centralised source for education, information, and learning. Educational publishers can get their content developed through LMS and provide high-quality content to their users. The Education System in India is changing, and so will the process for educational publishers. As they say, "Necessity is the mother of all inventions."

Frontlist: Pandemic has created hardships for small publishers, and it's very challenging to publish books digitally. What would you like to say in this context?
Gopal: The pandemic hit the country in 2020 and surged in March, the peak time for the Publishing Business. Several publishers faced great losses during the month when they usually make maximum profits. On the road to recovery from the previous year's hit on sales, Indian publishers were hoping to do good business in March 2021, when the second wave hit us again.
While the education sector is going digital, the government has not yet announced the plans for publishers. However, with the latest technology, the Digital India Initiative, and the necessity of e-learning post-COVID, educational publishers are shifting to creating digital content.
The Learning Management System will make it easier for publishers to drive their business even with the new changes after NEP 2020. From books to courses, everything can be on the Learning Management System, and publishers will not have to worry about their content or books not getting sold. Despite several challenges we faced, the Pandemic couldn't bring down the spirit of educational publishers. When the time is right, we will be back at making profits like before, with consistent effort and dedication.