Interview with Ganesh Mathur, author of "The Hotel Accountant"
on
Jan 20, 2022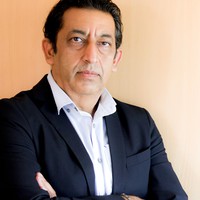 A Chartered Accountant by education, a hotelier by profession, Ganesh Mathur has over 25 years of experience in the hospitality industry. The vast experience comes from years of working at the project stage, operational stage and also the pre and post opening of hotel & resorts for international brand hotels.
He likes to spend time training and educating his team and associates on financial concepts and processes. He understands this as a value addition to their career and it also helps smoothen the work processes of any organization. Most people believe financial processes are complex, whereas once explained, it gives a fabulous result for accurate decision making. Analysing data, budgeting process, and forecasting can be anyone's metier who loves to learn the 'financial process'.

Frontlist: Being an educator and hotelier at the same time might not be an easy task. So how do you balance your life?
Ganesh: Balancing life is all about managing time. I am a hotelier by profession, and being an educator is my passion. Here, I have opportunity to blend it both nattily. My articles, interactions with students, teams, and other professionals are in relation to hotel system and processes along with the work culture and customs of a hoteliers' lives. Actually, both profession and educator complement each other. Finding time for passion is not a difficult task. Yes, perseverance is expected and every one of us has a choice of how to make the best use of time.
Frontlist: What kind of readers you're targeting through this book? Do you really think that you will enable to influence them?
Ganesh: The target readers I'm looking at are supervisors and managers working with the hospitality industry, and final year students of hotel management. Also, the start-up entrepreneurs who have ventured into restaurant or lodging business.
All the business units are set-up to generate profits and be sustainable. To get to that point, one needs to learn and understand the analysis technique of the data generated in the business process. Because only analyzed data can enable us to form an opinion. By going through the chapters of my book, one can analyze the data of their own business, and that is where I see this book as a contribution to their growth.

Frontlist: Why did you choose StoryMirror Infotech Pvt Ltd as your publisher?
Ganesh: While in the process of finalizing my book, friends have been mentioning that for publishing I should 'choose a publisher who believes to hold hands and walk side by side'. That's how I am with StoryMirror.
Frontlist: In 25 years of your experience, what type of financial conundrums have you faced that hinder entrepreneurs to flourish their companies?
Ganesh: I have come across multiple situations like these. The first, as I recall two decades ago, was during the Kargil war in India. I was then working in Delhi and we had opened a new hotel. The cash crunch situation with the loss of tourist inflow was so severe that managing fixed expenses was tremendous task. This situation, though, did not stay long, severely affected the fund flow. The change in bank pay-back schedule and delay in opening of additional guest facilities, delayed the growth for a long period of time.
The next crisis that I saw was after Tsunami, in the year 2004-05. I was working in Maldives for reconstruction of Island resort that was majorly destroyed by Tsunami. Logistic and managing funds were difficult but with the assistance of insurance claim, the work finished. Even though a crisis period, the entire resort was converted into a new product. Taking advantage of this newly built resort, the owner sold it for a good price. Interestingly, with innumerable initial issues, in the end, the owners generated a handsome profit.
Basically, any crisis whether short or long term, changes the owner's thinking process. Crisis impacts cash flow, employee morale, owners vision, and business model mainly hindering the growth plan. I witnessed working with organizations where, even during long-term crisis, the owners decided to continue their development plan. At the same time, they disposed-off the lower margin assets, even at lower price and used that fund for acquiring a better asset. The best of acts is often seen during crisis. It all comes down to the well-timed action, and that is usually seen during a period of crisis.

Frontlist: Do you think this book can be added to the syllabus of Financial Analysis to explore more about the subject?
Ganesh: I am sure that the content of this book will assist in giving a wider coverage of analysis needed in the hospitality industry. For example, it covers the concept of FTE, or Full-time Equivalent used for productivity analysis. This concept is a must for every manager, owner, and student who will soon be a part of the industry. Another part of the book explains the break-even concept, starting from one or two-day events to a period as long as a year. It covers the concept of target profit analysis, which is a necessary for every hotel manager and entrepreneur to understand. It also has a detailed description of the flow-through concept that checks the growth or downward trend of profitability in business. The essential three pillars of financial analysis are explained.
Frontlist: What are your thoughts on the hospitality industry going through a crisis throughout the pandemic?
Ganesh: The present crisis has brought in quite a lot of distress to the hospitality industry. This pandemic has affected almost everyone, and many lessons learned. The productivity measures have become more prominent, especially on the manpower front. The business models have changed. It is now moving more towards a digitized way of what and how we work. It has bought a lot of efficiencies, changes in the thinking process of management, and obviously re-establishing the importance of robust strategies.
If you are going to fail, fail fast. This is the mantra which I have seen many go along with. The entrepreneurs who believe in their business are aware of every small situation and are able to make quick decisions based on supported fact, data, and numbers. This means that if there is need to change a business model, do it now and not wait for later. Every decision is to be supported by analyzed data. I have based the book on those necessary concepts.