Interview With Deepesh Salgia, Author Of "Real Estate - The Good, The Bad and The Unanswered"
on
Jul 06, 2022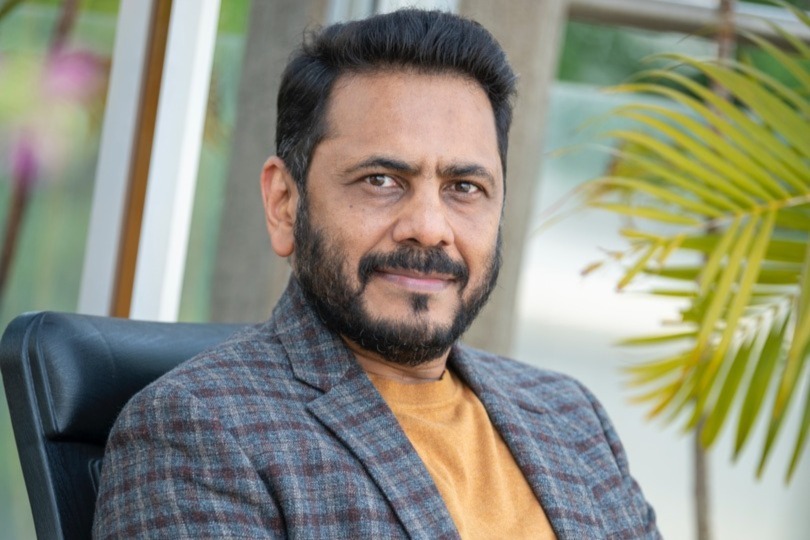 Deepesh Salgia, a distinguished alumnus of IIT Madras, SPJIMR Mumbai and UCLA, is presently Director at Shapoorji Pallonji Real Estate, where he has spent the larger part of his 28-year-old career. He has also worked for the Tatas and the Mahindras. Having handled a wide range of assignments in real estate; from Design to Dispute Management, Liaisoning to Land Transactions and Sales to Strategic Planning— Salgia's forte has been problem solving in an unstructured environment. Besides his inbuilt knack for integrating ground realities in real estate with rare academic insight, this ex-IIT Bombay Maths Olympiad champion pioneered the creation of the coloured version (2004) of K. Asif 's Mughal-e-Azam (1960). He then went on to produce an award-winning, Broadway-style musical adaptation (2016) of this classic, while providing the musical's creative and strategic vision. Having written for most leading Indian business publications, Deepesh Salgia, an avid reader and a cinema buff, now regularly blogs and vlogs.
Frontlist: Since 'Real Estate - The Good, The Bad and The Unanswered' is your debut book. How would you describe your journey to pen down this book?
Deepesh: I have been blogging since 2015. This has helped me have a deep understanding of the reader's mind and also what exactly are the readers missing out on.
As a result of this, I have developed a new style of writing where I connect dots from varied streams of knowledge - Real Estate, Cinema, History, Strategy Literature et al - and thus provide completely new perspectives to the readers. This style has helped a broad range of readers appreciate complex issues.
It is this writing style that forms the core of this book.
Frontlist: If someone lacks knowledge of the Real Estate sector. How will they profit from reading this book?
Deepesh: In the basket of monthly expenses of every household, real estate occupies a big share ( Rent, EMI, etc.). So, decisions like why should one buy a home, when should one buy a home, Rent v/s Buy, etc. become very critical. Moreover, since for a larger section of the middle class, real estate is the single biggest transaction of their lifetime, it is important that before making this transaction, they should also have some idea of how developers think – what are their strengths, what are their weak points, etc.
This book offers all these in a very lucid language without going into technicalities. The use of metaphors and real-world characters only work towards making reading the book a very simple exercise.
Frontlist: What makes current situations in Indian real estate different from those in other countries?
Deepesh: Indian Real Estate is possibly the most diverse market in the world. India has apartments that sell for Rs 1 billion and we also have apartments selling for Rs 1 million. We have plots that sell for Rs 100,000 per sqft and also those selling at Rs 100 per sqft.
The variation in Development Control rules across states and even across cities within states only add to the market diversity.
The good part of this diversity is that it creates opportunities for all kinds of developers and the bad part is that we cannot have national-level developers even though we have a National Building Code.
Frontlist: As in the Real Estate industry, there is no monopoly, but many people are there. Why do real estate companies need professional CEOs to stay afloat?
Deepesh: Today projects are of a much larger scale. This makes it almost mandatory for developers to look for institutional funding. Institutional funding necessitates developers to have a formal organisation so that the money from banks/institutions is not at the risk of the whims and fancies of an individual.
Further, the real estate development business now has a much wider range of activities – PR, Branding, Compliance, HR, etc. – which necessitates specialists for the job of development.
The increasing role of institutions and specialists necessitates the position of a professional CEO.
Frontlist: Digitalisation has an instrumental impact on almost every industry nowadays. How is the real estate business dealing with digital transformation?
Deepesh: Prior to the 16th Century, there were no land records in most parts of India. The land documentation in India took birth under Sher Shah Suri. Accordingly, land records in a good part of India followed the Persian system. Later the British came that undertook various land surveys and documented land records.
So, India has a hybrid and complex methodology as far as land records are concerned. However, the good part is that during the efforts over the last 15-20 years, records of most lands in urban areas are now available online.
If the government can find a legal way to tokenise land and real estate and permit the trading of such NFTs (Non-Fungible Tokens), then we can see investments and mortgages in the sector reaching a completely different level.
Frontlist: The real estate industry is the foundation of investors and home buyers. How difficult is it to get good investors? Could you please elucidate the nuances of investing in the Real Estate Business?
Deepesh: To begin with, it is inappropriate to view Real Estate as a product purely for the creation of financial wealth.
Besides a hedge against risks of over-exposure diversification to financial products, Real Estate offers the emotional pleasure of owning assets that you can feel and take pride in possessing.
Second, it also can offer a monthly income with natural inflation that no other financial product offers.
Thirdly, it offers your portfolio a product that links the growth of your portfolio to the growth of the city of your choice (there is no other such financial product)
Therefore, if you value these benefits then investment in RE makes real sense.
Lastly, for those not looking at leveraging then one good option is just to put money into land in a growing city. It will generally give you a decent return over a long period ( which depending on the city's growth may be higher or lower than the return on equity stocks )
Frontlist: There are a plethora of employment opportunities in the Real estate industry. Do you believe we need a proper framework to imbue real estate learnings among young professionals?
Deepesh: Absolutely. Going forward Real Estate will not only be amongst the largest employer but also will have the largest diversity in employment opportunities (blue-collar as well as white-collar, rural as well as urban). Moreover, manufacturing creates jobs only in the manufacturing hubs which are typically outside the city limit but Real Estate creates jobs across India and that is too near to the place of living.
Since this sector will need to attract a larger number of professionals, the developers not only need to create more training programs but also needs to institutionalize their businesses.
Frontlist: Since the majority of families are transforming into nuclear families. What impact will it have on the real estate industry?
Deepesh: Nuclear family was the big trend in the 90s and 2010s. The growing trend today is delayed marriage, live-in, and also no marriage. Young ones today are more open to mobility (across cities) than they were before.
The housing demand for these people can only be met through Usership Homes. Essentially, Usership Homes are not just homes for rent but homes available for a subscription fee. Users have the option of living there for a few days to even up to a couple of years and yet they are priced like normal rental homes (unlike the expensive service apartment which also gives a feel of a hotel). The concept of Usership Homes is discussed in great depth in my book.
Frontlist: What are your thoughts on the Indian Rental Housing Market considering the Fourth Phase (2015 onwards) of Real Estate?
Deepesh: The first era of Indian real estate ( 1900-1959) was dominated by rental housing, chawls, rent control laws, etc. The second era ( 1960-1999) was about ownership of homes funded through lifetime savings. The third era ( 2000-14) – the golden era of Indian Real Estate - was dominated by housing finance funding home purchases
In the fourth era (2015 onwards), we will the cycle completing and see rental housing back in vogue. However, as against the ownership by landlords, we will see increased institutional play in the ownership of rental housing.
And if this happens, it will help only create huge housing for the young and mobile but also offer pensioners an opportunity to earn a regular income that will grow year on year ( through investments in the institutional landlords)
Frontlist: What are the most significant changes brought by the pandemic in the Real Estate industry?
Deepesh: My short answer is "markets have more unpredictable".
As soon as the pandemic seeped in, people thought real estate markets will crash. But what we saw was a huge demand for homes and even more for plotted land across India
Further, prior to the pandemic, developers were focussing on small homes but WFH has made consumers shift towards having an additional room. Also prior to 2020, IT Parks were key hot investment destinations, today most IT companies are still struggling with their policy on WFH.
Real Estate projects have a very long cycle therefore such uncertainties result in business risks experiencing a quantum leap. Developers will have to learn to live with new kinds of risks