Interview with Debasmita Dasgupta, illustrator at Adidev Press
on
Nov 04, 2022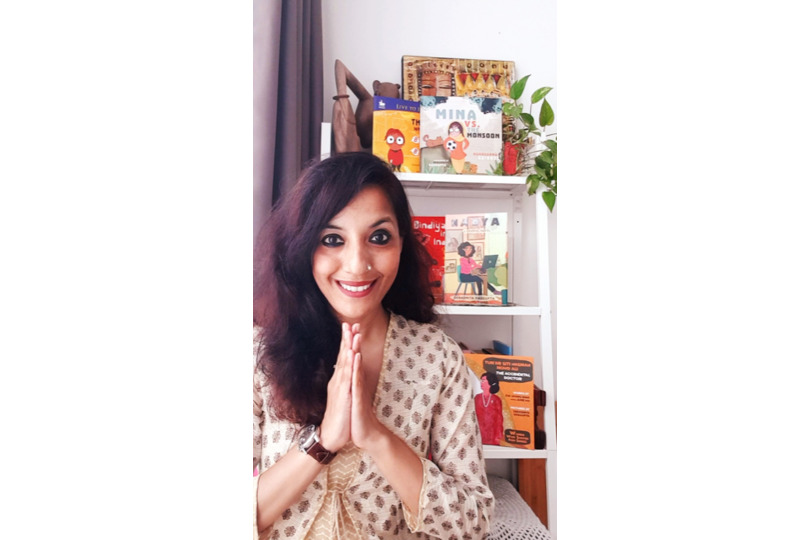 Debasmita Dasgupta is a London-based, internationally published, Kirkus Best Prize nominated Illustrator and Graphic Novelist. She enjoys drawing both fiction and non-fiction for children and young adults. She has illustrated a significant number of picture books, comics, and poems working with many international publishers. She has also published several graphic novels as an author and illustrator. With a Diploma in Comic Arts from the California College of the Arts, she was awarded as one of the 50 Creative Fellows by the National Arts Strategies (USA) in 2015 and an Arts Fellow under the Royal Society of Arts (RSA) in the UK.
Frontlist: When did you start working with Adidev Press as an Illustrator? Could you please highlight your spectacular journey thus far?
Debasmita: First half of 2021 Highlight: Illustrating complex ideas through simple narratives. The ideas of kindness, peace, and service, which are the pillars of the first "Learning to be" series by AdiDev Press, can be extremely difficult to decode and make relatable to a child. Yet, AdiDev Press does it effortlessly. I feel that's the beauty and specialty of AdiDev that one should remember to celebrate.
Frontlist: With the lens of an illustrator, how is Adidev Press different from other children's book publishers?
Debasmita: Their attention to detail, from the making to printing to packaging and consistent promotion — these qualities are highly commendable.
Frontlist: What were the key challenges you faced as an Illustrator throughout your creative career?
Debasmita: When I started my journey, I was a self-taught illustrator trying to discover, learn and navigate the uncharted waters of children's visual storytelling and make a full-time living through it in 2010-11. I hardly had any known role models in India who I could reach out to and who could guide me through this journey. So I took a risk, but in hindsight, I am glad that I did it.
Frontlist: As an Illustrator, what additional aspects can be included in children's books regarding content and illustrations?
Debasmita: "Show, don't tell" is the mantra for illustrated storybooks. And in the process of showing, one could always take an inclusive mindset considering several cultural, social, and spiritual elements that are otherwise not written in words. For example, the concepts of "harmony" and "diversity" are additional layers that can enhance the significance of the stories.
Frontlist: Since you've commendable working experience with international publishers. What new possibilities Indian Book Publishing can introduce in terms of designing children's books?
Debasmita: Quality printing, packaging, and international marketing.
Frontlist: How do the illustrations in children's books differ from those in young adult novels?
Debasmita: The age groups for children's picture books and young adult novels (considering graphic novels) are completely different. Therefore the characters and visual details (forms and format) are distinct in each case.
Frontlist: You've been acclaimed with several awards under your belt. Are you planning to do something massive to establish a creative community or perhaps something else to enhance your artistic skills? Please share.
Debasmita: Well, I regularly mentor/train emerging picture books/graphic novel creators by engaging with different platforms and organizations. Additionally, I also do free online sessions for creators who want to earn a living through drawing on my Instagram page (@debasmitadasgupta). And I am always happy to collaborate to support emerging creatives from Asia.