Interview with Bhawana Somaaya, Author of "Letters to Self"
on
Nov 03, 2022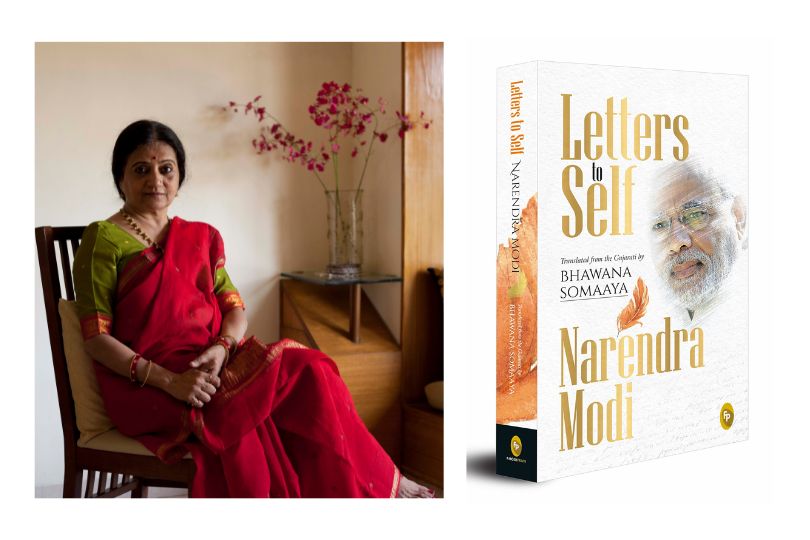 Bhawana Somaaya has been writing about Hindi cinema for over 35 years. She is a film critic, columnist, and author of 13 books which include biographies of Amitabh Bachchan and Hema Malini. Her books are a point of reference for students studying cinema at Whistling Woods, Manipal University, and now JNU, Delhi. She has served on the advisory panel of Film Certificate in India and is attached to Tigerland India Film Festival and Dhai Akshar, Educational Centre for underprivileged children. Somaaya is currently 65 the entertainment editor at 92.7 BigFM radio channel. Her latest books are Once Upon A Time in India, profiling 100 years of Indian cinema and Keshava. Letters to Mother and Letters to Self are her recent poetry translations.
Frontlist: What inspired you to translate this book from Gujarati to English, and what was the most enjoyable aspect of the project?
Bhawana: I translated one book by Prime Minister, Sakshi Bhaav/Letters to Mother in 2020. The covid nightmare was not yet over and even though I was working on a film book I felt I needed to be consumed with more creative work one day found Prime Minister's second book Aankh Aa Dhanya Chhe on my bookshelf and decided to translate it since I was already familiar with his style and flow of words.
The most enjoyable aspect of the project was that I did not get lost but discovered my subject in the process of translation.
Frontlist: Which letter in the book struck a particular chord with you more than the others?
Bhawana: The poems/ prose/letters however you wish to describe them are a collection of passages written over a period of time. These are poems of progress, despair, quest, courage, and of compassion. The cosmos is a recurrent motif in his poetry and I like the fact that the author creates powerful images with his rich vocabulary. I like the fact that he expresses without filters, without reticence and his intensity is infectious. So, it is not a specific poem/ letter that strikes a chord, it is the tone of the book that awakens an old wound.
Frontlist: Topic names in the book are extremely simple. Rather than letters, it appears to be a person conveying a message. Were they the same in Gujarati, or were they twisted?
Bhawana: I think you are taking the title of the book literally. The writings are not letters but poems written by the Prime Minister over the years. The title of the book is an extension of my earlier book on him which was called Letters to Mother and this is Letters to Self – both are about self-expression. I agree that the poem titles are simplistic but that's how it is in the original and my book is a transcreation, not a literal translation.
Frontlist: Did the original author, Narendra Modi, read this book? If so, what did he think of it?
Bhawana: Yes, he has read the book and liked it.
Frontlist: Before writing, how much time and research do you put into a book?
Bhawana: I didn't need to do any research because I am only translating what is written by him. Yes, I had to research the language and the interpretation of the words and the emotions, so it was a long and arduous process involving many drafts and many readings but finally, I accomplished the manuscript to the best of my ability.