Interview With Arup Bose - Publisher, Srishti Publishers & Distributors
on
Jun 02, 2022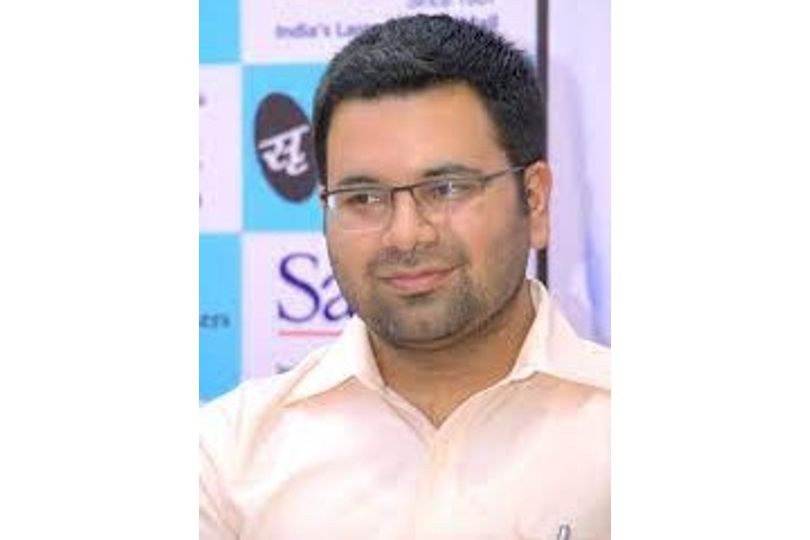 Born and brought up in Delhi, Arup's association with books and publishing has been since childhood. After working as a Risk Consultant and Mitigation expert for a leading insurer, he decided to hang up his boots and enter the world of publishing. The shift was a logical extension of his love of books and familial ties to the publishing industry. An MBA by education, he currently looks after the day-to-day operations at Srishti Publishers while driving the growth by diversifying into new genres and entering unexplored markets.
Arup is a prolific speaker and has spoken at various colleges, Lit-fests, and other events. He is a voracious reader and spends his free time reading books, listening to music, and mentoring upcoming entrepreneurs as a Business Development Coach. He has successfully helped many entrepreneurs scale up their small and medium-scale businesses to the next level. He has been invited to many key industry conferences and has been the key-note speaker at many of them.
Frontlist: Srishti Publishers have been ruling our hearts through their amazing fiction books. How has Srishti Publishers been able to change the readership of Fiction Books?
Arup: We at Srishti have always believed in publishing quality books for the masses, be it Fiction or Non-fiction. We have published books across various genres in the last twenty-five years.
A major shift in readership happened around 2007-08 when more and more young audience started consuming English Fiction written by Indian authors. The ease of accessibility, relatable themes, and simpler language made them an instant hit. It also led to a revolution that grew the commercial publishing side of the Indian publishing industry manifold.
We were at the forefront of this change, and we have been publishing books that young India wants to read—young at heart. We have worked at making literature more accessible while exploring multiple genres and categories.
Over the last decade and a half, Fiction books have seen a radical phase in experimentation in sub-categories, even if they seem similar on a macro level. Our list of titles comprises stories set on college campuses and a murder mystery set in the Harappan times. Stories that scream about societal issues like the acceptance of a third-gender child or a sensitive portrayal of the coming of age of a young boy.
The only rule of thumb we have followed is that the story has something new, the voice of the author is unique, and has the potential to reach out to millions of readers. If these facts hold, we would have been happy to experiment with genres within fiction and make them available to the readership.
Such varied genres help develop the readership, expand their consciousness about various societal issues, and sensitise them about critical issues in general as well.

Frontlist: You've been carrying out your father's legacy and making all the authors' dreams come true. As a publisher, what challenges have you faced till now in changing the reading habits of kids?
Arup: I have been an avid reader since I was a child. As someone who starts and ends his day surrounded by books, I, fortunately, have a unique insight into the minds of readers. What they think about books, what they look for and want to read. This insight is based on qualitative and quantitative data.
The biggest challenge that we have seen in the past few years is the addiction to digital devices amongst young readers. It's also true that habits foisted at a formative age have a way of staying with people for a long time.
So we can say that the main challenge is making reading a habit for young readers and opening them to the world of knowledge one can gain from books.
Frontlist: How can we reach holistic reading development among today's generation?
Arup: A sustainable solution for this problem can best start from home and school. If parents can be sensitised about reading habits and a culture of reading can be developed from a young age, it would be very helpful.
Frontlist: Digitalisation has altered the content consumption in young minds, and it might create a barrier or opportunity for all publishers. What's your view?

Arup: We, at Srishti, interact closely with dedicated readers from across the country who offer us a wide range of data as to what books they liked, what their reading choices were, etc. The digital mode of communication has made it easy for us to stay in touch with the readers and gauge their feedback.
These insights have led us to understand one thing – people are consuming content at a faster rate. They are reading books, watching movies, or listening to music – but in new hybrid modes. So, instead of just depending upon traditional ways of marketing and retailing books, we need to embrace the digital world.
The use of social media to promote books, making books available across multiple formats like eBooks and audio books, etc., makes digitalisation a big opportunity for publishers. We just need to strategise and adapt ourselves to the new age and develop our resources accordingly to adapt to the new generation.
Lastly, I believe young minds want to consume the best quality content. As long as we can generate and provide the best possible content via our books, people will keep on accessing books as the most convenient form of entertainment.
Frontlist: How can we encourage them to read physical books in a technology-driven world?
Arup: Books are a source of knowledge. Books will always be venerated in our country, especially with a deep-seated respect for knowledge and education.
However, we can make the reading experience more fun to attract more readers. The way to do that is to ensure books are made available in more accessible formats, trendier genres, and a more colloquial language, enabling mass readership.
The digital mode of communication has made it easy for us to stay in touch with the readers and gauge their feedback. We need to use such feedback to delve deep into the quality and improve the offerings we have for our readers.
Also, publishers will now need to stop looking at books as just physical products. In today's technology-driven world, an eBook or an audio book is as much a book as a paperback or hardback is. As long as readers are reading more books, exploring and discovering new authors and stories, I think publishers need not worry. A common trend is that many readers start by reading with one of the nontraditional formats and over some time, transition into reading physical books as well.
So to conclude, inclusivity, being open to feedback, and constant adaptation to new inputs are the only ways to improve readership for books – physical or otherwise.

Frontlist: How has the romance genre outweighed other genres? Answer on account of your first-hand experience.
Arup: I don't think romance as a genre has outweighed other genres. Romance has and will continue to have a special place for readers in our country due to an inherent affinity towards the genre. Some of the greatest epics and stories of yore have romance at their core, and many modern ballads and pop culture also seep romance.
However, other genres like Self Help, Motivation in Non-Fiction, Crime & Thriller, and Mythology in Fiction are equally popular and have vast chunks of readership in India.
A very unique thing about mass readership is that they do not restrict themselves to one genre. They read across genres in their quest to access varied content, develop their reading tastes, and gain knowledge from varied sources. So it makes every genre equally important, highly potent, and with a chance of mass acceptance.
However, as I mentioned, romance does have a special place in the hearts of readers due to an inherent preference for the genre.