Interview with Arti Sonthalia, author of "Read, Write, Race"
Empathy is something that I consider very important for an individual's growth. At a young age, children are usually self-centric and not yet ready to consider the needs and feelings of others.
on
May 22, 2023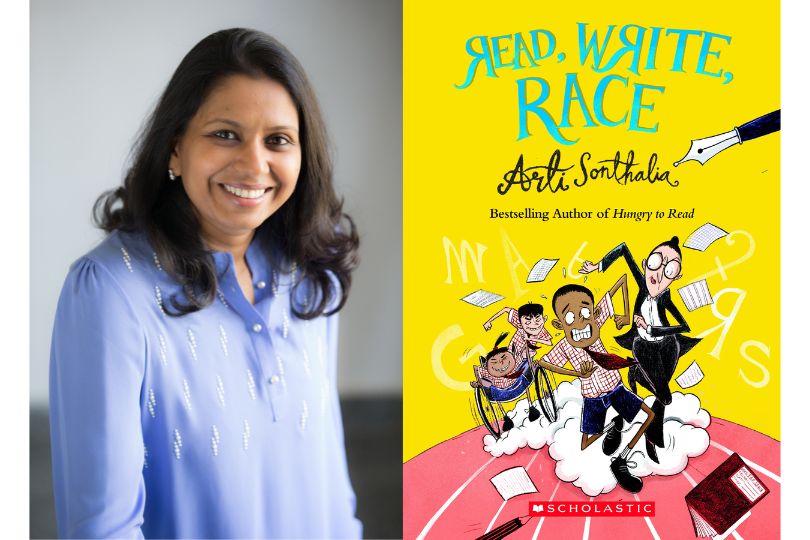 Arti Sonthalia is crazzzyyy about books and stories. Her debut children's book Big Bully and M-me was nominated for the Crystal Kite Asia Award. Hungry to Read has touched many hearts and inspired even reluctant readers to read. Her next book, Best Friends Forever has won the FICCI Book of the Year Award in 2020. Sonthalia's Hungry to Play was shortlisted for the Neev Book Awards 2020. If you meet Sonthalia over a cup of coffee, she can talk non-stop about a good book. She has also been a TEDx speaker. When not writing, she is busy listening to music and reading. Sonthalia loves long walks and enjoys chocolates too!

Frontlist: What inspired you to write about dyslexia and its impact on a child's life, particularly focusing on Raghav's struggles with dyslexia?
Arti: Dyslexia is a learning disability that causes difficulty in learning to write and read. IT DOES NOT MEAN THAT YOU CAN NEVER LEARN TO READ OR WRITE. Many children have dyslexia but are unaware of it. My inspiration comes from observing children who are often looked down upon and made to believe they are different from other kids, which significantly impacts their lives and continues into adulthood. No child should have to hide themselves because of their challenges. Raghav's struggles with dyslexia depict the inner turmoil experienced by a child who yearns to be accepted as a normal kid. He wants his best friend to be his friend again and not judge him based on the grades he receives.
Frontlist: Raghav's journey involves dealing with bullying from his classmates. Could you discuss the significance of addressing bullying in your book and its impact on Raghav's character development?
Arti: Bullying is a serious issue that is not acceptable and should never be accepted. When children read books that address bullying, they also seek guidance on how to deal with bullies. Raghav's character has been developed with the understanding that, despite being bullied, he didn't give up. Instead of running away from the bullying, he learned to confront it and emerged as a stronger character by the end of the story. What makes Raghav a strong and beloved character is that, even with dyslexia and the experience of bullying, he consistently makes the right choices for himself. He refuses to let bullying hinder his desire to learn to read and write.
Frontlist: While "Read, Write, Race" tackles serious themes such as dyslexia and bullying, it also presents heartwarming moments and touches on the importance of empathy. How did you balance these contrasting elements in your storytelling?
Arti: Empathy is something that I consider very important for an individual's growth. At a young age, children are usually self-centric and not yet ready to consider the needs and feelings of others. However, developing a sense of empathy not only helps them in their personal development but also becomes a part of their adulthood. Balancing bullying with empathy was necessary for the growth of Raghav and all the other characters in the book. A story cannot solely focus on bullying or empathy; there needs to be a balance between the two to make it believable and relatable.
Frontlist: Raghav's love for running becomes a source of solace and accomplishment. How did you incorporate this passion into the story, and what role do you believe extracurricular activities play in a child's overall development?
Arti: Yes, Raghav's solace and sense of accomplishment were crucial to the story. Children with challenges are often labeled as academically unintelligent and are considered inferior to others. I wanted my readers to understand that even though Raghav may not excel academically, he is talented in other areas. I wanted them to view him from a different perspective, beyond academics. This is where expanding one's vision becomes important. As for extracurricular activities, they can be beneficial to a child's overall development as long as the child enjoys them.
Frontlist: The illustrations in "Read, Write, Race" by Priya Kuriyan beautifully complement the narrative. Can you discuss the collaborative process between you and the illustrator and how the illustrations enhance the reader's experience?
Arti: Priya Kuriyan is an exceptionally talented illustrator. When my editor asked me about my first choice for an illustrator, I knew I wanted Priya.
An illustrator brings her unique perspective to the story, which an author cannot provide. I shared a bit of insight into how I imagined the characters with Priya, and the rest was her creativity. I believe illustrations truly enhance the reader's journey by helping children imagine the characters and the mood, and by allowing them to read between the lines.
Frontlist: Raghav's story is relatable to many children who face academic and social challenges. How do you believe it can serve as a source of hope and inspiration for young readers who may be going through similar experiences?
Arti: The main idea behind writing "Read, Write, Race" was to inspire kids to embrace their true selves. Whether children face challenges or not, everyone is going through something in their own minds. They all have that FOMO (fear of missing out) bug biting them somewhere. Through Raghav's experience of making choices that were right for him, letting go of his former best friend, and accepting new friends, he was able to move forward. That is what I want to impart through this book.
Frontlist: "Read, Write, Race" not only educates readers about dyslexia but also promotes a message of resilience, friendship, and self-acceptance. What do you hope readers will take away from the book?
Arti: When I started writing "Read, Write, Race," I knew I wanted to address topics that are often not discussed. As you mentioned, self-acceptance and resilience were at the top of my list. I also wanted to highlight Raghav's strength so that readers begin to believe in themselves. We all have our strengths; we just need to recognize them. I hope that as readers unfold Raghav's story, they also uncover their own strengths.