Interview With Anupama Jauhry- Head of TERI Press & Associate Director, TERI
on
Mar 09, 2023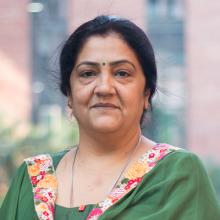 With more than 27 years of experience in publishing, Anupama Jauhry joined TERI in 2010 as the Head and Area Convenor of TERI Press, Knowledge & Management Division. As the publishing arm of the organization, TERI Press has been instrumental in garnering, developing, and disseminating TERI's research, thereby bolstering TERI's outreach activities. Under Anupama's guidance and supervision, the Press has successfully captured a position for itself in the market, thus lending more visibility to TERI's publishing and research activities. As the Area Convenor, Anupama is responsible for driving the entire publishing programme, ranging from overseeing commissioning activities to budget, liaising with authors and other stakeholders, and providing the necessary direction vis-à-vis sales and marketing.
Frontlist: It has been a long time since you have been associated with the publishing industry. Did you always want to be a part of the publishing industry? In addition to it, are you engaging with marketing as well?
Anupama: Yes, my association with the publishing field spans almost three decades. I stumbled into publishing, and soon I started enjoying the work, so I stayed on.
Yes, as the Head of TERI Press, I am responsible for TERI Press's entire operation, including marketing functions as well.
Frontlist: When it comes to entrepreneurship, people take for granted women. But nowadays, women have changed their mindset, and on the other hand, you've taken TERI's market position to an extraordinary level. What would you like to say to those who suppress women's voices and look at them as undeserving?
Anupama: Sheryl Sandberg says, "Women need to shift from thinking I'm not ready to do that, to thinking I want to do that – and I'll learn by doing it." I strongly believe in these words, and I would like all women to believe in what Sandberg says. So, instead of thinking about those who suppress women's voices, I would like to focus on the potential that women have. We are there on the top, and if there are stumbling blocks, we will overcome them. We are a force to reckon with, and we don't need to justify it to anyone. At TERI, over the last three decades, we are built block-by-block, from expanding our market reach across the country to across the globe. We have expanded our imprints from supplementary reading in colleges to books in the mainstream market, from magazines to journals to white papers.
Frontlist: This year's International Women's Day theme is 'Break the Bias'. What qualities should upcoming women entrepreneurs need to show their presence in the patriarchal society?
Anupama: Entrepreneurs, men or women, should have the ability to take risks, be confident, and be competitive. It is believed that women lack risk-taking ability, long-term vision and scalability, and commitment. Above all, it is the drive to succeed that matters. It is not easy because women also have to balance their personal and professional lives. Compared to men, it is typically believed that women are less likely to be involved in product and process innovations or their marketing. A patriarchal setup believes women entrepreneurs tend to inhabit non-lucrative spaces even in the publishing sector, although that it is a women-dominated profession. I think women need to break this stereotype in the publishing industry. Believe in yourself first and foremost. With that, all battles will be won.

Frontlist: As the Head of TERI Press and the Associate Director, what are the new opportunities you are looking, for the betterment of society, as well as the organization?
Anupama: Our purpose is to sensitise people about various issues related to energy, the environment, and climate change. In this space, we keep experimenting with various genres and formats to cater to various age groups. We also keep looking at different avenues like book fairs, schools,etc., to increase our outreach.
Frontlist: Contributing 28 years of life within an organization is a momentous deal. How does working with TERI Press bring a change in your life?
Anupama: Working in an environmental think tank has certainly made me more sensitive towards conserving the environment. I am conscious of how I live my life and try to create as little wastage as possible. I have learned tremendously from my research colleagues who are working in various areas of sustainable development. I have become a more confident professional, working in an unconventional space and leading an in-house publishing unit in a research and knowledge institution. It has helped me greatly to think out of the box to achieve both my own goals and that of my organization.

Frontlist: How much potential do all books published under TERI Press have to change the people's mindset towards the environment and climate change?
Anupama: Our books on environment and climate change, especially our children's books, are a great combination of scientific information and storytelling. Written in an accessible and engaging tone, they pack a lot of information and offer practical and easily-implementable suggestions and activities, which children can practice living more sustainably.
The books for adults help readers reflect on their attitudes concerning the environment and the ramifications of their actions. They stimulate a sense of curiosity among them and push them to consider the bigger picture about energy and the environment.

Frontlist: Recently, TERI has collaborated with SAP India to make India a sustainable economy. How would this collaboration become beneficial for us?
Anupama: The collaboration will leverage TERI's domain expertise in sustainability, specifically in Energy and Resources sectors; and SAP India's technologies to enable business processes, collaboration with value chains, tracking, and reporting capabilities to achieve sustainability.
Key focus areas of the partnership will include:

Climate Change Awareness: to steer action and support the larger sustainability agenda in India
By accelerating climate change ambitions across industries helping their transition to a low carbon economy.
Resources and Sustainability Audit: to jointly offer sector-specific audit and efficiency improvement services and guidance.
Enabling industries to drive actions through sustainability reporting and analysis aligned to a global framework for the good of the environment, society, and economy.
Impact on Policy
Support government to make informed sustainability-related policy decisions through a data-driven approach that further helps to monitor the impact based on Nationally Determined Contributions (NDC) and Sustainable Development Goals (SDG) achievements.
Build a Net-Zero Path: Knowledge sharing and learnings of best practices, through the creation of case studies, success stories, and whitepapers, from major industries like Energy, Waste management, Government, and others.